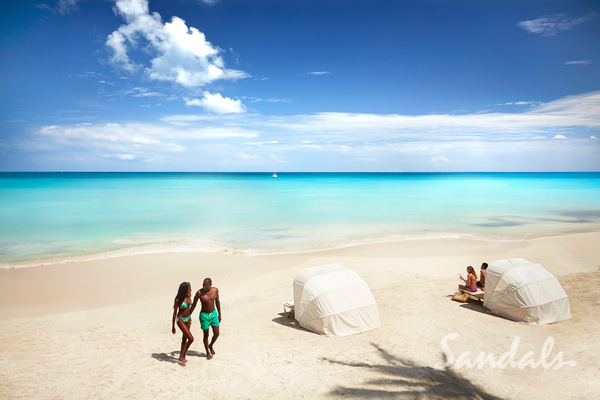 Best Sandals Resort for Honeymoons
Honeymoons come in all shapes and sizes, from mini-moons to extended vacations where couples spend weeks relaxing after their wedding.   Part of the reason we love Sandals Resorts so much for honeymoons is because Sandals Resorts come in all shapes and sizes too.    So how do you decide which resort is the best Sandals resort for honeymoons?  Or even better the best Sandals resort for you?   We have several criteria we look at for couples before making honeymoon recommendations.   These include preference for beach versus pool, activity level of the resort (ranging from active to chill),  preferred activities off resort (diving, hiking, shopping, unique experiences, cultural experiences and eco-adventure options, etc), distance from the airport and resort design (contemporary Caribbean luxury, classic Caribbean or doesn't matter).    We match the resorts that check off the most boxes and then make our recommendation.
There are resorts that consistently make it to the top of our short list though and we've featured them for you below.
Sandals Royal Bahamian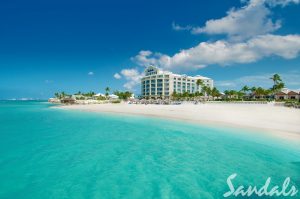 Sandals Royal Bahamian is the easiest Sandals to get to and offers both a resort and an exclusive island experience at  Sandals Cay.  Guests have access to from 10am -5pm and can enjoy snorkeling, a swim-up pool bar, outdoor massages or a delicious lunch.  You can even have your wedding or private event on the island if it is available!
If you like to try your hand at lady luck this Sandals is located very close to the world class Baha Mar casino, the largest in the Caribbean.    An added bonus to a honeymoon in Nassau, Bahamas is that couples can also clear US Customs and Immigration here, so if you have TSA PreCheck or Global Entry you'll enjoy them on departure and you won't need to deal with immigration when you arrive in the US.
Due to its proximity to the East Coast of the US this is one of the best Sandals Resorts for short honeymoons for American couples and couples who want to do a little gambling on their honeymoon as well.
Sandals Emerald Bay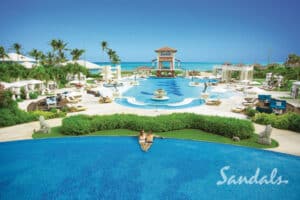 Sandals Emerald Bay is located in one of the most beautiful destinations we've laid eyes on.  If you crave turquoise water and white sand that need no filter this is the place for you.  Bonus that the resort offers all Club and Butler level rooms, has a world class championship Greg Norman golf course, world class diving and is home to the swimming pigs!   In fact we love Sandals Emerald Bay so much we featured it on our blog.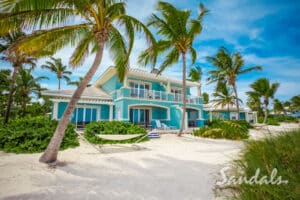 Sandals Emerald Bay offers so much for couples and makes our top list for couples who love a great beach, want unique experiences and maybe a little golfing or diving.
.
Sandals Montego Bay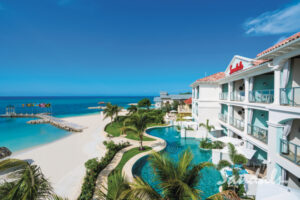 Jamaica is one of our favorite Caribbean islands and when we want to jumpstart our Sandals vacation we book our stay in the Montego Bay area.   Sandals Montego Bay is on a private beach and is a short transfer (10 minutes) from the airport.  Be the first to arrive and the last to leave!    This resort has stay and play privileges with neighboring Sandals Royal Caribbean and features an overwater bar as well as an over water chapel for weddings and a chapel available for Catholic weddings.
The fun never stops at Sandals Montego Bay!  The resort is pretty active and offers lively evening entertainment as well.
Sandals Montego Bay is perfect for shorter honeymoons and for couples looking for expanded resort amenities and a fun, lively environment.
Sandals Dunn's River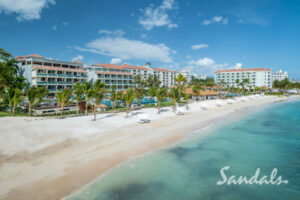 We LOVE Sandals Dunn's River.   When Sandals brought this resort back into their portfolio we were so excited!   Sandals Dunn's River sits on the best section of beach in Ocho Rios, Jamaica.  You are close to all of the major sites like Dunn's River Falls and the resort offers the newest accommodations with so many bells and whistles as well as innovative new dining concepts.   If modern Caribbean luxury speaks to you then this is the perfect resort.   Not to mention you also have access to Sandals Ochi Beach when you stay at Dunn's River!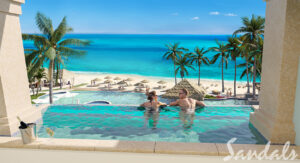 Sandals Dunn's River is the newest resort in the Sandals family, and one of the best for couples who want unique restaurants and gorgeous accommodations.  Bonus that couples who golf will have access to the nearby golf course.
Sandals Ochi Beach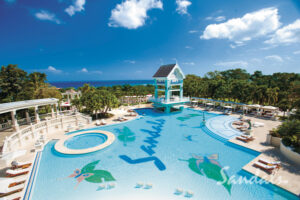 Sandals Ochi Beach is the most economical of the Sandals family, but you won't skimp on amazing experiences when you book this resort.  Even though Sandals Ochi Beach is budget friendly, it is also the the largest Sandals property and offers the most restaurants of all the Sandals Resorts.   You have access to the nearby golf course and you can spend your evenings in the Rabbit Hole, the Caribbean's first all-inclusive speak easy with prohibition era cocktails and theming.
This is one of the most affordable Sandals and the best Sandals Resort for honeymoons on a budget.  It also offers a lively resort environment for couples who want the option of relaxing or partying late into the night.
Sandals South Coast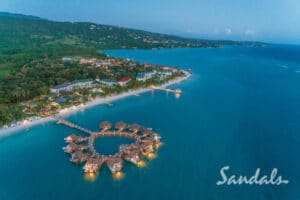 Full disclosure… this has been one of our favorite Sandals Resorts since it opened.   Located on a 500 acre nature preserve, with a two mile stretch of private beach and a water theme running throughout the resort it is easy to fall in love with Sandals South Coast.   The resort is home to our favorite Sandals Overwater Bungalows, an overwater bar, an overwater chapel and access to our favorite excursions in Jamaica.   The resort is about 70 minutes from the airport and when you arrive you truly feel like you've escaped to paradise!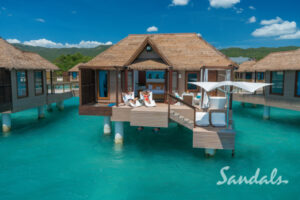 Can you tell that we LOVE this resort?!   Sandals South Coast is the best Sandals Resorts for honeymooners  who want to get away from it all or enjoy an amazing overwater bungalow experience.
Sandals Grande Antigua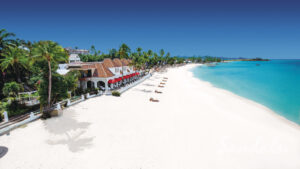 If you consider yourselves beach lovers and foodies then Sandals Grande Antigua is a great Sandals honeymoon option.    This resort is located on one of the best beaches in Antigua, an island that boasts a beach for every day of the year, AND you don't need to worry about sargassum at this resort.    This resort has been considered one of the most romantic in the Caribbean and it also offers almost every motorized water sport that Sandals includes.   It also has excellent dining, the Soy here is one of our favorites, and who doesn't love a spicy watermelon margarita?  Even better when they can be enjoyed in the ocean, in water so clear and blue you can see your toes.
Seriously, the beach and water do look that amazing!   Sandals Grande Antigua is the perfect spot for a beach lovers or water sports lover's honeymoon.
Sandals Grenada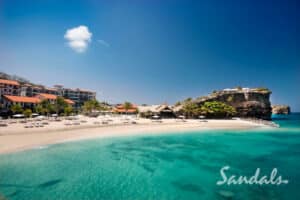 If you are looking for a unique honeymoon in a destination off the beaten path then Grenada should be at the top of your list.  If you are certified divers and want the best Sandals resort for dive honeymoons then Sandals Grenada is where you want to be.  Sandals Grenada is an amazing resort, with fabulous staff, excellent cuisine and world class diving.  In fact some of the best diving out of all of the Sandals resorts.
If you are a diver, interested in getting off the resort and exploring, or if you would like to stay in some of the most innovative and luxurious suites in the Caribbean then Sandals Grenada should definitely be on your shortlist.
Sandals Halcyon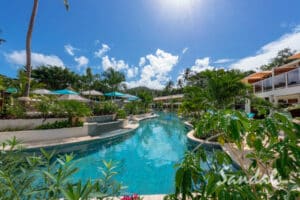 We get requests for honeymoons to St. Lucia more than any other island in the Caribbean and it is easy to see why.  St. Lucia is arguably one of the loveliest destinations in the Caribbean and it offers experiences you can't get any where else, like a drive in volcano!   On the island of St. Lucia there are 3 Sandals Resorts and of the three we really love Sandals Halcyon.   Sandals Halcyon offers a more boutique, laid back feel of the St. Lucia resort properties and with stay and play privileges at neighboring La Toc and the Grande St. Lucian you are only 15 minutes away from them.  The resort offers the newest suites in St. Lucia and has one of the longest resort pools meandering through the gardens.  If you have your heart set on a swim out room for your honeymoon then Sandals Halcyon has plenty to choose from.   Services at Sandals Halcyon is also highly personalized and some of the best out of all the resorts.  From the time you arrive to the time you leave we know you will definitely feel pampered here!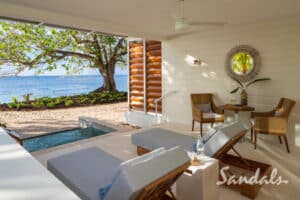 St. Lucia was created for lovers and Sandals Halcyon is the best Sandals option for easy access to its sister resorts and a more intimate Sandals experience.
Sandals Royal Curacao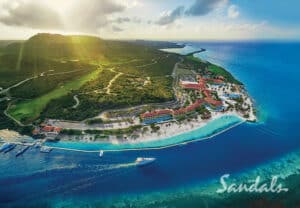 Curacao is the newest destination Sandals added and due to it's location deep in the Southern Caribbean it is also the only Sandals Resort that is outside of the hurricane belt and does not get hurricanes!  That isn't the only reason to consider Sandals Royal Curacao though.   The resort and the island offer an all-inclusive experience unlike other destinations in the Caribbean.  With a vibrant culture, fantastic food, a desert climate and UNESCO heritage sites we highly recommend getting out and exploring.   Sandals Royal Curacao is also one of the only Sandals resorts where you can actually dive from shore!   Curacao is a premier dive destination and with certified divers getting a two tank dive daily Sandals Royal Curacao is great for dive honeymoons.   Foodies will not be disappointed with unique resort restaurant options and food trucks.    Couples can enjoy biking, golfing (not included) or just simply relaxing on their honeymoon.   One thing they are not doing is worrying about the weather!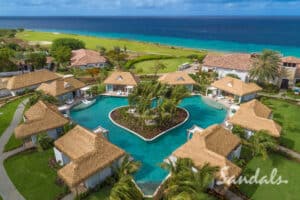 This is the best Sandals Resort for couples who are worried that their honeymoon falls during hurricane season, foodies, couples who like to explore off resort and for divers.
With 17 resort options throughout the Caribbean, and each resort and island offering their own unique experiences,  there truly is a Sandals for every honeymoon though.   Have more questions or would like a customized quote?  Feel free to reach out on our contact form linked above.
Ready to book your Sandals honeymoon directly with Sandals?   We've linked a shortcut to the Sandals Online Booking Engine for you below.
Affiliate links on this page offer us a commission, however your booking is considered direct with Sandals.   If you would like to use our complimentary booking management service you must transfer your booking to us within 14 days, or contact us to make your booking for you.   Our services for our Sandals Resort clients are always complimentary.