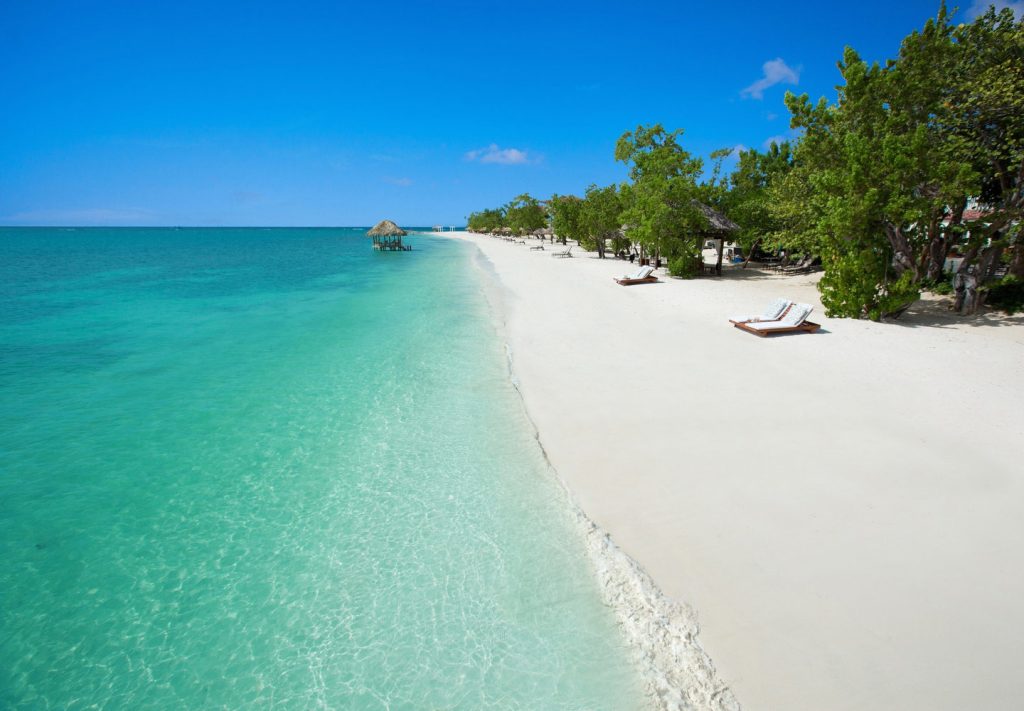 Which Sandals Resort Has The Best Beach
Which Sandals Resort has the best beach?   Considering there are 16 Sandals Resorts on 6 of the most amazing islands in the Caribbean that is a tough question!  Not to mention opinions of what makes a beach the best beach can vary A LOT based on who you ask.  For the sake of this post we are going to narrow down which Sandals Resort has the best beach based on the size of the the beach, soft sand and beautiful water in alphabetical order.  We love all of the Sandals Resorts though and in our opinion you can't go wrong with any of them, but for the diehard beach aficionado this list is a good place to start.
Antigua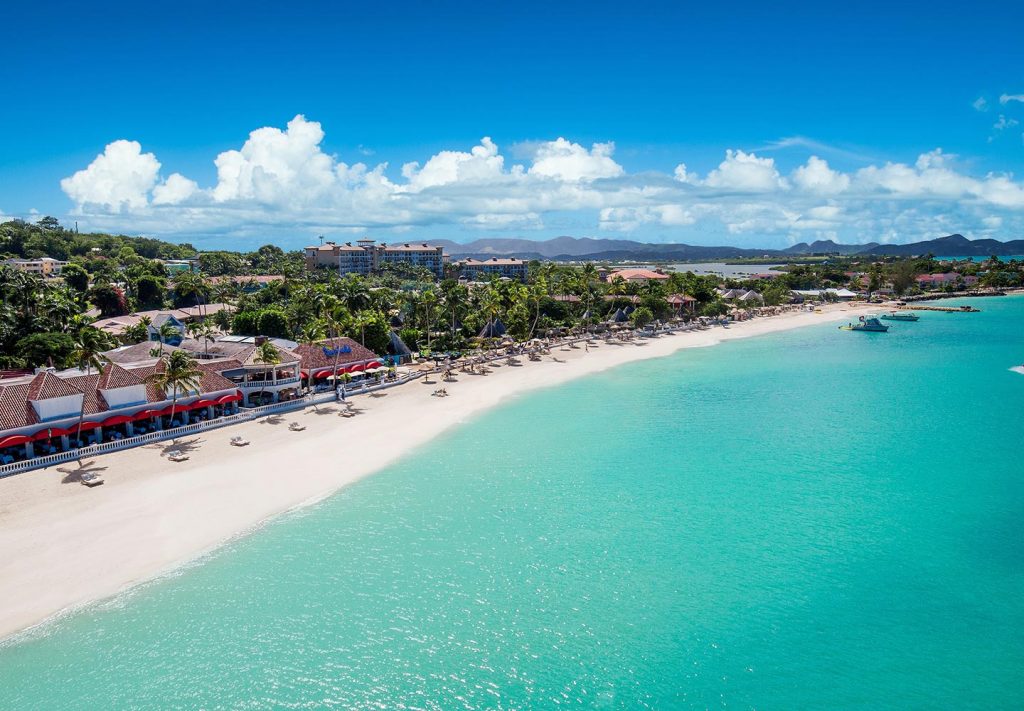 Sandals Grande Antigua–When considering which Sandals Resort has the best beach Sandals Grande Antigua has to be at the top of any best beach list.  Antigua as an island boasts 365 beaches (one for each day of the year) and Dickenson Bay offers powder white sand beaches with clear, turquoise water.   In fact water so clear that you can see your toes when you stand in chest deep water.  This is def a fav of ours.  This beach is a public beach that is easily accessible to local vendors.  For us meeting locals is one of the all time great experiences of travel, but for those who prefer a more private setting this should be noted.

Bahamas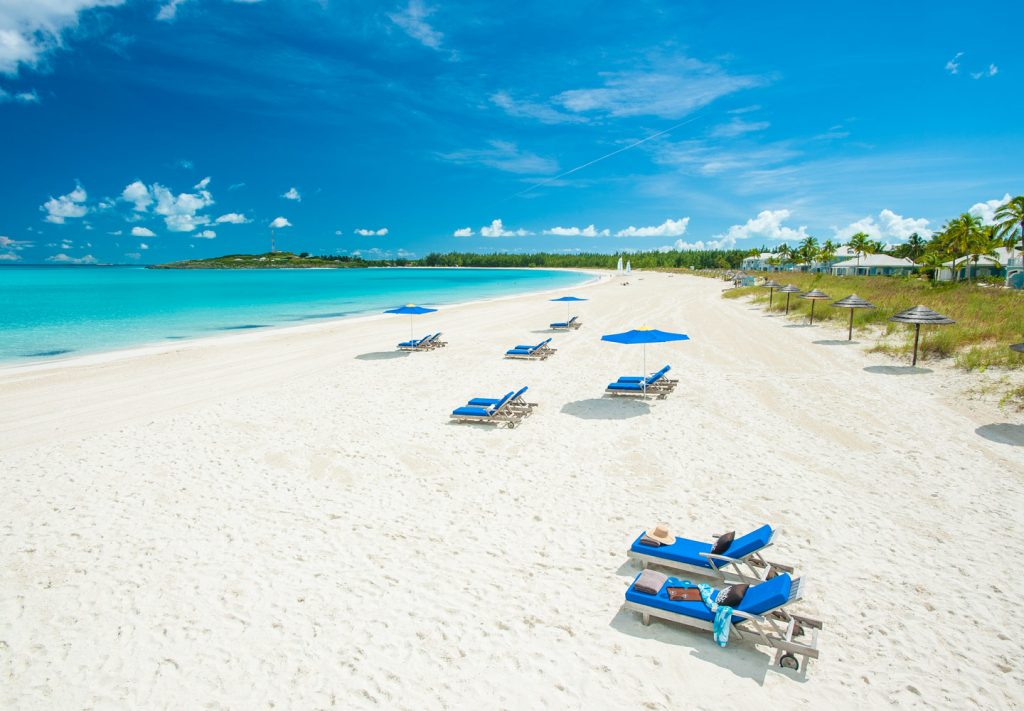 Sandals Emerald Bay–Exuma is just a special destination that has grabbed our hearts.  Off the beaten path, but not hard to get to.  A small jewel in the Bahamas crown.  Ocean blues here are more brilliant than can be described in this post. In fact we are convinced that Exuma Blue should be a Pantone color.   The beach at Sandals Emerald Bay offers some of the softest sand we've ever put our toes in… light and fluffy like powdered sugar and with the brightest turquoise water kissing the shore.  Everything in this destination is beach and water focused so if you love to snorkel and dive then Sandals Emerald Bay should be at the top of your list.  For those who like greens with their turquoise then you'll be equally happy with the championship Greg Norman golf course that overlooks the water.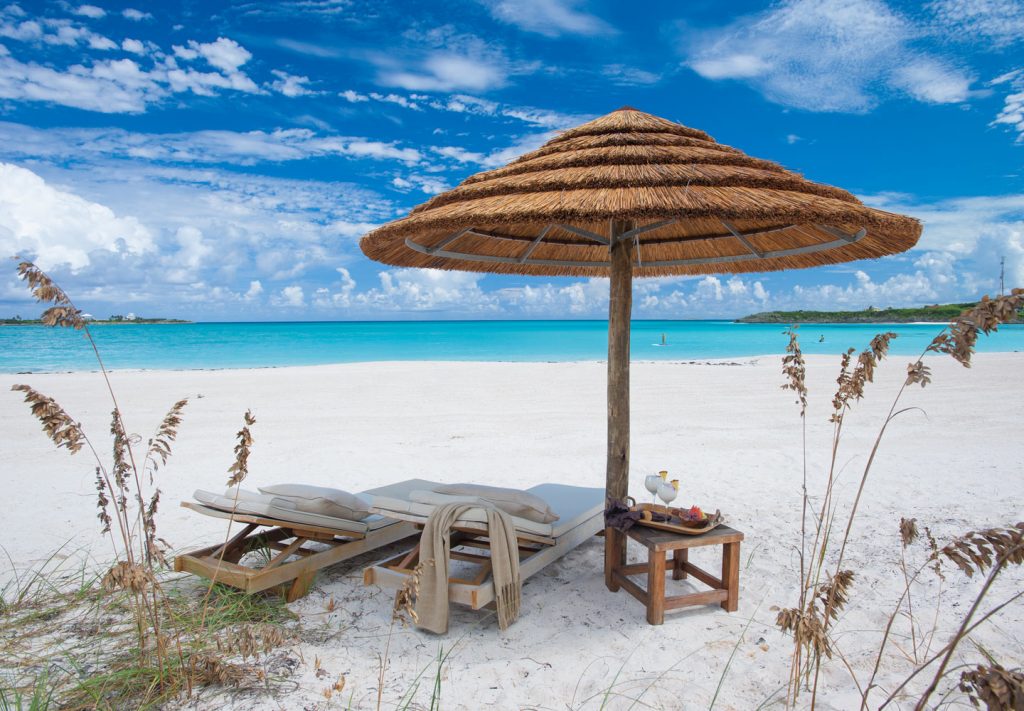 Jamaica
Sandals Montego Bay— Sandals Montego Bay was the first Sandals Resort, but don't let that fool you, this resort has recently been overhauled to the point that it feels completely new.  One of the best additions to this resort are the tranquility tubs that let you soak in a bubble bath while you enjoy views of the longest private beach in Montego Bay.   This resort is only 5 minutes from the airport so you are first on the beach and the last that have to leave.  We love that Sandals Montego Bay was originally built before Jamaica restricted the proximity of buildings to the water so some accommodations are only steps away from the beach.  Sandals Montego Bay offers many beach focused activities from in-water dining to water skiing, paddle boarding and more.  This resort has only gotten better over the years and this beach does not disappoint.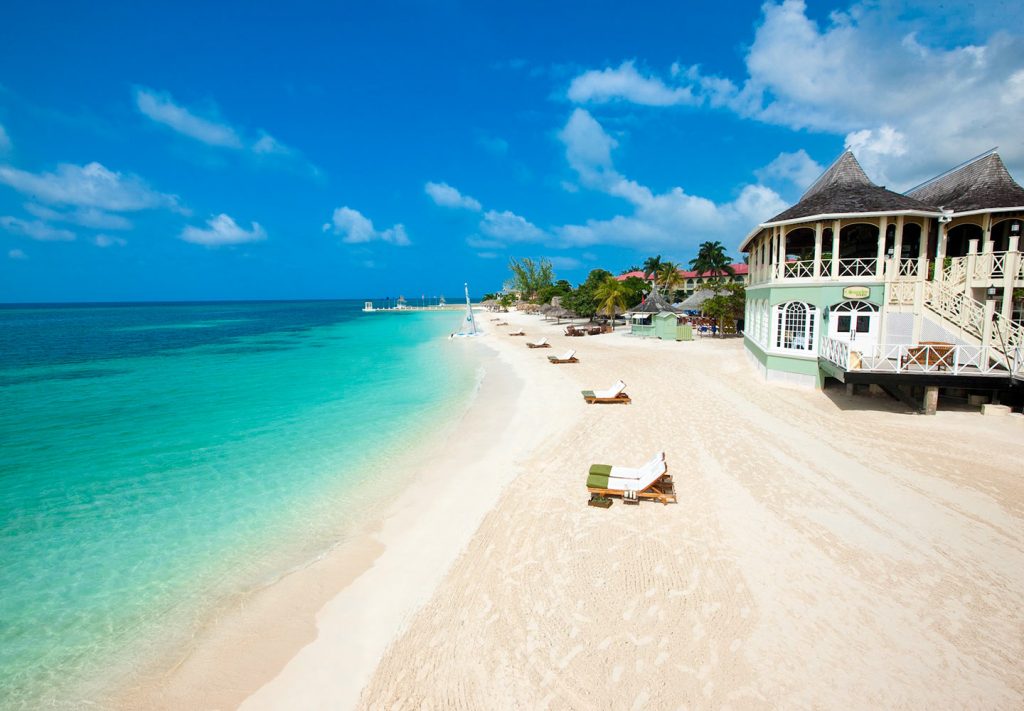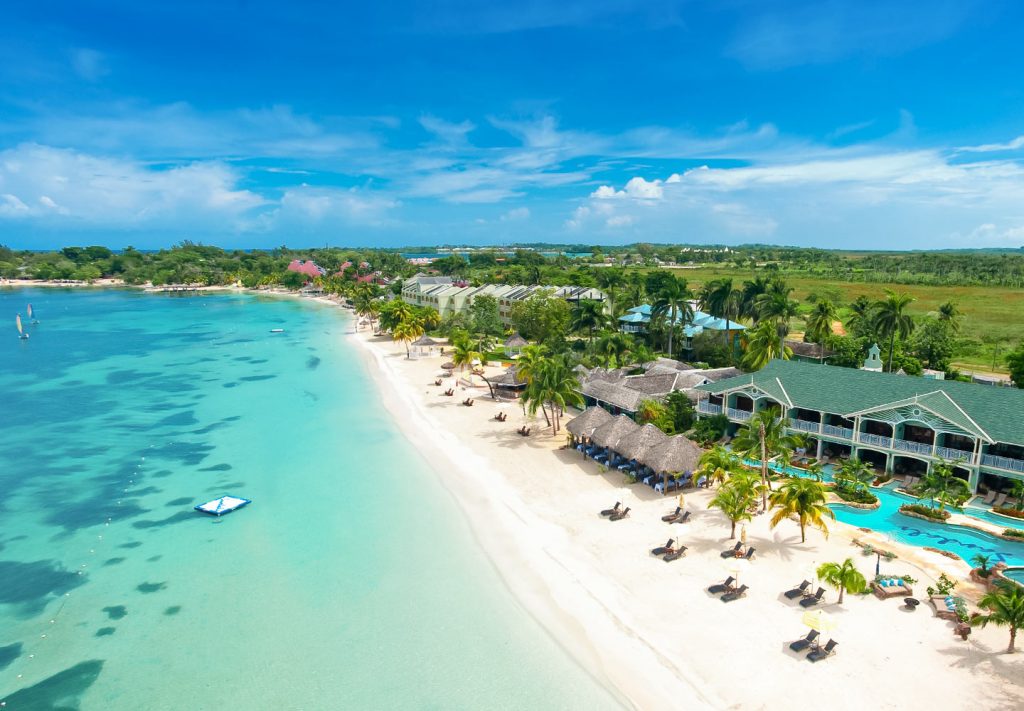 Sandals Negril–What beach lover wouldn't be attracted to the Capital of Casual and arguably one of the best beaches on the island of Jamaica?  Located on 7 Mile Beach Sandals Negril exudes an elegantly relaxed "yah 'mon" attitude.   You can relax in the lazy river outside your swim-up suite and enjoy the beach view or after a day on the beach enjoying snorkeling, kayaking, diving or water skiing you can escape to your romantic garden suite with a private courtyard pool.   A list of the Sandals Resorts with the best beach would not be complete without the Sandals on the most famous beach Jamaica offers.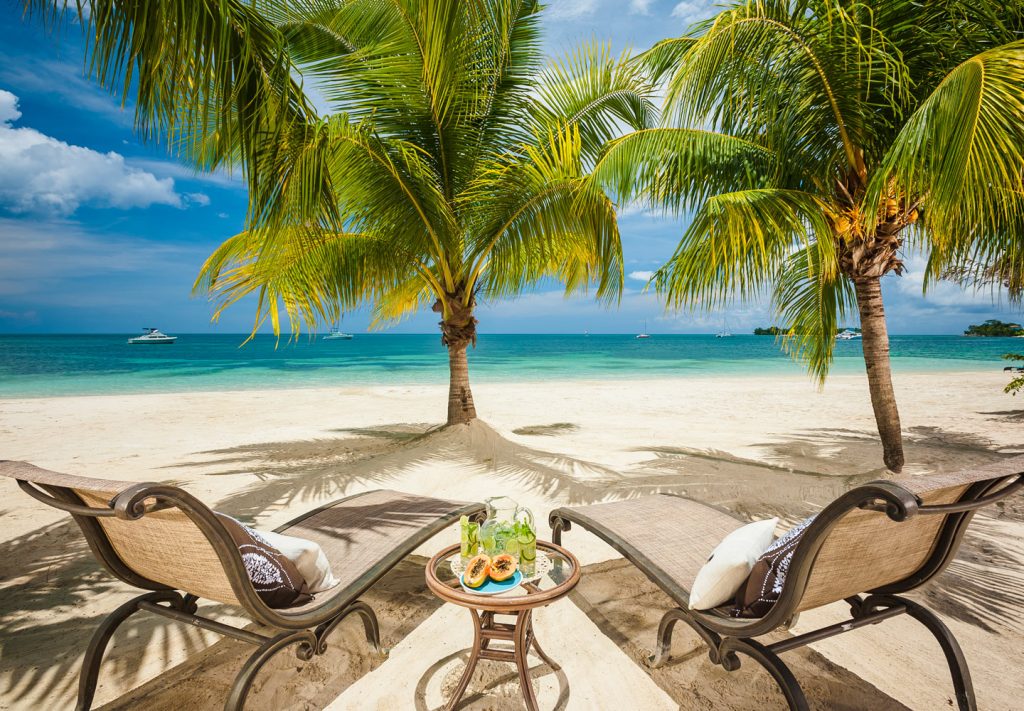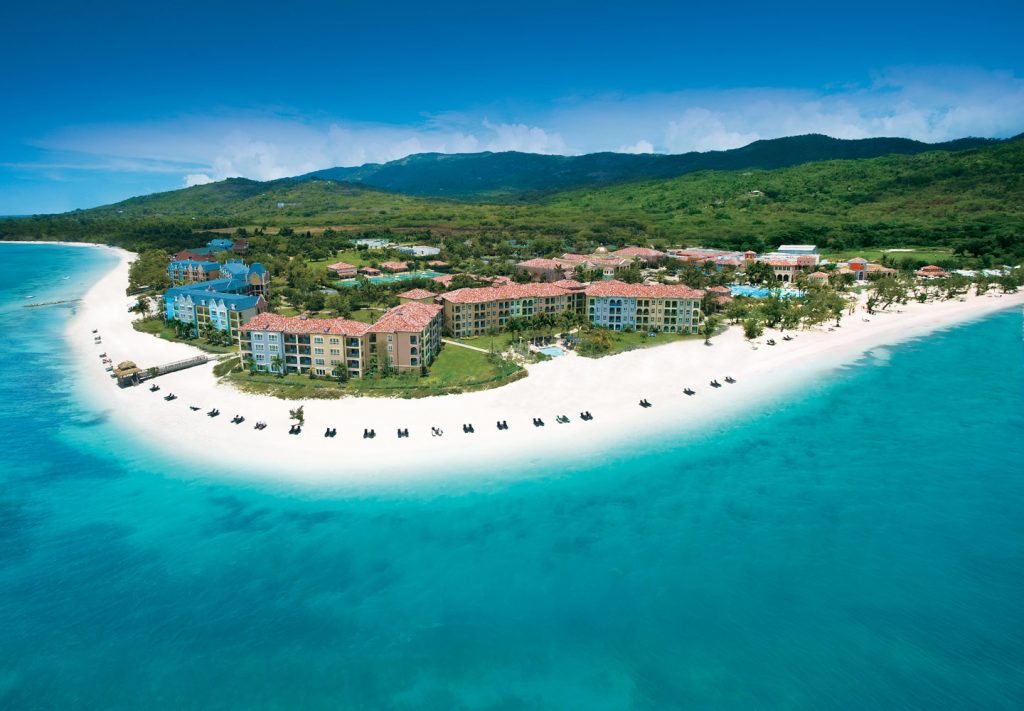 Sandals South Coast— At events and bridal shows we are constantly asked "which Sandals Resort has the best beach?"  Without fail, every.single. time we include Sandals South Coast.   We have fallen head over heels, madly in love with South Coast and the resort keeps getting better.  Set in a nature preserve, on the southern coast of Jamaica, and on a 2 mile stretch of private beach this resort is stunning and the picture of relaxation.  For beach lovers who want a relaxed, get away from it all vacation Sandals South Coast is perfect.  From the time the peacocks wandering the grounds greet your arrival, to when you are relaxing on a hammock at Latitudes° (an overwater bar), this all beachfront resort will impress you.  Also, Sandals South Coast offers brand new overwater bungalows and an overwater wedding chapel for couples who never want to leave the water.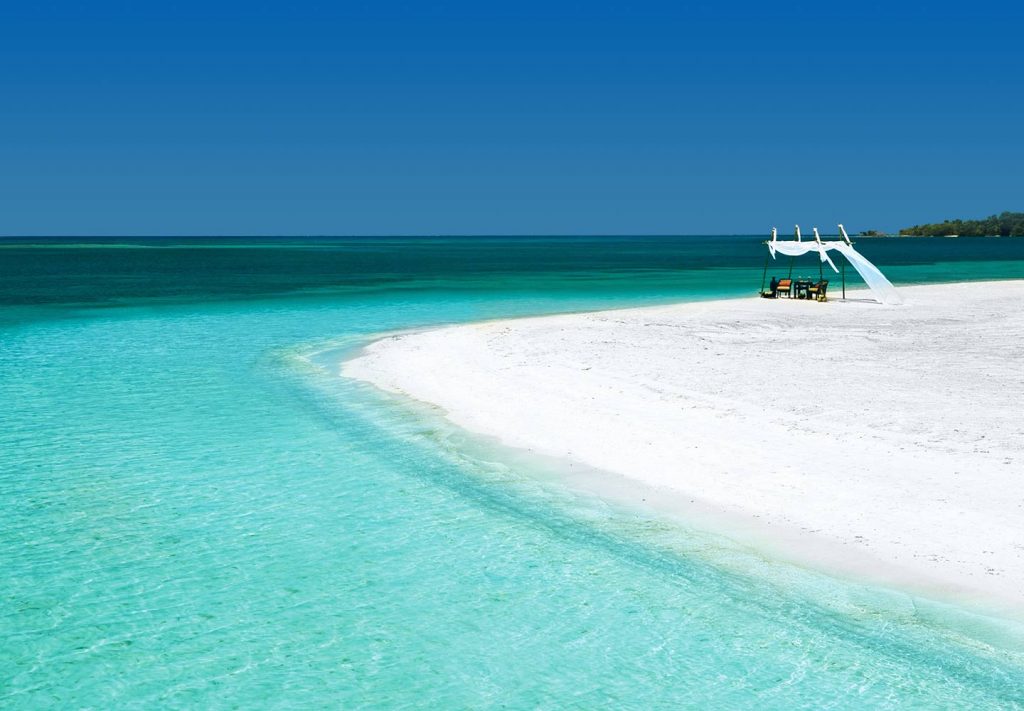 St. Lucia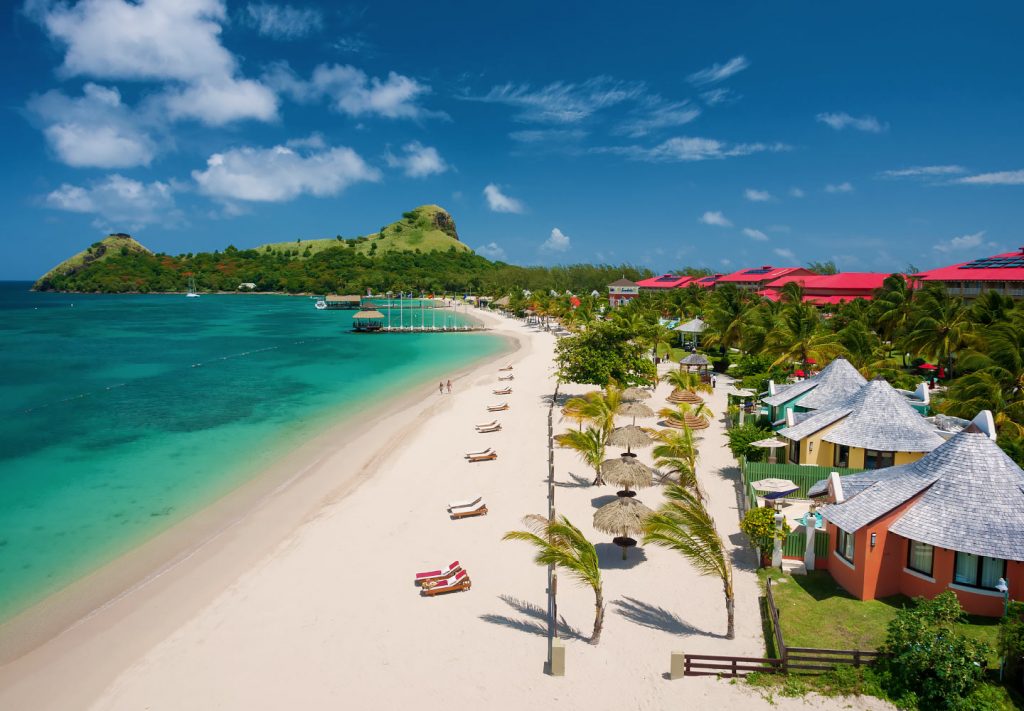 Sandals Grande St. Lucian— On the beautiful island of St. Lucia you have three Sandals Resorts (you can read about all three on this post here).  If you are looking for the Sandals Resort with the best beach on St. Lucia then you should only focus on Sandals Grande St. Lucian.  Sandals Grande St. Lucian is on a peninsula with the Caribbean Sea on one side and the protected waters of Rodney Bay on the other.  Rodney bay offers the gentle turquoise water travelers often picture when they think of the Caribbean and Sandals Grande St. Lucian boasts a 1 mile stretch of beach on Rodney Bay.   Water sports like diving and snorkeling that are included at every Sandals Resort are also able to leave directly from the pier at Sandals Grande St. Lucian rather than divers and snorkelers being transferred to a marina as they are at the other Sandals St. Lucia properties.  Sandals Grande St. Lucian also offers overwater bungalows and an overwater wedding chapel.   Beach lovers will want to focus on overwater or rondoval butler suites for the ultimate luxury, or rooms that offer "beach views" as these rooms will face Rodney Bay.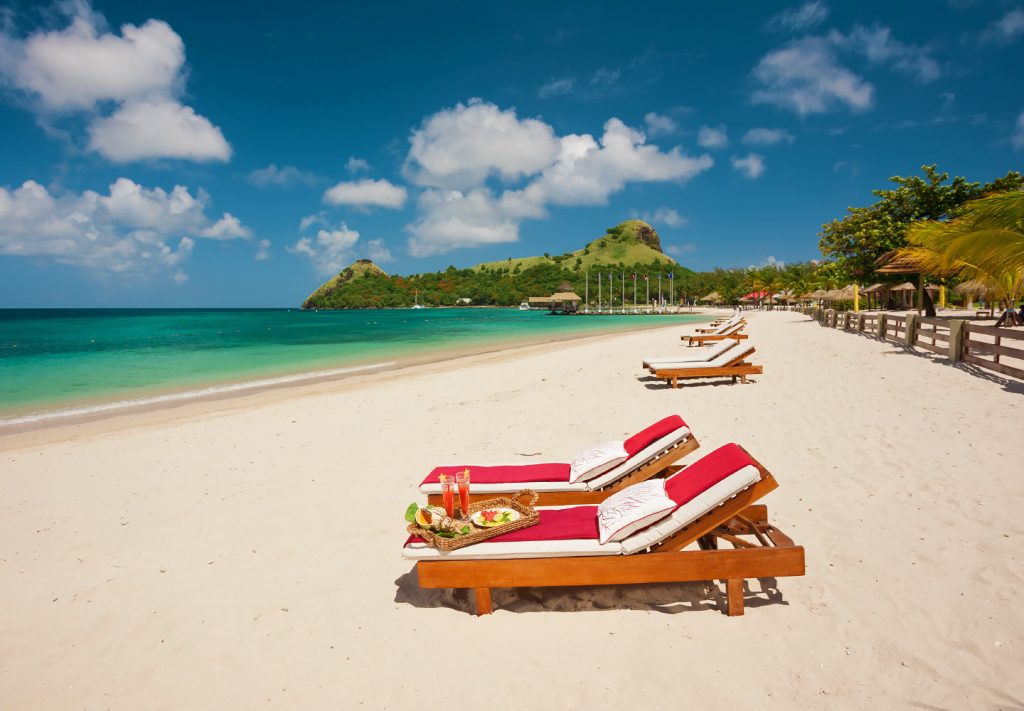 Feel like you've figured out which Sandals Resort has the best beach and is just right for you? If you want more details on your Sandals Resort options, need help selecting the perfect room category, arranging a split stay between two different resorts or two different islands,  or if you have any questions regarding Sandals Resorts in the Caribbean feel free to call us or click the "Contact a Sandals Specialist" button below!
Photo credit to Sandals Resorts and Dreams  and Destinations Travel.  Some links contain affiliate information.  
Our readers viewing this list wanting a family friendly Sandals Resort with a great beach need to look no farther than Beaches Resorts .   Beaches Resorts are the resorts in the Sandals family that offer all-inclusive vacations for everyone, including families.  If you are looking for the Beaches Resort with the best beach for your family vacation, destination wedding, or getaway with friends and family then look no farther than Beaches Turks and Caicos.
Images used with permission and courtesy of Sandals Resorts