Beaches Resort Turks and Caicos
After 2 recent return visits to Beaches Resort Turks and Caicos, one of my all time favorite resorts, it seemed like a good time to give Beaches Resort Turks and Caicos it's own post.  What makes Beaches Resort Turks and Caicos so special?  Let's start with the destination.  The island of Providenciales and Grace Bay has been voted as home of one of the best beaches in the world year after year.   Just imagine powder white sugar sand and the bluest water you've ever seen…yes… it is just that amazing!  Now add one of the ultimate all-inclusive resort brands on that beach and voilà!  Vacation perfection!
Beaches Resort Turks and Caicos Overview

Beaches Resorts is the sister brand to Sandals Resorts.  Same great inclusions as Sandals, but not couples-only.  These resorts are awesome for singles getaways, girlfriends getaways, multi-family vacations, family vacations, destination weddings, etc… Beaches is the ultra-inclusive resort for everyone.   Beaches Resort Turks and Caicos is the largest of the 3 properties (the other two are in Jamaica)  and is the ultimate inclusive resort.
The Villages at Beaches Resort Turks and Caicos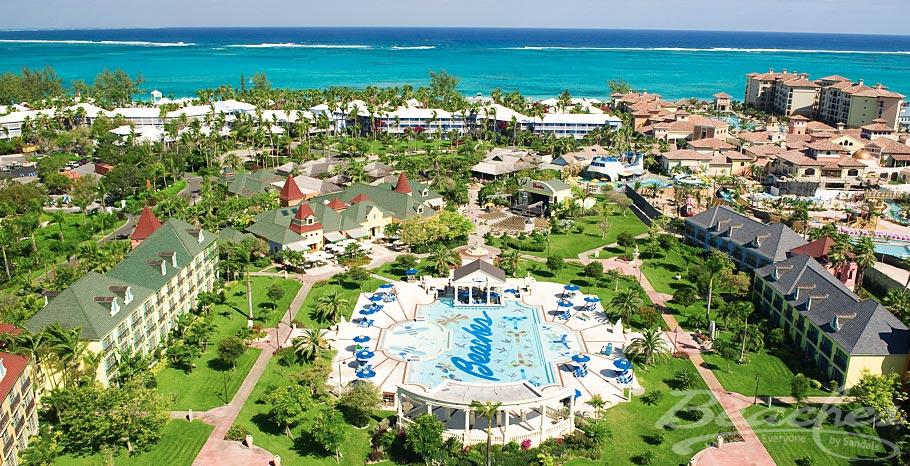 Accommodations at Beaches Resort Turks and Caicos are divided between 4 villages.  The Caribbean Village is the original village, followed by the French Village, the Italian Village was built from the ground up and completed in 2008.  The Key West Village is the newest, joining the existing resort in 2013.
Caribbean Village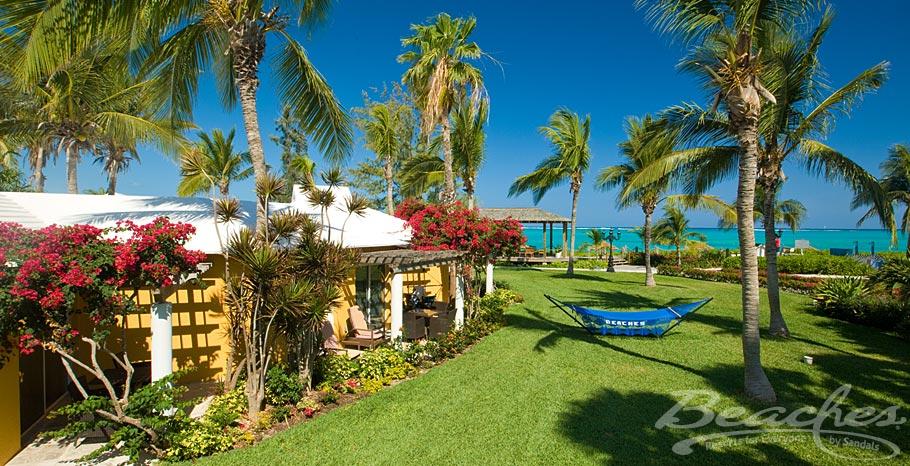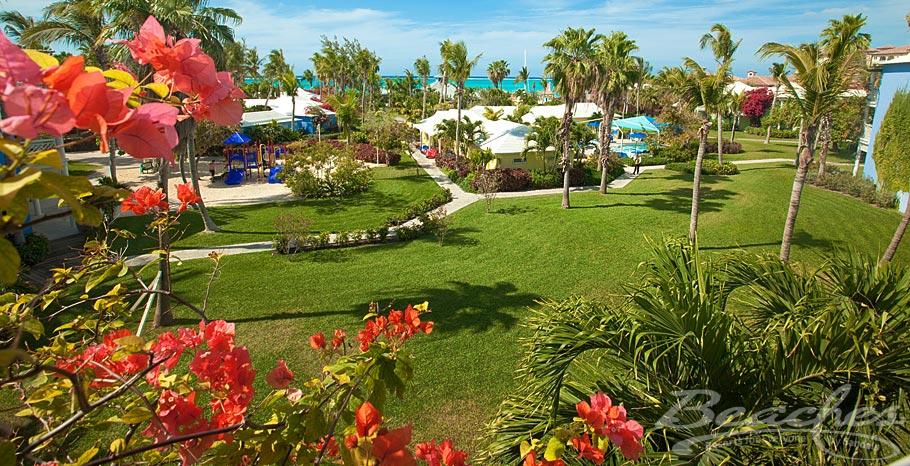 This is the original part of the resort, although most rooms have just undergone recent soft renovations and there have been extensive renovations in the Cay Villas.  I personally love the Caribbean Village  because of it's low rise Caribbean style buildings and villas, beautiful gardens and proximity to the beach.  Some of the benefits of staying in the Caribbean Village are…
Most affordable entry level rooms
Short walk to the beach
Closest to Camp Sesame
Rooms newly renovated
Affordable concierge and butler accommodations
Quiter pools
6 restaurants with 1 adults-only option
Close proximity to Italian and French Village dining and entertainment
French Village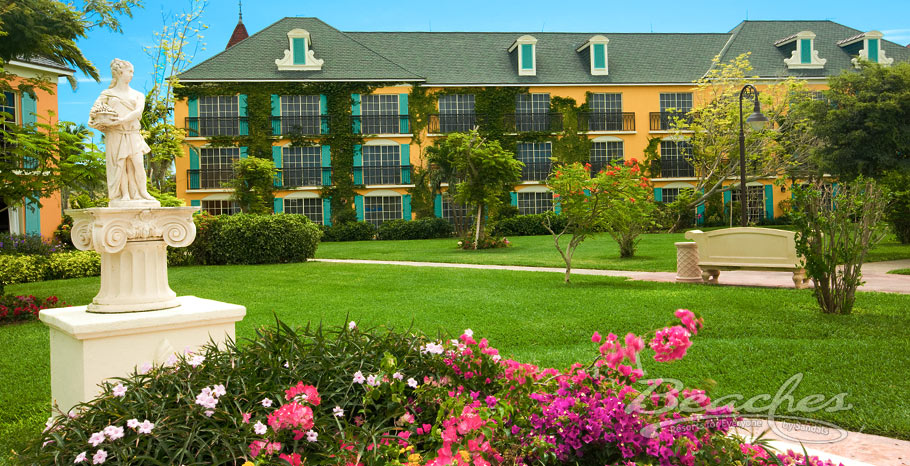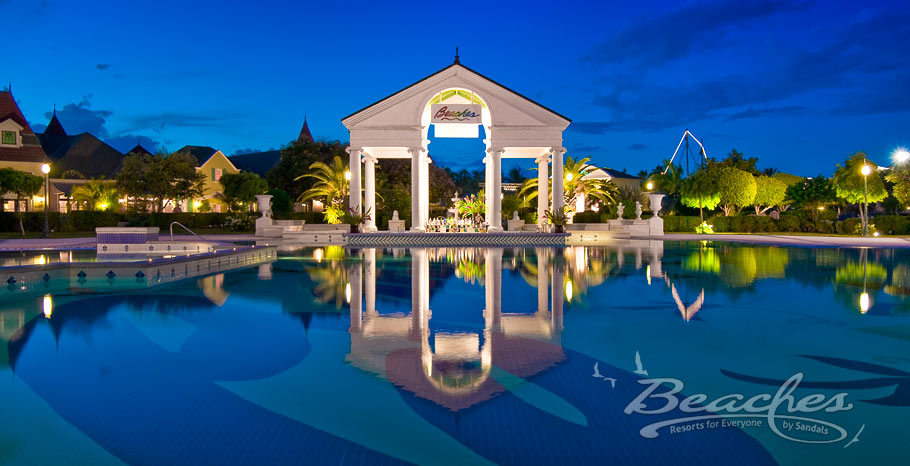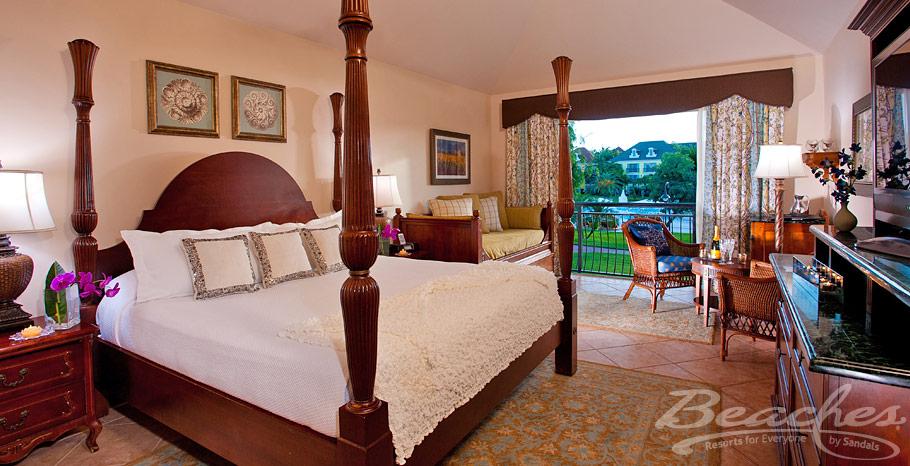 The French Village is farthest from the beach, but closest to the Pirates Island Waterpark. It is  important to note in this village that rooms here don't have full balconies.  Rooms on the higher floors have French balconies.  If you want outdoor space in this village you will need to select a walk-out room, which comes with a patio just steps from the pool.   Some of the benefits of staying in the French Village are…
Most affordable 1, 2 and 3 bedroom accommodations
Closest accommodation to Pirates Island Water Park
Large pool with swim-up pool bar
All rooms have a pool view
Six dining options just steps away, including one for guests 12 and up
Closest accommodation to the spa
Closest accommodation to the entertainment stage
Italian Village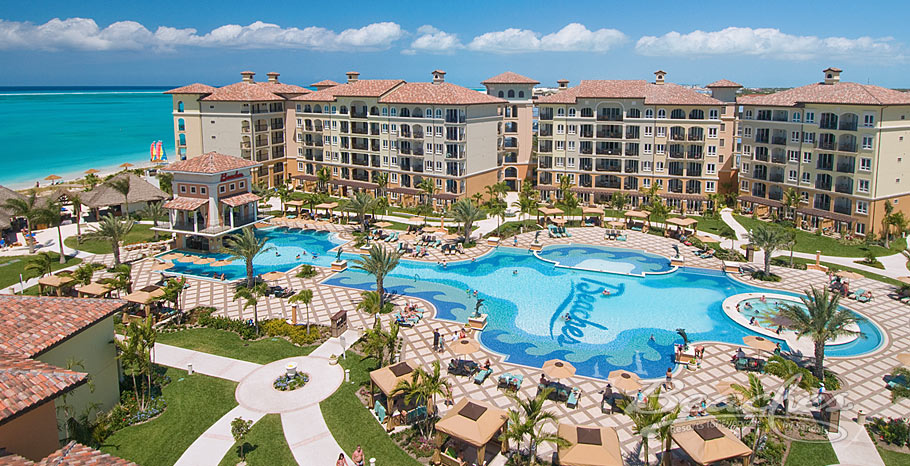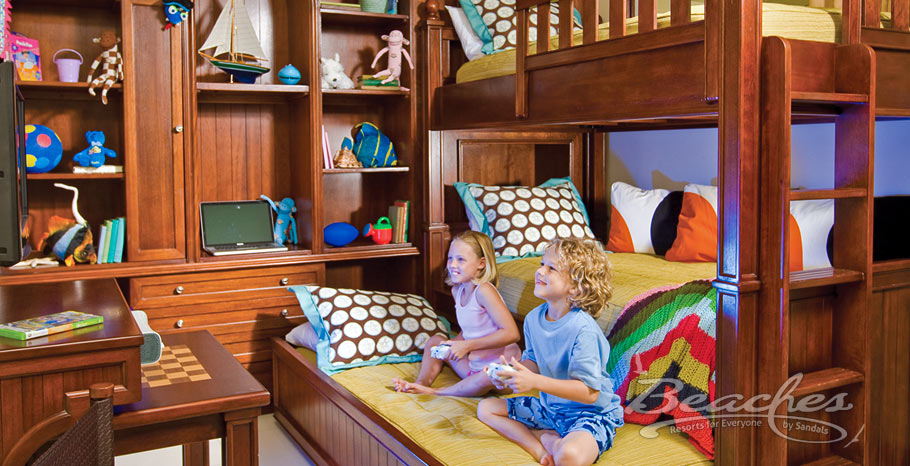 Where do I start???  I.love.this.village.   The Italian Village is central to everything; beach, restaurants, shopping, entertainment, other villages.  I love the pool and the rooms that walk-out to the pool (awesome for families with preschoolers).  I love the Mediterranean ambiance.  I love the tile and the Italian marble and the California king beds.  I love the kids room with the bunks and kids amenities.  And I love the views, the expansive water views most of the higher rooms in this village have.   The Italian Village is the most expensive village at Beaches Resort Turks and Caicos, but worth every penny.  Some of the benefits of the Italian Village are…
Centrally located to all villages
Close to beach
Family suites with kids sleeping rooms complete with XBox gaming systems
Some suites accommodate larger families up to 7 adults and up to 5 children
Luxury concierge and butler accommodations
4 dining options and in close proximity to dining in all of the other villages
Key West Village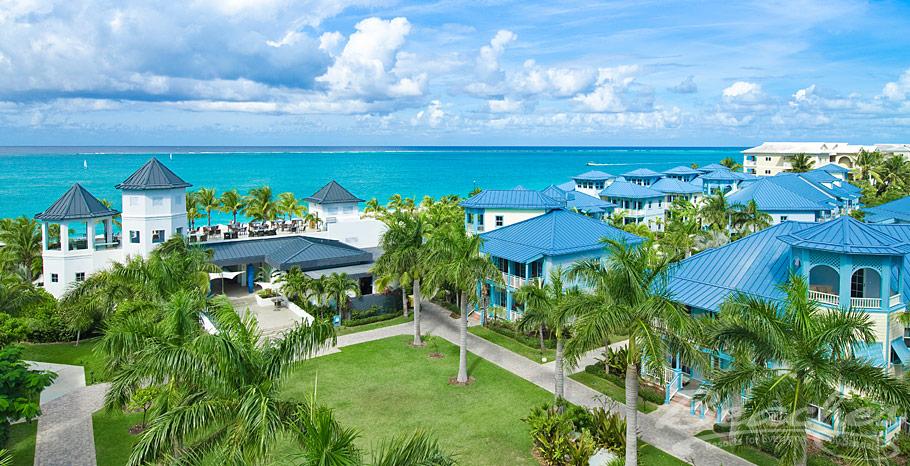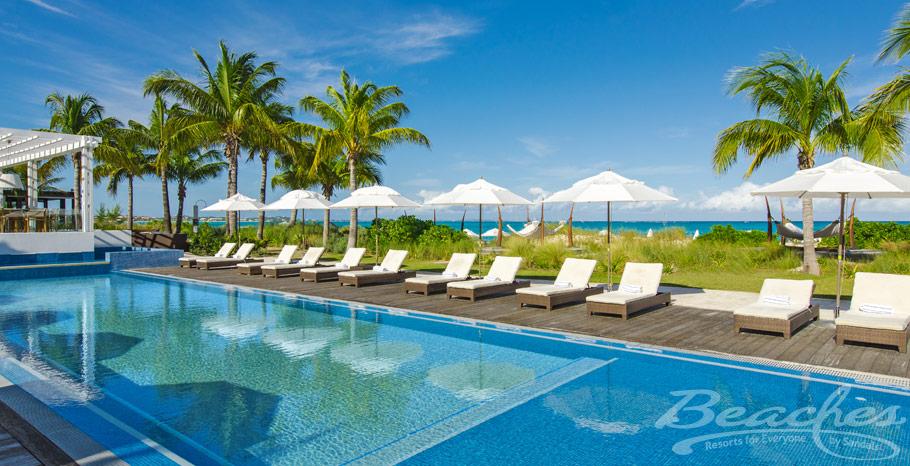 This newest village at Beaches Resort Turks and Caicos is quiet, elegant and makes you want to grab a good book, a hammock and relax.   In the Key West Village each suite and villa is individually decorated, and while similar, they are each unique.   Some suites will offer a powder room, others will have a washer/dryer in unite.  All of them have the feel of an elegant Florida Keys beach cottage or condo.   While there are not "adults-only" pools at Beaches, the pools in the Key West Village tend to be more appealing to adult guests. Families with very young children will want to note that this village does require a good bit of walking.
All concierge and butler accommodation
Each accommodation here is unique
Accommodations here are perfect for extended vacations at Beaches
Offers 3 restaurants, including an adults-only dinner option
Infinity pool located here
Quieter section of resort
Two, three and four bedroom options for larger or multiple families on vacation
Concierge Service at Beaches Resort Turks and Caicos
Your concierge level room comes with VIP check-in at the Concierge Lounge, Lounge access.  A fully stocked and replenished daily mini-bar in room.  Concierge staff will also assist you with water sports, tour and restaurant reservations.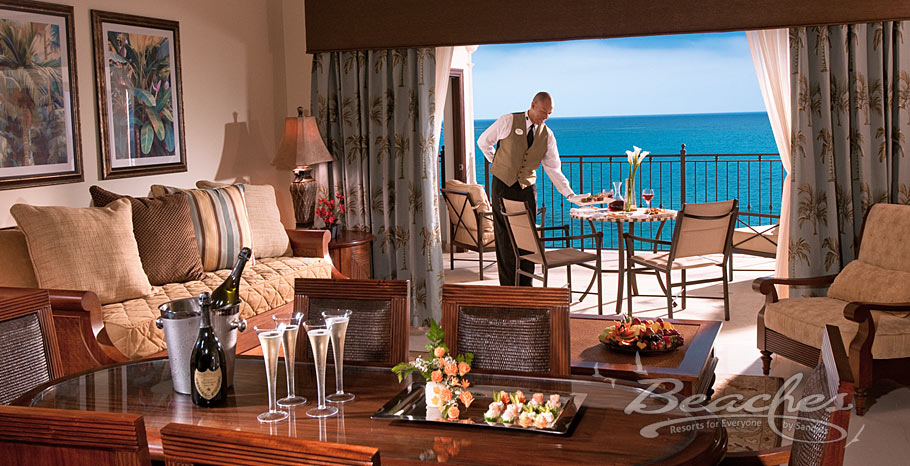 Butler Services at Beaches Resort Turks and Caicos
Butler service at Beaches Resort Turks and Caicos offers you the best suites with the best amenities on resort.  You'll have a fully stocked mini-bar with premium alcohol and wines as well as 24 hour room service.  Your butler experience will check you in ensuite upon arrival.  They will prepare your pool side cabana or beach chairs in the morning and make sure you are well stocked throughout the day and much more.   We like to refer to Beaches butlers as the resort "genies" making moments of magic happen for guests every day.
Food and Beverage at Beaches Resort Turks and Caicos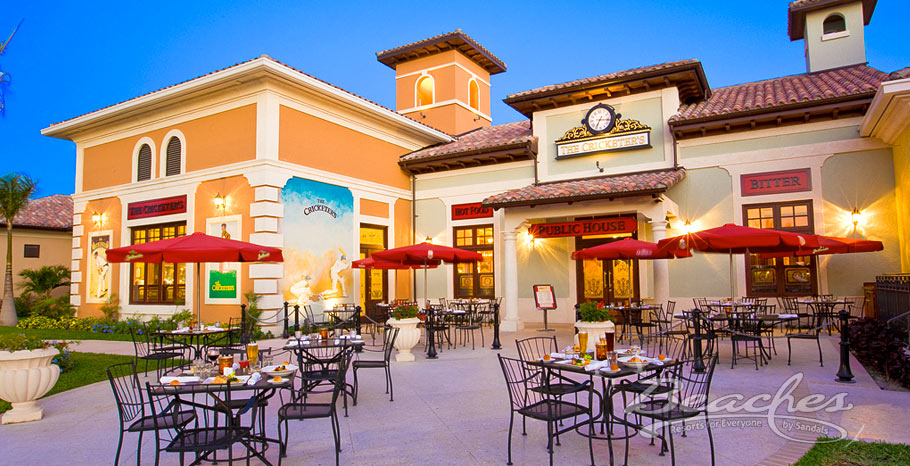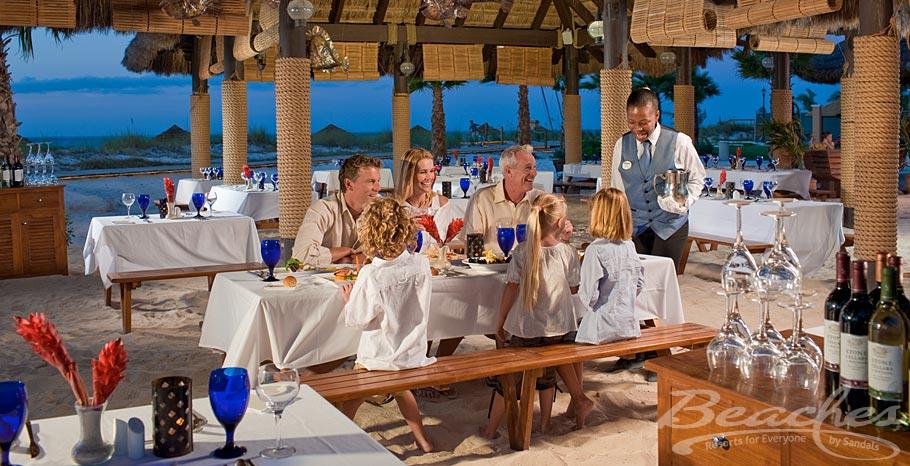 With my kids being the picky eaters they are I love the dining options that Beaches Resort Turks and Caicos provides.  You have 24 different international options with a several restaurants catering only to older children and adult guests at dinner.  Most restaurants do not require reservations.  You are able to select cuisines ranging from Indian, Italian, French, Asian,  Tex Mex, Caribbean,  Jamaican, Mediterranean, and international buffets.  We are super excited about the new dining additions at Beaches Turks though, like the Jerk Shack and the gourmet Mac and Cheese food truck and the gourmet ice cream and milkshake food truck.  are the
It is so nice to have more dining options than days of vacation and often you'll find my family enjoying starters at one, an entree at another and dessert at a third restaurant.  You also don't need to worry about finding a favorite watering hole at Beaches Resort Turks and Caicos.  With 12 different bars ranging from beachside to a British Pub to a Miami style nightclub there is the perfect place for your 5 O'Clock somewhere.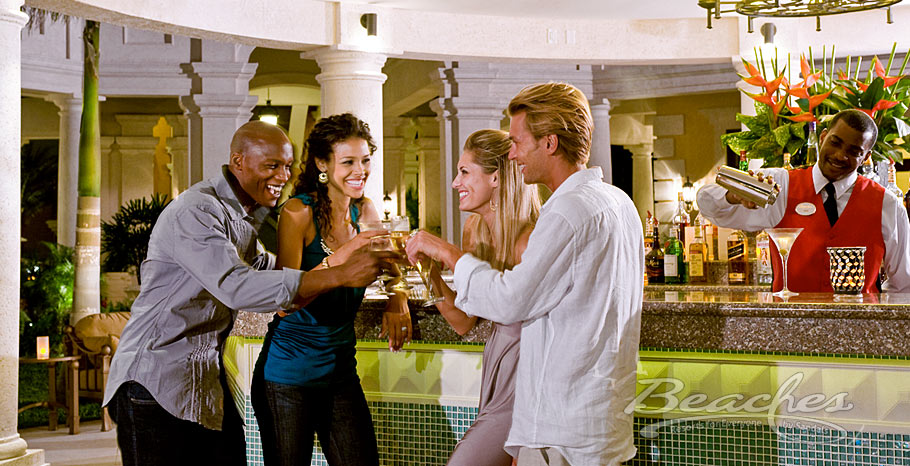 Food Allergies and Gluten Free at Beaches Resort Turks and Caicos
Beaches Resort Turks and Caicos is able to cater to guests with food allergies and special dietary needs.  The resort has a "culinary concierge" on staff that is able to provide menus and make recommendations for food allergies and dietary needs.  For special requests or very specific dietary needs, such as Kosher meals,  they are able to accommodate with advance notice (1 month in advance) in order to prepare and have items shipped to resort.
Kids Programs at Beaches Resort Turks and Caicos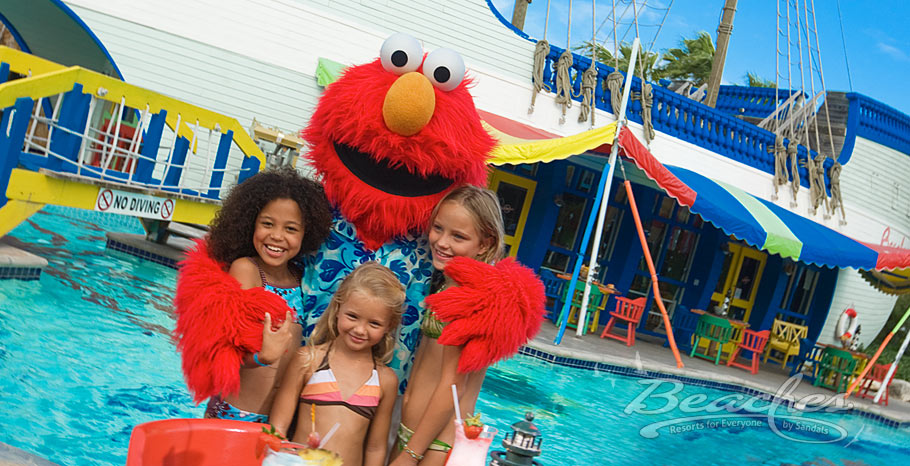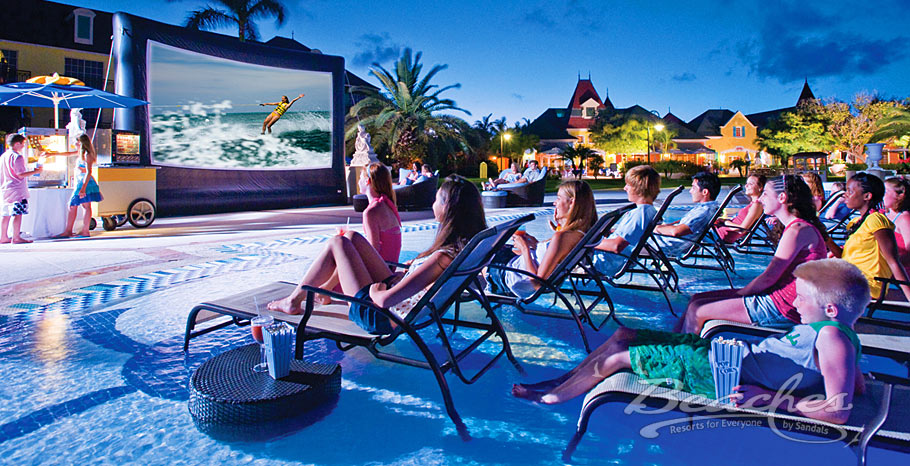 My kids have been frequenting Camp Sesame since they were 4+months old and for moms with young kids it is truly a vacation…and as the proud mommy of preschoolers 13 months apart those vacations were (and still are) desperately needed.    Beaches offers Camp Sesame, complete with Sesame Street characters, for children ages 0-4 (and us big kids who grew up on Sesame Street).    Your preschooler can enjoy the tropical choo choo train, interactive character breakfasts for a nominal charge (a family of 4 is around $40) or complimentary activities like cooking with Cookie Monster, dancing with Zoe or "Elmocising" with Elmo.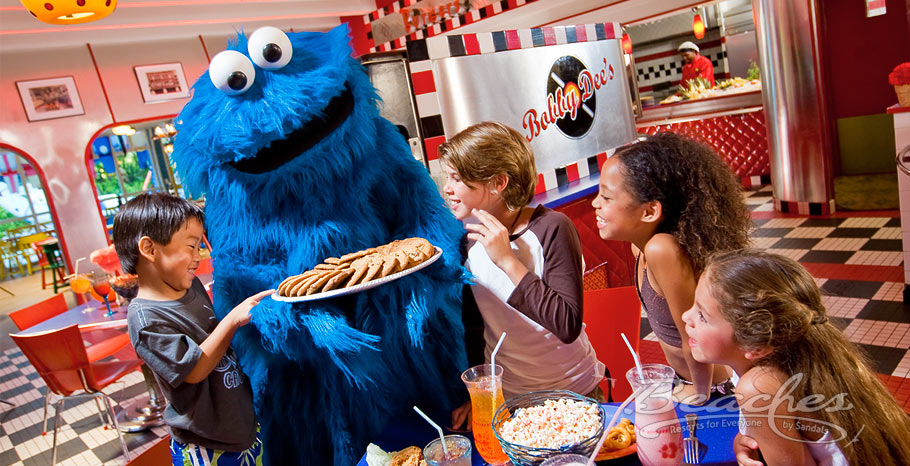 The kids camp offers age appropriate options for children 5-11 with crafts, activities and games.  Your tweens and teens programs offers older kids a chance to have their own vacation with new friends their own age.   We have traveled with children ranging from 4 months to 13 years-old on extended family vacations and every kid had a great time with activities created for them.   Want a late night romantic night out?  No worries!  Nannies are available for a nominal fee as well.   Beaches Resorts offers the best experience for children of any resort in the Caribbean, hands down.
Kids of all ages will also enjoy theXBox 360 Play Lounge.  The XBox Lounge offers all of the latest games and serves as a test center for XBox with games available that haven't been released yet.    For the budding musician there is also the DJ Scratch Academy (for a nominal fee) that teaches DJ techniques and then allows your tween or teen to "guest DJ" at Club Liquid.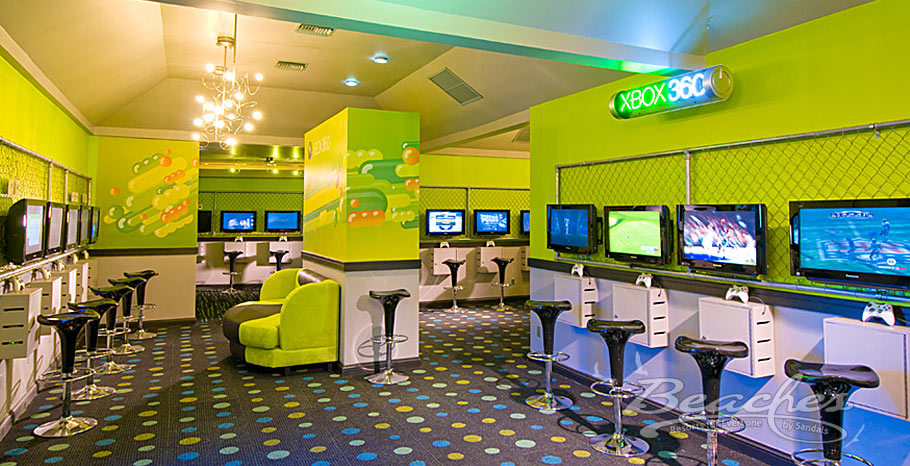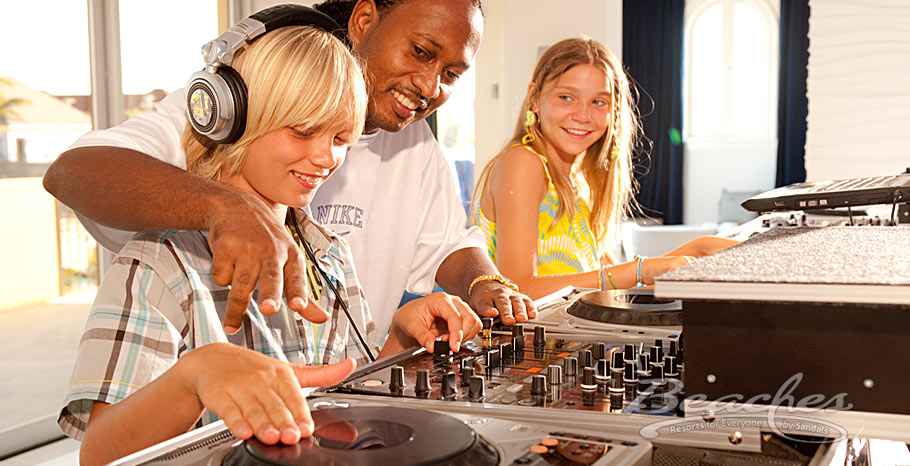 Water Sports at Beaches Resort Turks and Caicos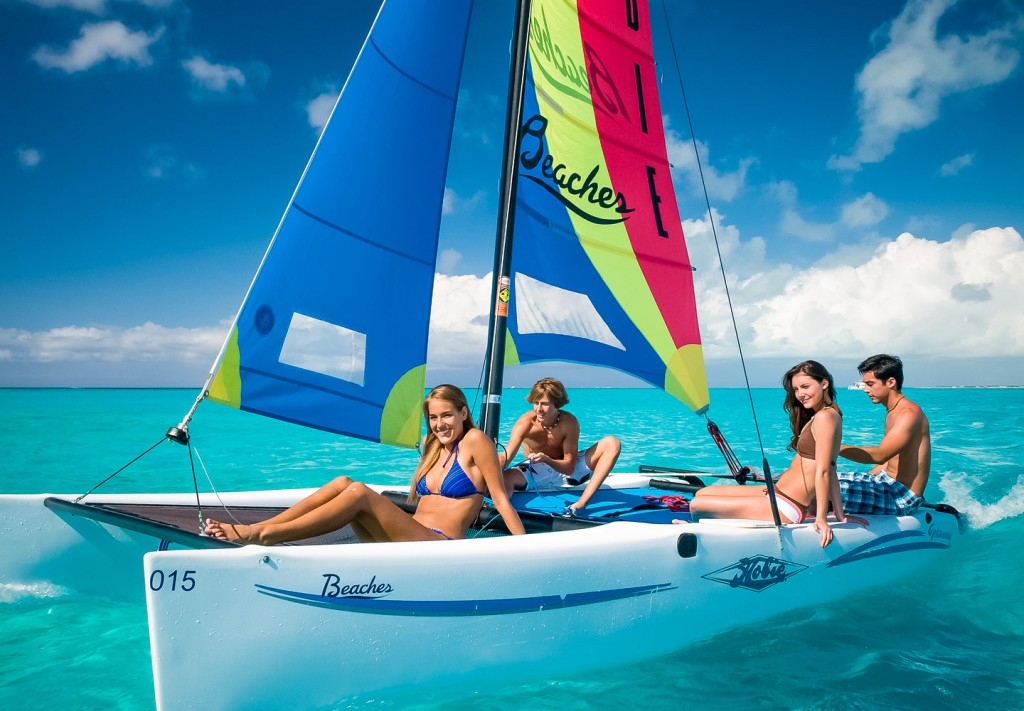 Beaches Resort Turks and Caicos offers both motorized and non-motorized water sports.  For certified divers this allows you to dive daily (either one 2 tank dive or two 1 tank dives).    Snorkeling excursions to the reef are included and Grace Bay also has very good snorkeling from shore as well.   In addition paddle boarding, kayaking, sailing, water trikes and hobie cats are a part of your complimentary water sports package.    When you are done at the beach take your pick of pools and whirlpools or venture over to the Pirates Island Water Park with lazy river, surf simulator and water slides all included.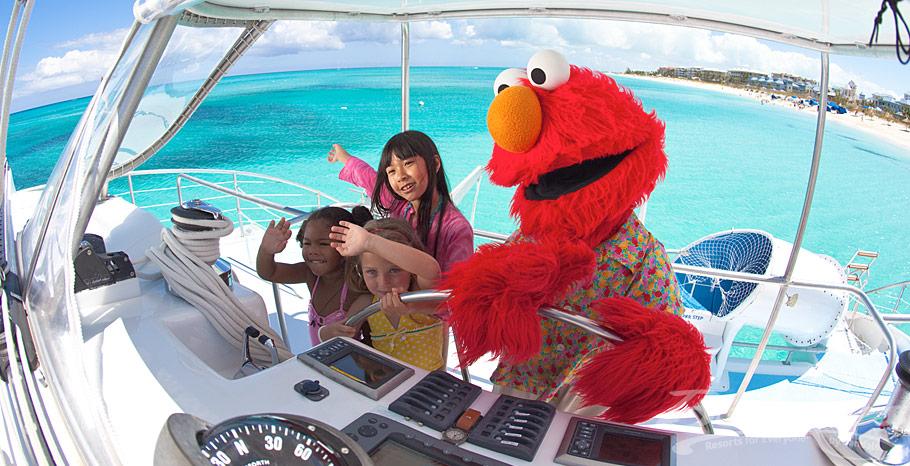 Romance at Beaches Resort Turks and Caicos
Don't worry!  It is possible to set aside a little time for romance for couples traveling to Beaches Resort Turks and Caicos.   Our favorite thing is to schedule a couples massage at the spa, followed by a romantic dinner for two.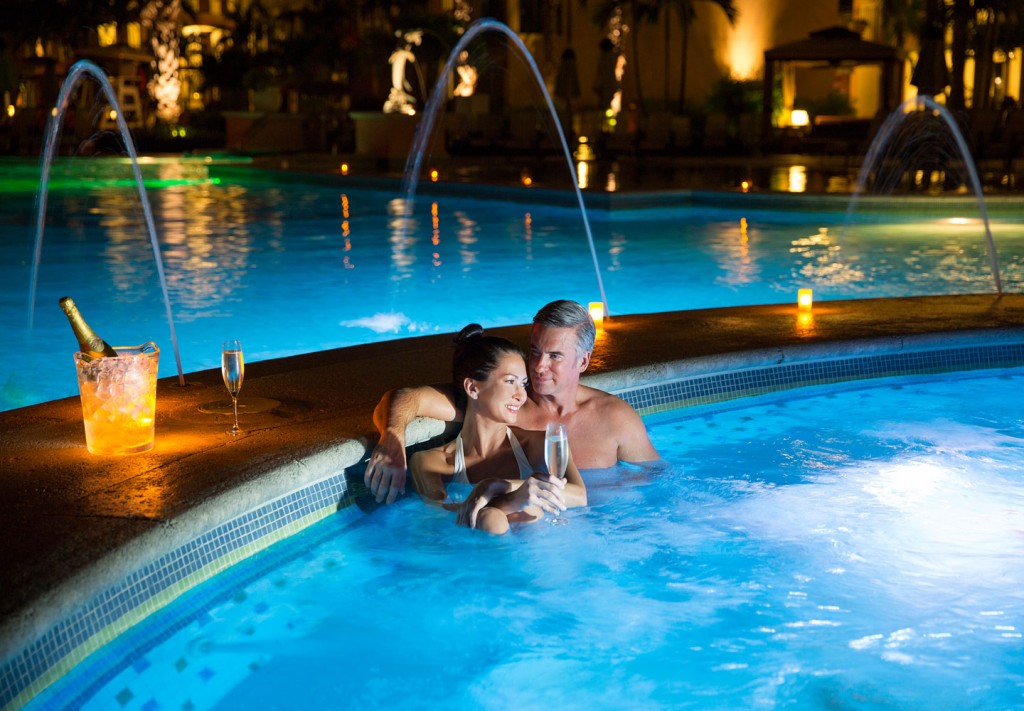 Weddings at Beaches Resort Turks and Caicos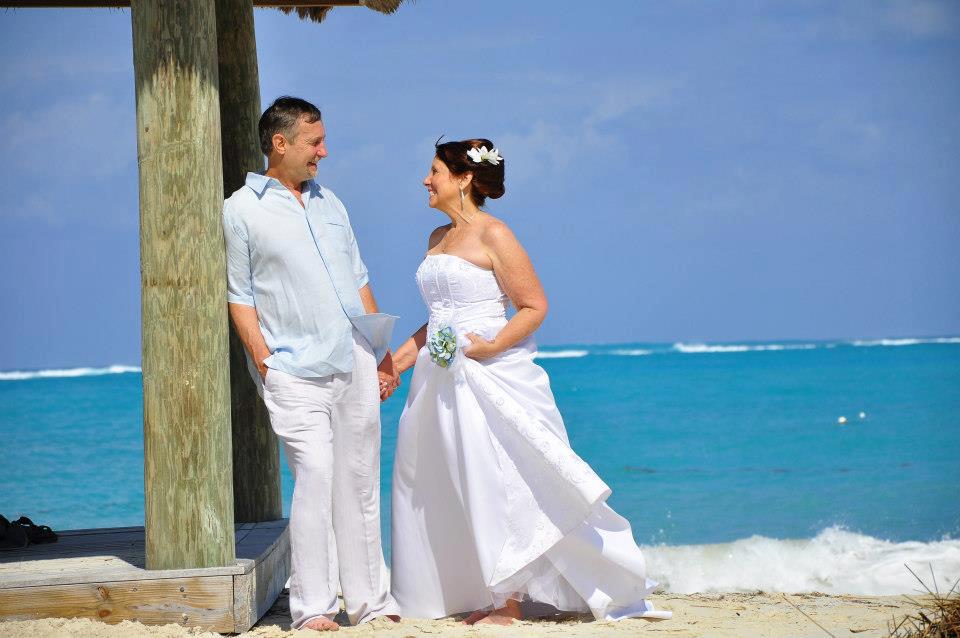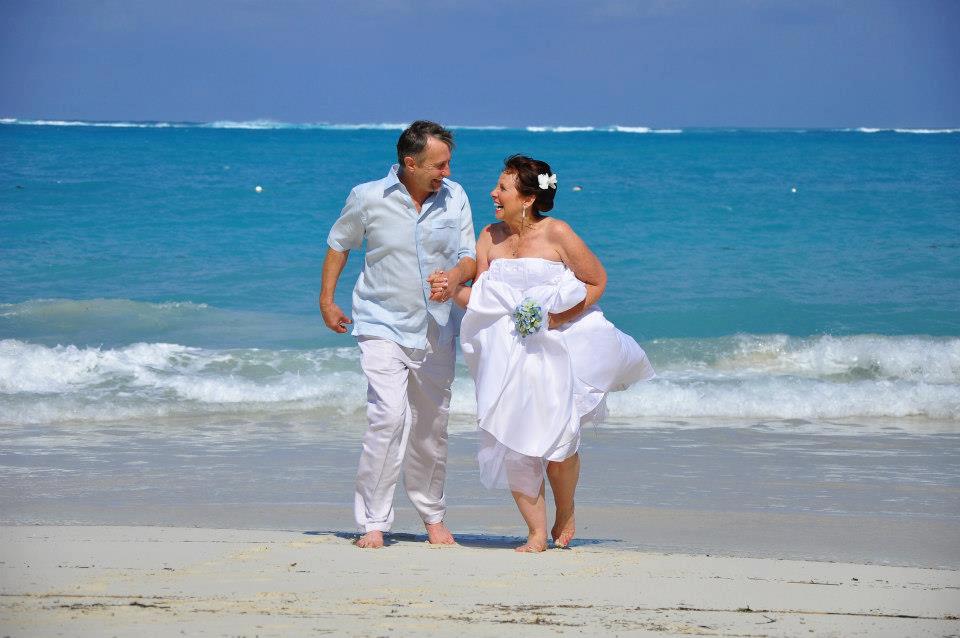 If you are looking for a destination wedding venue that offers something for every guest and an unbelievable amount of inclusions for a bride and groom then Beaches Resort Turks and Caicos should be at the top of your list.   Dreams and Destinations has hosted weddings here from elopements to large groups of 130 people and every wedding has had an amazing time at a fraction of what the same wedding would have cost the bride and groom at home.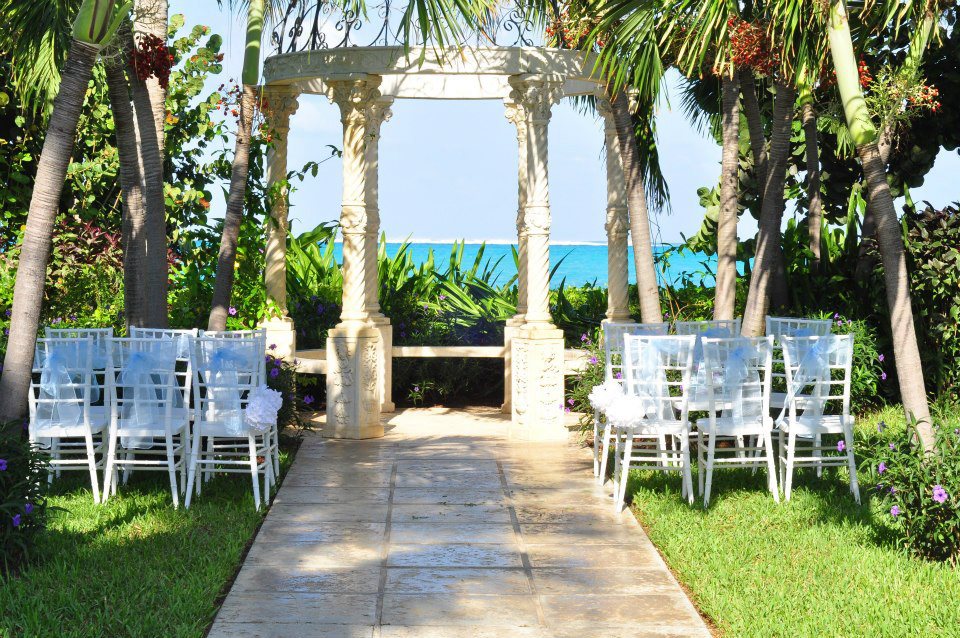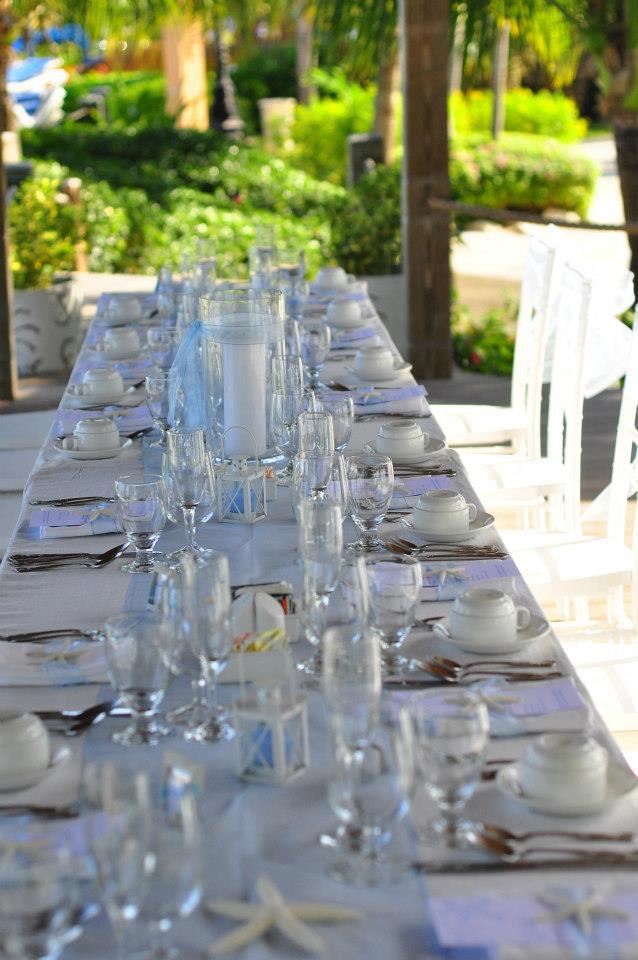 What Does Your Beaches Turks and Caicos Vacation Price Include?
Round-trip, nonstop ground transfers between the airport and resort (20 minutes transfer)
Resort accommodation in your purchased accommodation
Complimentary wi-fi
Gratuities (only spa staff and butlers may accept additional gratuity)
Taxes
Unlimited meals and snacks
Unlimited alcoholic and non-alcoholic beverages included (premium brands included)
Water sports (both motorized and non-motorized)
Resort entertainment
Pirates Island Water Park with water slides, lazy river, and surf simulator
Camp Sesame for children ages 0-4
Kids Camp for ages 5-11
Tweens and Teens programs
Tennis (courts are lit for night play
Land sports like basketball, beach volley ball, croquet, table tennis and pool
Fitness center
Complimentary wedding packages
Complimentary vow renewals for group bookings
It is actually easier to just list what your resort package does not include….
Spa treatments (unless you have a spa credit as part of a resort sale when booked)
Excursions/Tours off property
Diving courses if you are not certified (adults and children)
Romantic candlelight dinners for 2
Evening private nanny services or 1-1 nanny service
Shopping
Wine upgrades from the Manager's and Chairman's lists
Resort photography packages
Character breakfasts
DJ Scratch Academy
Sesame Street character tuck-ins
Character birthday parties
Wedding upgrades
Re-Tie the Knot upgrades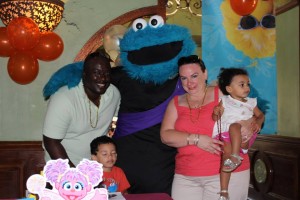 Melinda Webb Huggan's first date with her amazing husband was at Beaches Resort Turks and Caicos (he worked for Sandals and Beaches Resorts at the time).  They were married at Beaches Negril and their love of all things Beaches has carried on to their "Beaches babies". Melinda has traveled to every Sandals resort, and has brought her family to every Beaches Resort.  She is a Platinum Level Certified Sandals and Beaches Resort Specialist as well as a Chairman's Royal Club member (one of a select few top agents in the USA and Canada) .
Dreams and Destinations Travel is a Sandals and Beaches Preferred Agency and a top producing Best of the Best agency with Sandals and Beaches.   Our agency owner and founder is included a select group of top Sandals and Beaches specialists in the USA and Canada; and our Dreams and Destinations travel consultants are Certified Sandals and Beaches Specialists (CSS).  We never charge a fee for our Sandals and Beaches clients so you are able to work with the same agent, get customized service and enjoy our knowledge and relationship with Sandals and Beaches Resorts at no additional cost to you. 
Images used with permission of Dreams and Destinations Travel and Beaches Resorts.
Amenities vary by resort and additional fees, date restrictions and stay requirements may apply.  Affiliate links are used on this page.