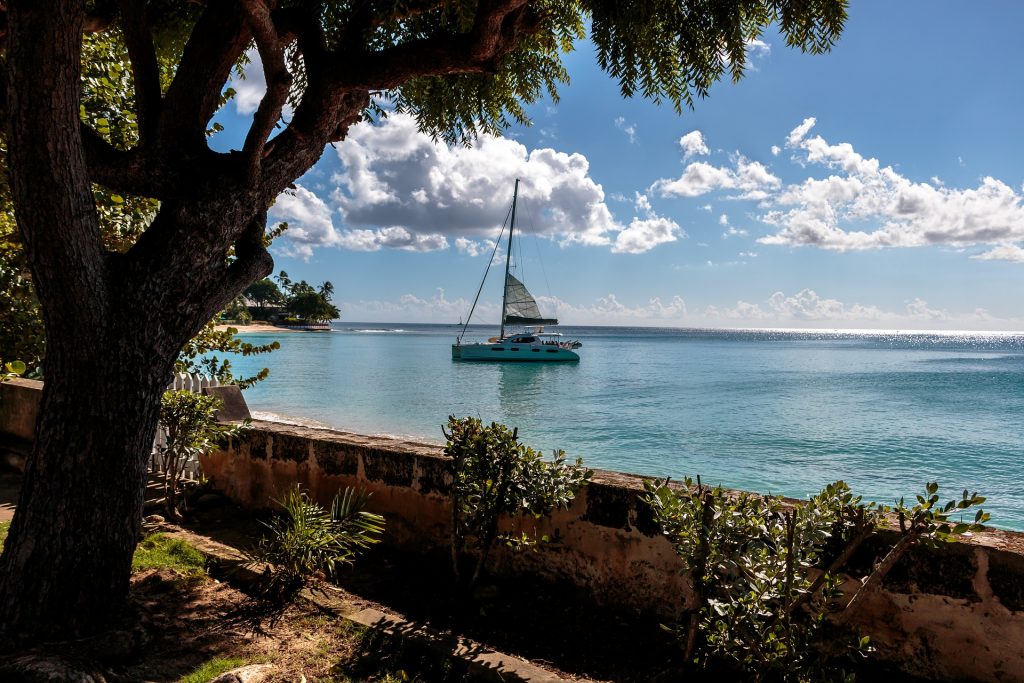 Barbados is an island gem located in the Eastern Caribbean, and while it only encompasses 167 square miles, it offers a wealth of cultural, historical and natural experiences for travelers worldwide. This independent island nation within the British Commonwealth often referred to as "Little England".  The island blends English history and tradition with rich Caribbean style in a way that is uniquely Barbados.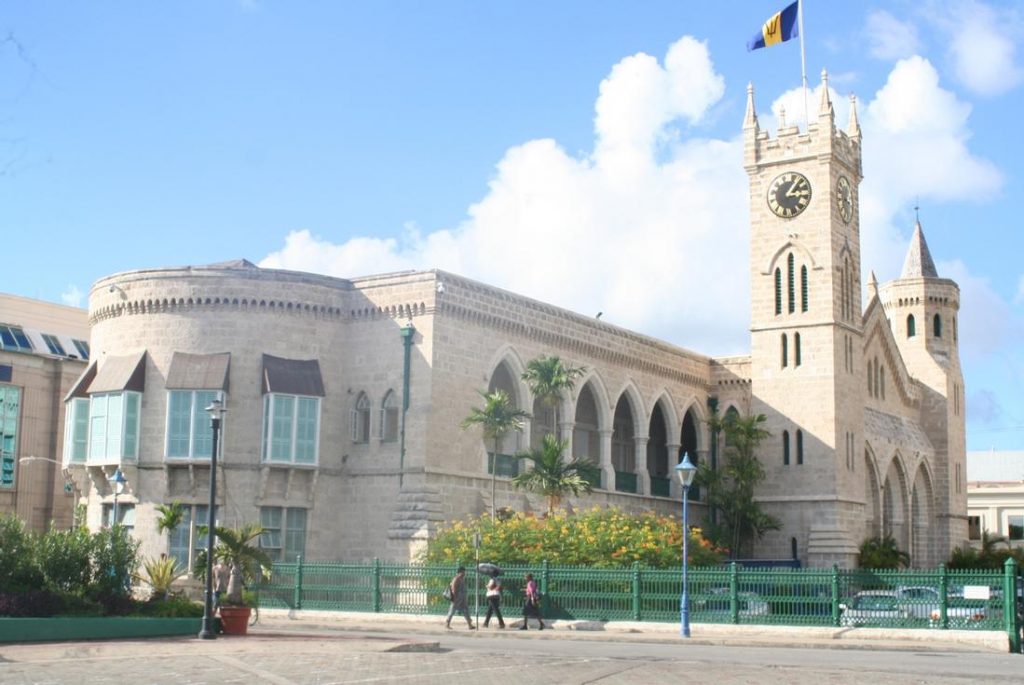 Barbados is located in the Lesser Antilles situated in the western area of the Atlantic Ocean ,and 100 kilometers east of the Windward Islands and Caribbean Sea.  It is a relatively flat coral island (with the exception of Mount Hillaby at 1115 feet above sea level),  and is completely surrounded by the Atlantic Ocean.   It's location in the eastern Caribbean, on the edge of the hurricane zone, means it is frequently spared damage from tropical storms and hurricanes.   The island boasts 340 days of sunshine a year, but does have a wet season lasting from June to November with temperatures ranging from 73 to 88 degrees.  The dry season lasts from December to May with temperatures ranging from 70 to 88 degrees.  The island's moderate tropical climate beckons travelers seeking warm weather and plenty of sunshine.     Barbados' coastlines are all very different from one another and offer a varied contrast for visitors to the island.
East Coast
Known for its rugged beauty. The landscape has been compared to Scotland (this is where the "Scotland District is)
Awe inspiring seascape with powerful Atlantic waves breaking over rocks and reefs
Surfer's paradise-the "Soup Bowl" is located here.  Home to an annual surfing competition
Not safe for swimming in many areas
Intriguing pirate history and legends
Beach combers paradise
Isolated and largely untouched
Attractions include Andromeda Gardens, Chalky Mount Potteries and Morgan Lewis Mill
West Coast
Often referred to as the "Gold" or "Platinum" coast
Known for clear warm waters that lap gently onto golden, white or even pink sand beaches
Home of the quintessential Caribbean vacation
Home to world class golf
Home to many of Barbados 5 star resorts
Beaches perfect for swimming and snorkeling
Best sunsets on island
South Coast
Referred to as the 'Fun Coast' with vibrant nightlife, restaurants and shopping
Home of St. Lawrence Gap "The Gap"-best nightlife location
Friday Night Fish Fry in Oistins
White sand beaches, inshore reefs and tidal pools.  Most of the beaches on the South Coast have lifeguards, provide beach chairs and umbrellas to rent
The Caribbean Sea and the Atlantic Ocean meet off the South Coast of Barbados creating active waves. Perfect for energetic water sports like surfing and windsurfing
Home to all-inclusive resorts like Sandals Barbados and Sandals Royal Barbados 
North Coast
Two distinct sides of the North Coast  – the West Coast with its Caribbean Sea coastline, and the East Coast with its Atlantic Ocean coastline.
Secluded windswept terrain with panoramic views of the sea
Picturesque bays and stretches of white sandy beach
Offers both safe, calm bays (never swim alone though) and dangerous swimming areas suited to surfers and scuba divers
Divers can enjoy sea caves, blowholes and shipwrecks
Local craftspeople demonstrate traditional skills on the beach
Can be explored via Segway or Jeep
Striking photographic scenery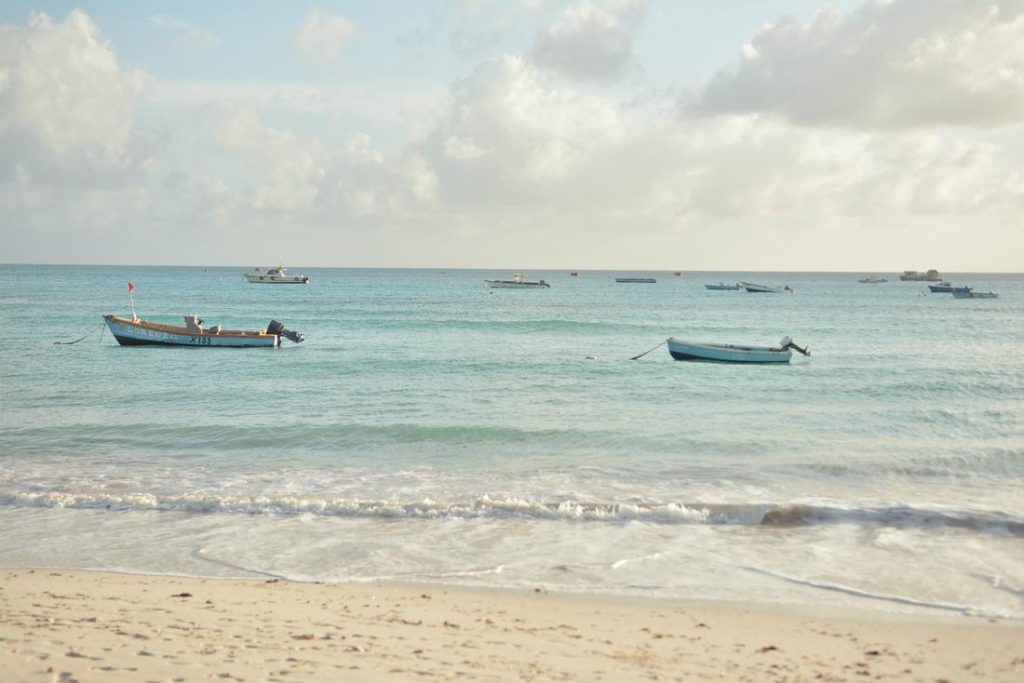 Getting to Barbados
Barbados enjoys nonstop flights from Miami (3 hours 30 minutes), New York  (4 hours 45 minutes), Toronto (5 hours), London (9 hours),  to Bridgetown (BGI). Barbados also serves as a hub for the Caribbean with LIAT flights departing from Bridgetown to many islands in the Eastern Caribbean.
What To Do On Barbados
Bridgetown, the capital of Barbados and a busy cruise port.  Enjoy beautiful colonial buildings, Nidhe Israel Synagogue, Mount Gay Rum Distillery and St. Michael's Cathedral.
Queen's Park where visitors can view a 1,000-year-old baobab tree and enjoy a thriving art gallery.
Andromeda Botanical Gardens is a six-acre botanical garden and one of Barbados' top tourist attractions.
Harrison's Cave with it's dramatic limestone caverns located in the central uplands of the island.
Barbados Wildlife Reserve, located in a natural mahogany forest in the northern parish of St. Peter. The green monkeys are a "must see" attraction if you have the time.  Visitors can also enjoy parrots, flamingoes and peacocks.
Swim with sea turtles
Explore the many beaches, rolling countryside, charming villages, old sugar mills and plantations that represent the colonial past of the island.
World class golf
World class surfing
Vibrant nightlife.
Once you experience the warm hospitality and unique wonders of Barbados you will understand why it is so hard to leave and why Brilliant Barbados beckons travelers to return time and time again.
BARBADOS QUICK FACTS
U.S. travelers: Valid passport needed for entry to Barbados
Official language: English
Official currency: Barbadian dollar (American dollars are widely accepted)
Climate: Year-round temperatures range from 70-88° F. The wet season lasts from June to November and the dry season lasts from December to May
Camouflage: The wearing of camouflage or military apparel is illegal in Barbados and clothing will be confiscated and persons charged accordingly