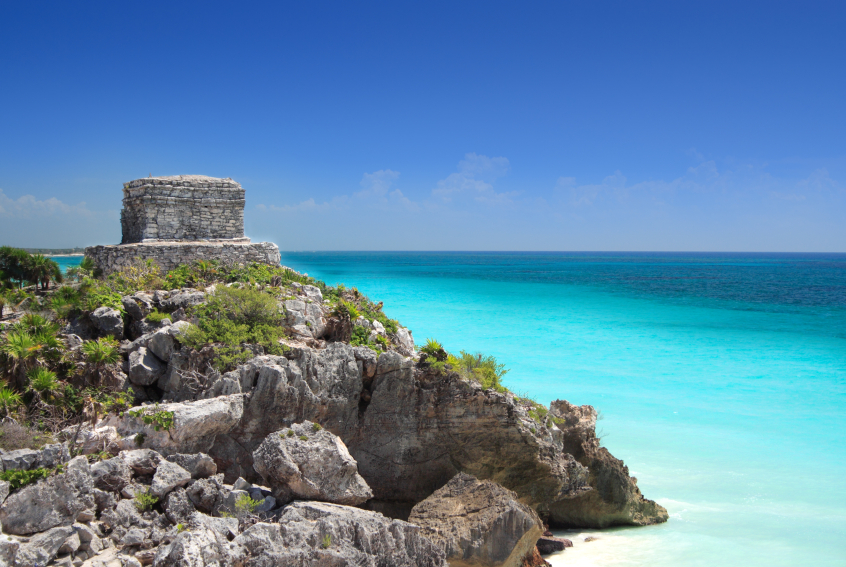 I've just returned from Mexico's Riviera Maya where I participated in the 2006 Mexico Luxury Travel Expo. Since we do quite a few honeymoons and destination weddings I felt it was important to attend in order to keep up with one of the top 10 honeymoon destinations for US couples. What I found was a destination that had something for everyone… couples, families, adventure seekers, eco-tourists, history buffs, divers…the list is just endless!!
We participated in quite a few of the more popular activities such as swimming with dolphins, enjoying Xcaret, and spending time at Tulum and Playa del Carmen. I'm not a diver so I didn't participate in any dive activities, but divers love this area of Mexico, home to the Great Maya Reef, second largest reef in the world. There is absolutely fabulous snorkeling in the clear blue water, horseback riding for couples, Temazcal purification rituals and other spa treatments, golf (you should check out the el Camaleon course next to the new Fairmont Mayakoba!), and adventure/ecotours.
Now I don't need heart stopping adrenalin rushes to have a great time on holiday. I'm happy with dolphins, shopping, or lounging on the beach, BUT my clients are increasingly interested in eco-tour/adventure excursions so I stepped out of my comfort zone and went on Alltournative Off Track Adventures' Mayan Encounter. First of all there aren't enough words to express how amazing their guides are. Our primary guide Gupier was part jungle expert, part psychologist, and part saint dealing with travel agents unaccustomed to risk-taking adventures. I think when someone asked about snakes in the jungle he pretty much knew how the day would play out. He was incredible with a great sense of humor, encouragement, and limitless energy that kept us going.all day.
What I was most nervous about actually turned out to be the highlight of the entire trip. I zip-lined across a jungle ravine,rappelled for the first time, kayaked across a lagoon (once we figured out how to stop going in circles…thankfully the gators weren't hungry!), hiked to a cave where we swam in a beautiful cenote (an amazing underground water systems in the Yucatan Peninsula). After all of this we enjoyed traditional foods in a Mayan village (salsa verde and empanadas… yum!!!) and journeyed on to Coba where I hiked up the pyramid and then very gingerly made my way back down. I would have done the same thing the very next day if I could…it was absolutely incredible. Not to mention that Alltournative prides itself on promoting responsible tourism and respect for the cultures and environments surrounding you. The have worked with the Mayan villages to preserve the jungle and their way of life and in turn have brought economic relief to many people. Although I would have to say that in hospitality, humor, and grace the people I met were truly rich. Contact us today and we'll be happy to set up your own Alltournative adventure!!
For you archaeological buffs out there then the Mayan ruins and sacred places throughout the Riviera Maya will be a delight! Tulum and Coba were the two sites I visited. It was my second visit to Tulum, where I'm always amazed at the skill and scientific ability of the ancient Maya. Coba was a first and I'll definitely go back. The Mayan pyramids are unlike the great Pyramids of Egypt, which I've also had the privilege to see, but they are awe-inspiring none-the-less. The amount of work and skill that went in to these with the most primitive of tools is fascinating.
Ecologists will be happy to know that wherever you travel in this region you will hear people talking of ecological and cultural preservation. There are so many different ecosystems, so much wildlife, flora and fauna. It is really incredible. On my jungle trek a Mayan elder would point out trees and tell us which to use for a headache or which tree was useful in treating burns. It reminds you of where our modern day potions originated from and how we should work to care for and maintain the jungles and rainforests.
Now home I can hardly wait to go back…it was an amazing experience. I owe a big thanks to Travel Agent magazine, the Riviera Maya Tourist Board (especially Melina Diaz), the Mexico Tourist Board, Palace Resorts and the Aventura Spa Palace, Secrets Capri Resort-Riviera Cancun, Xcaret, Alltournative Off Track Adventures, Paraiso de la Bonita, Paradisius, the Fairmont Mayakoba (check out my photos of our tours of these amazing properties), Dolphin Discovery-Puerto Aventuras, and all of the suppliers I spoke with at the Mexico Luxury Travel Expo!! You have made this experience unforgettable and so
educational. Thank you! For all of you interested in this destination just email or call and we can set you up on your own amazing Mayan Riviera adventure!