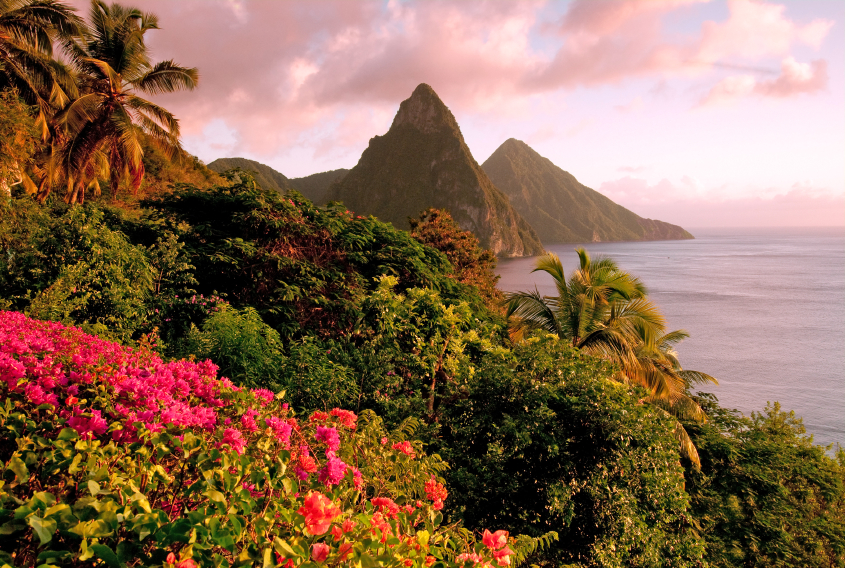 Once you arrive in St. Lucia you will understand why we love to call it "the Hawaii of the Caribbean." This island gem has it all: lush green mountains, volcanoes, white powder sand beaches, turquoise water and friendly island smiles. The natural beauty St. Lucia displays makes it the perfect Caribbean wedding destination and it has long been viewed and referred to as the "Caribbean honeymoon island".
Not too thrilled with the thought of just laying by a beach or the pool? St. Lucia offers everything from drive-in volcanoes to canopy tours, and 4×4 jungle adventures. There is whale watching, diving, snorkeling, jazz festivals, and if you like, an excursion to nearby Martinique to sample the cuisine. It is impossible to have nothing to do on St. Lucia… unless, of course, you want to.
When it comes to accommodations, St. Lucia offers a wealth of options ranging from luxury resorts built into the side of mountains and open to nature, to luxurious suites with panoramic views and infinity pools, to villas with grotto showers, plunge pools and private beach access, to intimate bungalows made for two. Many of these resorts offer destination wedding packages at very reasonable rates offering you the Caribbean honeymoon and wedding in one package. You can choose from hotels with European plans or all-inclusive honeymoon destinations like Sandals Resorts (they have three on the island you can play at) that have taken all-inclusive to a new level of luxury from their sumptuous suites to their butler service.
Regardless of why you are traveling, it is impossible to leave St. Lucia without wanting to return again and again. It is one of my favorite Caribbean islands from the warmth of the people to the sounds of island music drifting by. As I watch the sun set over the Pitons it is very clear to me why the world considers St. Lucia "simply beautiful" and I simply want to return again and again.
~ Melinda Webb – CTA, CSS, DS, LS