Sandals Ochi Beach Overview 
Sandals Resorts are adults-only, couples-only resorts with all rooms priced for 2 adults and offering guaranteed king beds in every room.  Want a Sandals Resort vacation close to all the sights and activities Ocho Rios, Jamaica has to offer?  Have you always wanted to experience a Sandals Resort butler stay and are looking for the most affordable option?  Are you planning a destination wedding and want an overwater chapel venue?   If you answered yes to any of these questions then Sandals Ochi Beach may be the resort for you!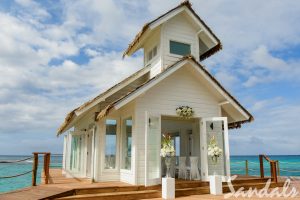 Located in the heart of Ocho Rios and approximately 90 minutes from Montego Bay (with flights coming soon to Ocho Rios in 2022!) don't let the resort map below fool you!  Sandals Ochi Beach is the largest Sandals Resort with over 500 rooms and suites spread out over 100 acres!  This is a huge resort that offers something for everyone.  Love a party vibe?  You'll definitely find it here.  Prefer a quiet, relaxing resort experience?  You can also find that at Sandals Ochi Beach!  
The resort is divided into 2 sides by a road that runs between the resort (you can see this road between map location 13 and 1).  There are van shuttles that run 24 hours a day and give guests easy access to the amenities on both sides of the resort, regardless of the side your room is on.  We've never waited more than 10 minutes for our shuttle and have used them all day and late into the night.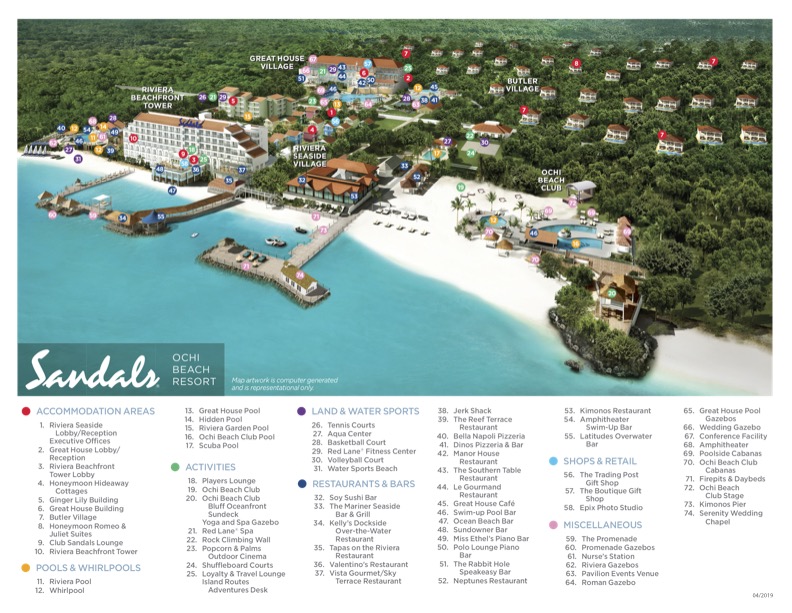 Sandals Ochi Beach – Riviera Side
Closest to the beach and the Beach Club. All rooms are just a short walk to the beach

Depending on the room type selected rooms can have a garden view or oceanfront/beachfront view

Offers one category of butler accommodation, the only one with beachfront views

The Riviera Side offers 10 restaurants and 7 bars

Resort water sports are located on this side of Sandals Ochi Beach
Sandals Ochi Beach – Manor Side
Located on the hillside closest to the Great House

Accommodations that offer a semi-private pool, or private pool are all on this side of the resort

Majority of the butler accommodations are on this side of the resort

Largest pool and swim-up bar located here, along with cabanas

Larger of the 2 Red Lane Spas on resort  is located here

Offers 6 restaurants and 4 bars, including the Rabbit Hole speakeasy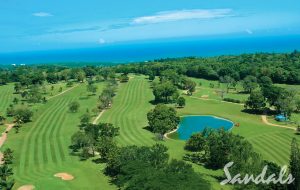 Activities at Sandals Ochi Beach
Some of the great options that are included at Sandals Ochi Beach are…
Diving for certified divers.  Divers get a daily 2 tank dive (except arrival and departure days)

Snorkeling.  Dive boats will take guests out to snorkel at local reefs

Glass bottom boat rides

Non-motorized water sports

Transportation to the Sandals Golf and Country Club with green fees included (caddie is additional and mandatory)

Daily and nightly entertainment. Try riding a mechanical bull, partying at the Beach Club, and don't forget the password to enjoy the fab entertainment in the Rabbit Hole
Dining at Sandals Ochi Beach
With 16 restaurant options to choose from you'll be able to dine around the world with Sandals Global Gourmet dining!   Cuisines range from Pan-Asian, French, Italian, Southern Comfort, and Caribbean to name just a few.   Our favorites??  The Jerk Shack and of course Soy!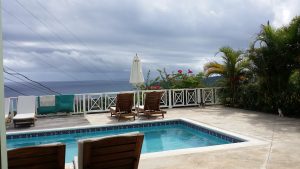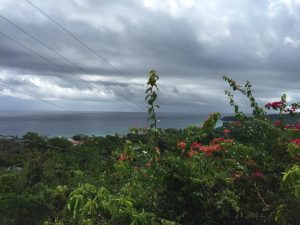 Sandals Ochi Beach Butler Village
If you are looking for the most affordable butler options that Sandals offers in the Caribbean then the Butler Village is where you want to be.   These villas are dotted throughout the hillside on the Manor side of the resort.  Views range from lush garden and semi-private pool views to expansive hillside ocean views.  Many options offer a semi-private pool (shared with 2-4 other couples staying in the same building).  There are two room categories that offer a completely private pool experience (more about that in a bit).  You'll often find butlers zipping around this area on golf carts throughout the day helping guests make amazing vacation memories and escorting guests who prefer not to walk down to the Great House.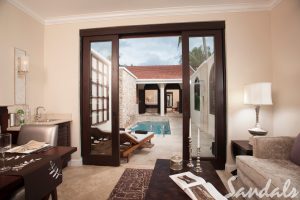 Our Favorite Accommodations at Sandals Ochi Beach
On the Riviera Side
Honeymoon Hideaway Luxury Club Level Garden Cottage (GC) – Super cute cottages nestled among the gardens and koi ponds.  For the price we love that it's a short walk to the beach and offers a fully stocked mini-bar + room service from 7am-10pm (only Club and Butler accommodations offer room service at Sandals)

Honeymoon Riviera Beachfront Club Level (HB) – Club Level room in the Riviera Tower that offers beachfront views and 

a balcony

(there is a category that only offers a window…for just a little bit more we prefer a balcony to sip our coffee on in the morning).  Riviera Honeymoon Beachfront Penthouse Club Level Room (PO) – Club Level room on the top floor of the Riviera Tower that offers

a balcony

and expansive beachfront views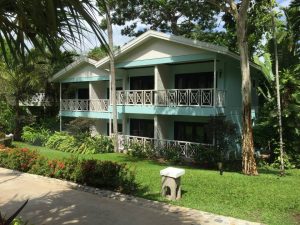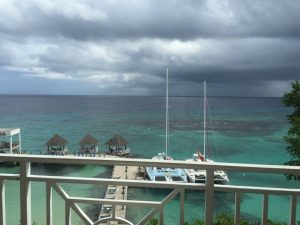 On the Manor Side 
For affordable, luxury level rooms at this resort we prefer the Manor side over Riviera. Both the Great House Luxury (ML) and Great House Ocean View (MO) are our go-tos and personally where we would happily stay in either if we needed to book a luxury room category

Honeymoon Grande Luxe Poolside Villa Club Level (PV) – We've stayed in this category multiple times, both on the 1st and 2nd floors in various buildings.  It is a great option if you prefer to be located on the Manor side and want a Club room

Butler Village Honeymoon Romeo & Juliet Sanctuary One Bedroom Villa Suite with Private Pool (RJ) – The ultimate in privacy we LOVE these rooms.  On one side you have your living area, on the other side you have your bedroom and expansive bathroom.  In the middle you have your completely enclosed courtyard with a private plunge pool and of course you have amazing butlers to make your vacation better than you can imagine. 

Butler Village Four 1-Bedroom Suites and Private Pool (4V1) –  This is a great accommodation for friends, or adult family members, traveling together.  It is a butler villa that offers garden and pool views and accommodates 8 adults. It GUARANTEES that you will be in the same building together.  No other accommodation at this resort will guarantee placement in the same building.   
Hopefully we answered all your questions about Sandals Ochi Beach, but if we didn't please feel free to call us, reach out to us on our chat feature on this page, or use our contact form for more information!