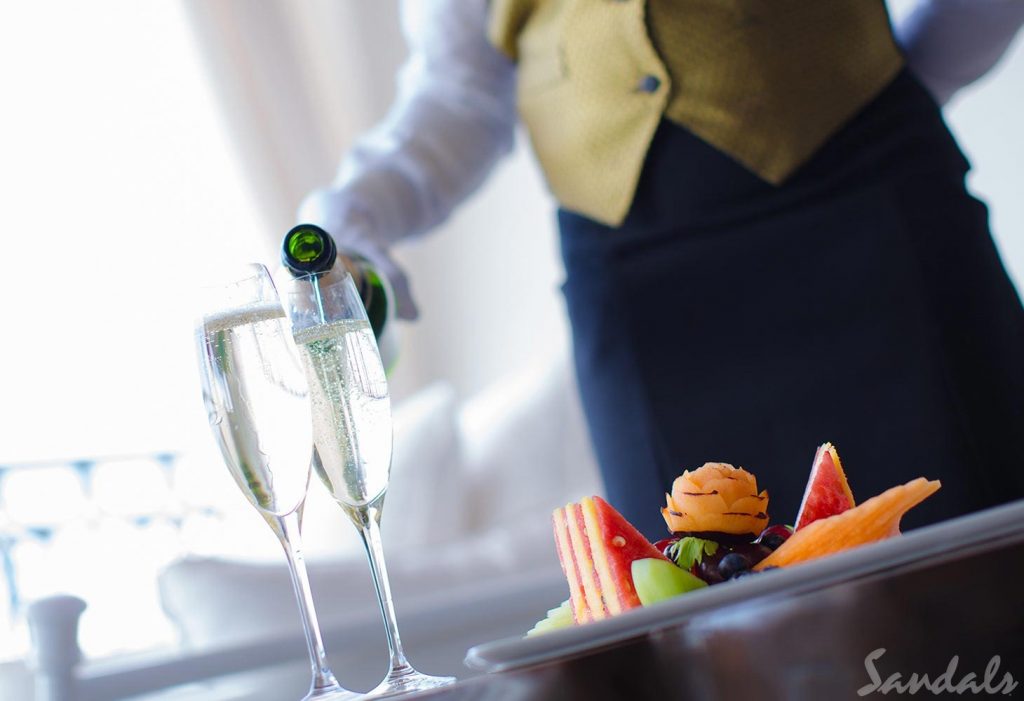 When we mention the Sandals Butler experience to couples unfamiliar with the service almost instantaneously we hear statements like "I wouldn't know what to do with a Butler" and "I could never afford a Sandals butler suite". Some couples want to know what the Sandals Butler difference is from other room categories and what cost they can expect for Sandals Butler service. We'll try to answer all of these questions here for you. Just know that almost all the couples who don't know what to do with a butler BEFORE they go to Sandals will NOT know what to do WITHOUT a butler when they get home!
Sandals Butler Question and Answer
A butler doesn't sound very private. Will my butler bother me during my vacation?
Sandals butlers are not intrusive at all and are as available as you desire. Sandals butler suites come with butler phones so if you need your butler they are simply a call away. Likewise if you don't want to use your butler, or don't want to not be disturbed, just don't use your phone. Or even better yet communicate with your butler your expectations or desire for privacy.
Sandals Butlers sound expensive. Are there affordable Sandals Butler accommodations?
Yes! Sandals butler accommodations are as varied as all of Sandals other accommodations! Some resorts like Sandals Ochi Beach are known for their affordable butler accommodations. There is also Sandals Royal Plantation where all of the rooms and suites offer Sandals Butler service. Also, if you watch the Sandals last minute deals and special offers like the 7-7-7 promotion, or Sandals holiday promotions, you are sure to find great deals on Sandals butler accommodations at most Sandals Resorts.

What is so special about Sandals Butler suites?
Butler accommodations tend to offer better views, better locations on resort, upgraded room furnishings or amenities.
On resort arrival Sandals butlers will greet you and offer private in room/suite check-in at most resorts.
You will have 2 butlers that share duties each day and, depending on work schedules the week you are visiting, you may have more than one team of butlers. You'll be given a phone to reach your butlers and they will be available between 7am-10pm daily.
They will assist you with unpacking and also pressing your first evening's outfits (if you prefer, this is done by request only).
They are able to offer a private resort orientation and help pre-arrange spa, excursion and dining experiences.
Butler rooms offer an upgraded mini-bar with high end liquor choices and butler suites enjoy 24 hour room service with upgraded menus.
Butler guests will also have access to the Club Sandals lounge as well as access to all Club Sandals events.
Butlers are able to provide reservations to restaurants and will even walk you to your restaurant if you wish.
Your butlers will also offer a special turn down service each evening and it isn't unusual for butlers to create special butler surprises for couples during their stay.
Some resorts will offer butler transportation in golf limos, some resorts will have special transfers from the airport to the resort for top butler room categories.
Butlers will help you pack if you desire and they will escort you to check out and your departure transportation. These are just a few of the things butlers can do for you.
What is the difference between Club Sandals and Sandals Butler service?
The biggest difference is the personalized level of service. Club Sandals service offers a higher level of service than luxury rooms, but it isn't as personalized or as extensive as Sandals Butler service. Club Sandals service includes…
VIP check-in in the Club lounge
24 hour access to the Club Lounge with staff available 8am – 10pm
Room service in room 7am-10pm
Mini-bar with liquor service in room
Club Sandals exclusive activities), but the Club Sandals level of service is not as personalized.
Sandals Butler rooms/suites will have all of the amenities of Club Sandals and in addition Sandals Butler service begins prior to guest arrival on resort when butler preferences are submitted. There are teams of butlers, with full support staff, and a small number of rooms assigned to them attending to guests needs and personal preferences.
For a more detailed description between the two levels of service you can read about Club Sandals here and Sandals Butler service here.

What additional costs are involved with Sandals Butler service?
Outside of the cost of the room you've selected (and trust us you can find some very AFFORDABLE Sandals Butler accommodation especially with the 7-7-7 sales they've been holding) Sandals Butlers are able to accept gratuity where other resort staff are not (only caddies, spa staff and butlers can be tipped at Sandals and Beaches). If you are looking for set guidelines they do no exist. Sandals would rather couples tip based on the experience and value of the experience. Here is how we tip our butlers….
We'll give according to service and speed of room service..anywhere from a couple dollars to $5 for super fast delivery when we are just in from tours and starving. Butler support staff are able to accept tips for room service delivery to Butler suites. Club Sandals rooms can't tip for room service.
We tip our butlers at the end of our visit
We base gratuity on how much we've utilized our butlers + little touches that have exceeded our expectations.
We specify gratuity for specific butlers. For example, if we utilize our evening butler more their gratuity will reflect this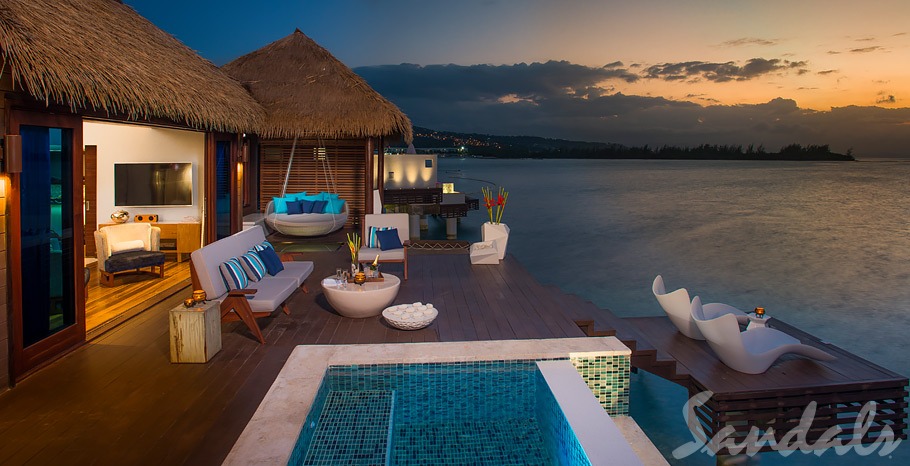 What are Sandals Butler suites/rooms like?
Sandals Butler suites and rooms are varied. Entry level butler rooms at Sandals Royal Plantation will have French Balconies with amazing views, standard baths, and some of the best dining we've enjoyed in the Sandals brand. Entry level butler rooms at Sandals Ochi Beach will have semi-private pools and butlers to take you to from your room to the Great House where you can transfer throughout resort. Overwater Bungalow or Overwater Villa accommodations at Sandals Royal Caribbean and overwater bungalow accommodations at Sandals South Coast will have luxury private transfers and Club MoBay VIP arrival and departure airport service (not to mention they are OVERWATER!!). Throughout the Caribbean Sandals Resorts' Love Nest Suites offer uber luxurious accommodations complete with Sandals butler service (think infinity pools off your balcony, rondovals with indoor/outdoor showers, private pools, soaking tubs and again OVERWATER accommodations in Jamaica and St. Lucia).
Of course the answers above are some basic answers about the Sandals Butler experience and what to expect. One of the best things about Sandals Butler service are the little unexpected touches they add to your Sandals vacation. Some of our favorite Sandals Butler memories include….
"My Sandals butler stocking a pregnancy friendly mini-bar and doing an afternoon nap turn down service when he found out I was pregnant with my first child."

"My Sandals butler rescued my favorite pair of sandals from the trash bin after the strap broke and I walked in to find them repaired and ready to wear."

"My Sandals butler didn't want to disturb us so he used a ladder to set-up our breakfast on our balcony."

"My Sandals butler knew we were on a very short, mini-vacation and that I wanted to eat at the French restaurant. It was completely booked our entire stay, but our butler managed to get us in."

"My Sandals butler saw I went back to my room to relax every afternoon and made sure to drop refreshments by before I even had a chance to call room service."

"My Sandals butler coordinated with the Executive Chef at our resort to make sure that my extensive allergy and dietary requirement list was adhered to. We couldn't have been more impressed with the attention our very specific needs were met with."
"My Sandals butler reserved our loungers for us with a cooler of beverages. Once we were settled in at the beach I realized I left my book in the room, but "no problem 'mon!" I just called our butler and she had my book down to me in no time. She was AMAZING! We loved our butler!"
Ready to book your Sandals vacation and butler accommodation now?
More questions regarding Sandals Butler service? Feel free to reach out to one of our specialists!
Having trouble narrowing down your choices? We've been to all of the Sandals and Beaches resorts and are happy to help based on your preferences. We are a Lifetime Platinum Preferred Sandals/Beaches agency and work directly with a team assigned to us at Sandals. We also don't charge fees to our Sandals and Beaches Resort clients. If you have specific questions about specific resorts or room categories feel free to reach out to us.
**Photos courtesy of Dreams and Destinations and Sandals Resorts. This post contains affiliate links, but your booking will still be directly with Sandals and we will not have access to your booking details. If you would like our assistance with your Sandals reservation booked through our affiliate link Sandals Resorts require your permission via a booking transfer request before allowing us to assist. Please let us know and we can walk you through the process.**