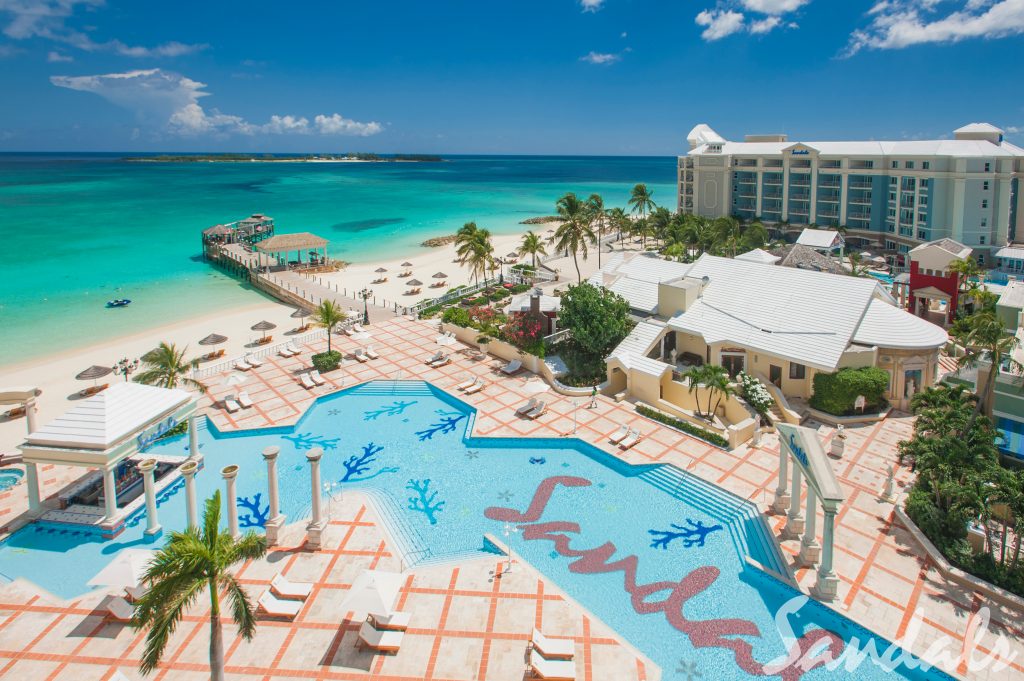 Thinking about a trip to Sandals Royal Bahamian?  Today we're giving you our top five reasons to visit Sandals Royal Bahamian! 
Sandals Royal Bahamian has been a Sandals Resort favorite for us for a very long time and there are a lot of reasons for this.  This resort is a great adults only all-inclusive option in Nassau and comes with a lot of perks.  There are definitely more than five reasons to visit, but for the sake of time we're narrowing it down to our top five reasons to plan a visit to Sandals Royal Bahamian.
Top Five Reasons to Visit Sandals Royal Bahamian
Reason 1 – Proximity
Sandals Royal Bahamian is the closest Sandals Resort to the US.  Nassau is a short flight from most US East Coast cities and quite a few offer nonstop air service to Nassau.  Making the island an easy trip for a quick weekend getaway.   Another benefit of a visit to Nassau is that US Customs and Border Patrol has officers stationed in the destination.  You can  actually clear US immigration when you leave Nassau!   If you have TSA Pre-Check and Global Entry those benefits are available when you depart too!
Reason 2 – Location
The resort is located on beautiful Cable Beach in Nassau, which puts it a quick 15 minutes from the airport, 6 miles from the cruise port and 34 minutes from Paradise Island.   So once you arrive in Nassau it doesn't take long at all to get to Sandals Royal Bahamian and on the beach.  On past trips we have had lunch and are in the pool before 2pm!   Royal Bahamian is also a just a shuttle ride away to Baha Mar Casino.   Sandals does not offer a casino or gambling onsite, but it is just a short ride to Baha Mar where guests can enjoy gambling. 
Reason 3 – All-Inclusive 
At the very top of our top five reasons to visit Sandals Royal Bahamian is the all-inclusive value of this adults only resort in Nassau.  From the time you arrive, to the time you head home, there is a lot that comes with your vacation package.   
Sandals Lounge in the airport to assist with your direct transfer from the airport to Sandals Royal Bahamian

Resort accommodation.  We HIGHLY recommend Club and Butler Level rooms at this property

Taxes and Gratuities.  You can read more here about Sandals No Tipping policy
Meals and snacks including FOOD TRUCKS and 10 restaurants

Alchoholic and non-alcoholic beverages

Daily and nightly entertainment

Motorized water sports

Non-motorized water sports

An offshore ISLAND!  More about that in reason number 4.  
Club Level and Butler level rooms also receive additional room amenities that you can read about here. 

Reason 4 – Sandals Barefoot Cay
We love, love, LOVE Sandals Barefoot Cay!  We tend to spend a full day here relaxing in a beach cabana with breaks to enjoy the swim-up bar, lunch at Calico Cafe or a dip in the turquoise ocean with some great snorkeling from shore.   Bonus that you can even get a massage in the island zen garden.  There is nothing better than a massage with the sound of the sea lapping at the shore.  Five star, highly recommend! 
There are scheduled boat transfers between the resort and the Cay.  We recommend getting on the first or second if you plan to spend the day there to find a comfy spot that is well located between pool, beach and restaurant.   Also, if you are contemplating a destination wedding at Sandals Royal Bahamian you can even have your wedding ceremony and events on the island if you have the Twilight wedding time.*
* This is subject to any other resort events being already scheduled for the island and can't be guaranteed until closer to your wedding date though  
Reason 5 – Activities 
We've touched on some activities in the inclusions, but definitely feel the activities need to be highlighted in more detail.   Especially water sports because let's face it, the Bahamas are all about fabulous beaches and amazing water.   This island destination is the ultimate for beach lovers.   Motorized water sports include diving for certified divers, snorkeling from dive boats, wakeboarding and water skiing.  
If you want to try your hand at diving you can actually take a resort course and enjoy an open water dive!  This is a great way to test if diving is something you want to pursue further!   Guests who are staying a week or more and want to learn to dive may also be interested in the full PADI course that Sandals offers as well. 
Snorkeling goes out multiple times a day, every day and can be signed up for with the water sports desk, in the Club Lounge or with your butler depending on your room category. 
Non-motorized water sports like sailing, kayaking, paddle boarding and water toys are also included.  The resort has an amazing gym with panoramic views of the beach and ocean.  Even if you are not a fitness buff, a morning walk on a treadmill does not disappoint.
Sandals Royal Bahamian is also pretty lively with a number of fun games throughout the day.  There are 3 swim-up bars between the East Bay, West Bay and Barefoot Cay pools.  Fire Pits dot the resort in the evenings making it feel truly romantic…especially when the sax player is performing. You can enjoy a fun night in the Piano Bar, which is always a favorite activity for resort guests.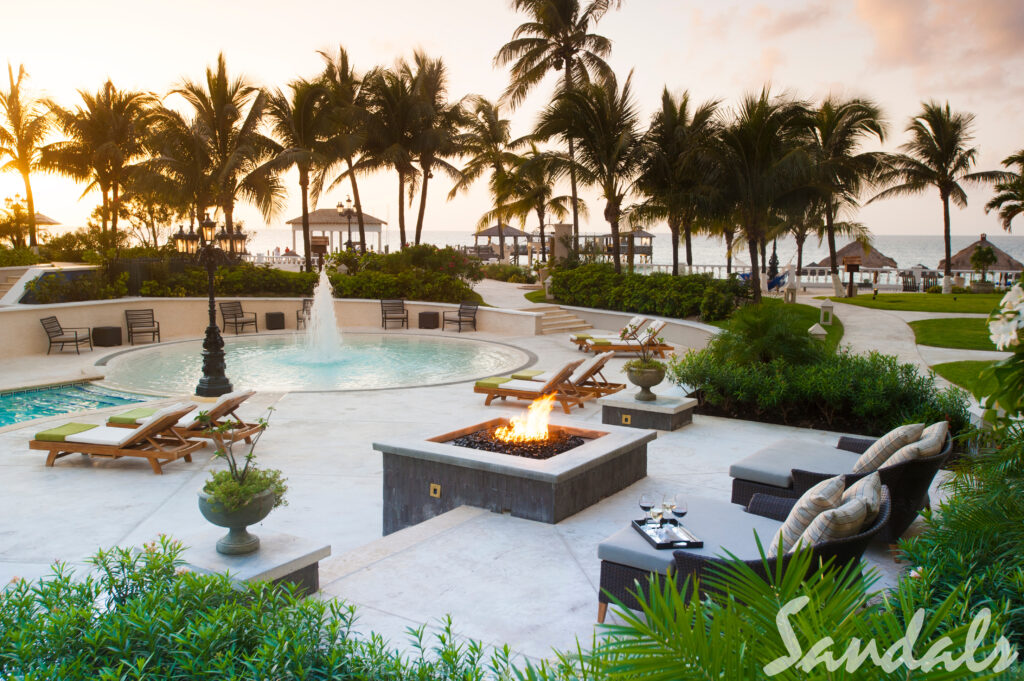 As we mentioned earlier, Sandals does not offer gambling, but does offer a shuttle to enjoy the casino at Baha Mar.  
Sandals Royal Bahamian does not offer golf, but Sandals Emerald Bay on the Bahamian island of Exuma does and it is very easy to arrange a split stay between these two resorts.   
So those are our top five reasons to visit Sandals Royal Bahamian!   Of course with all the inclusions this Nassau resort offers we think a visit here is totally worth it!  What do you think?  Are you ready to pack your bags?   
If you have more questions we haven't answered for you feel free to reach out to us directly.