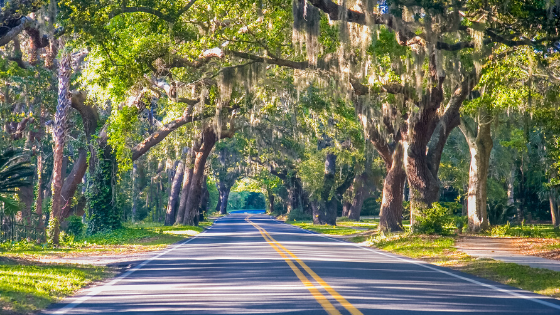 Growing up in Alaska our summer vacations meant traveling around state enjoying all the wonderful things that the Greatland is famous for. Or we would pack into the LTD station wagon (complete with wood side panels) and head down to the "Lower 48" to see family. I've traveled the Al-Can (Alaska Canada Highway) 17 times, the first time before it was paved. There are a lot of stories still told from that trip! BUT I learned very young that we have an amazing country y'all. If you haven't had a chance to explore the USA yet there is really no better way than a summer road trip. As we head into this holiday weekend, and the unofficial start to Summer 2020, we thought it would be fun to feature road trip itineraries in the Southeast (our backyard).
Road Trip Southeast Itinerary 1 – The Outer Banks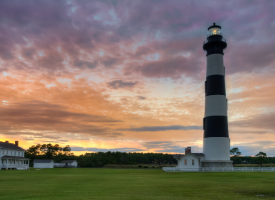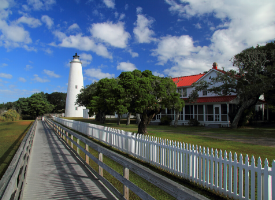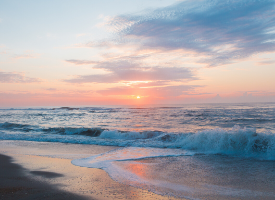 Even beach lovers can enjoy a great road trip in the Southeast! The Outer Banks are peninsulas and barrier islands that make up over 100 miles of the North Carolina coastline offering both remote and pristine beaches and areas very developed for tourism. The quaint towns that dot this section of coast, combined with National Parks and fascinating history, ensure there is a ton to do. In fact the history of this area includes home to the first colonies in the US, home of the first flight, and plenty of pirate and shipwreck tales. The Outer Banks is perfect for families whose kids are beyond bored with COVID-19 forced home school, or anyone who needs a beach vacation that is more than just a pretty beach. Although the pretty beaches here are pretty awesome.
Some of our favorite things to do in the Outer Banks…
It's worth the drive to visit the different towns and islands, starting north just above Corolla (NC famous wild horses are here and in Ocracoke). From Corolla head south to explore each unique town along the way. Couples looking for a romantic escape can't go wrong with Duck, families have a ton of things to do in Kitty Hawk and Kill Devil Hills. The car ferry from Hatteras to Ocracoke Island is a must.
Cape Hatteras National Seashore. For lighthouse lovers the Cape Hatteras and Bodie lighthouses are open to climb from April – October.
Wright Brother's National Monument is definitely a must for everyone, not just travel agents (they are our heroes though!) 🙂
Learn to hang glide or fly a kite at the tallest dunes in the USA located at Jockey's Ridge State Park
RELAX. The North Carolina Outer Banks allow for the best type of road trip. One that allows for a lot of relaxation and plenty of time out of the car for exploring.
Road Trip Southeast Itinerary 2 – Historic Coastal South

This road trip is perfect for foodies looking for the perfect Southern bite, Antebellum, Civil War and military history buffs, travelers obsessed with historic fab homes and gardens, families looking for adventures. Beach lovers, boat lovers, golf lovers, book lovers. Pretty much any type of traveler. We've included the highlights of each stop along the way for you in this road trip meets historic cities and Golden Isles.
Charleston, SC
This port city has seen pirates, Revolutionary War battles and Civil War sieges. No wonder Charleston is often referred to as a living museum! Explore the city's cobblestone streets, complete with gas-lit lamps, award winning gardens, historic churches and fabulous antebellum houses. Head to Battery Waterfront or ferry over to Fort Sumter National Monument. While you are in Charleston take time to learn about the rich Gullah traditions of the Lowcountry and how Charleston's African-American heritage contributed to the city's history and unique culture. Foodies will definitely want to explore this rising star culinary destination!
Beaufort, SC
The quaint historic district and horse drawn carriages of South Carolina's second oldest city make it a great stop along your way. Beaufort's history includes European explorers, Native American cultural influences, British settlements, and Civil War battles. Movie buffs will also recognize Beaufort as the filming location for Forrest Gump, The Prince of Tides, The Great Santini and The Big Chill.
Hilton Head Island, SC
This coastal South Carolina gem is a lovely resort town golfers and beach lovers have been flocking to for decades. Hilton Head is the perfect stop for a little R&R after all of your touring the past few days. Families, and Disney lovers in general, will be happy to experience Disney's Hilton Head Island Resort. This seaside resort is fashioned after a 1940's fishing lodge and offers plenty of outdoor activities, including a 72,000 gallon pool and beachfront bike riding.

Savannah, GA
The magic of Savannah's tree canopies, cobblestone streets and historic districts have made it this seaport city a favorite of numerous authors and artists, and a must see on any Southeastern road trip itinerary. Be sure to stay long enough for a narrated tour of Savannah's "Historic and Victorian Districts," and (if you are brave enough) spend an evening with Savannah's most mysterious residents on the evening Ghost Walk.
St. Simons Island, GA
I.love.this.island! When I think of visiting St. Simons Island Spanish moss, amazing seafood boils and fabulous beaches immediately come to mind. This island is a top romantic destination in the USA (honeymoon road trip anyone?) and offers it all…rich history, southern charm, and unspoiled natural beauty. Explore 18th-century battlefields, sprawling antebellum plantations and stop to admire Southern Oaks draped with Spanish moss.
Jekyll Island, GA
Jekyll Island is recognized as a National Historic Landmark and in the 1800's the island was a hunting club for some of America's most famous families (think Vanderbilts and Rockefellers). In 1904, Munsey's Magazine called the Jekyll Island Club "the richest, the most exclusive, the most inaccessible club in the world." The island was enjoyed as a vacation destination long before this though, when Native Americans would travel here to collect shells, hunt and fish almost 3500 years ago. Fast forward to modern day where Jekyll Island is the location of "Millionaire's Village," 240-acres of extravagant homes and winter cottages. Definitely a fun stop along the way!
Amelia Island, FL
Cross the Florida/Georgia Line and make your way to the natural beauty of Amelia Island. This island is a short distance from Jacksonville with miles of quartz beaches and rolling dunes. Fernandina Beach, the island's only city, is a treasure trove of antiques and collectibles. Be sure to take a walking tour of restored 19th-century Victorian homes and shops in Centre Street's Historic District.
St. Augustine, FL
St. Augustine originally was an outpost for Spanish explorers and is the oldest city in the USA. It later was developed by oil tycoon Henry Flagler, who wanted an American Riviera along Florida's eastern shores in the late 1800's to early 1900s. What we love about this city are its beaches, historic districts and horse drawn carriages. This may be the end of your journey, but you'll want to allow more than one day to relax and get to know St. Augustine!
Road Trip Southeast Itinerary 3 – Scenic Parkways and Hidden Byways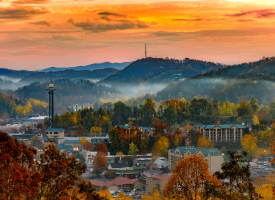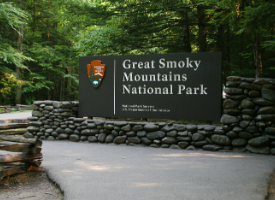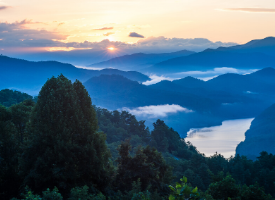 Ahhh so many favorite memories in Western NC and in Eastern TN! My grandparents moved quite a bit in their lives, but kept coming back to the rolling hills of Tennessee. I have so many great memories of summers with them. So for those of you who prefer scenic overlooks we are heading over to the the Blue Ridge and the Smokies! The Smoky Mountains on the North Carolina and Tennessee border are both majestic, and mystical at the same time. Just one of the many reasons why Great Smoky Mountains National Park is the most visited National Park in the United States. The Blue Ridge Parkway is also considered by most as one of the most scenic drives in the USA so this road trip Southeast itinerary offers some of the best natural sightseeing. Start your journey in Asheville, NC where you can stay a couple days to explore the Blue Ridge Parkway, and be sure to take part of a day to enjoy the Biltmore Estate. The European inspired country estate of the Vanderbilts. The journey on from Asheville to Cherokee, NC with stops to enjoy scenic Maggie Valley before venturing on to the Qualla Boundary where you can appreciate the rich culture and traditions of the Eastern Band of the Cherokee. You'll definitely want to overnight here to allow time to explore the natural wonders of the tribal lands and learn about the early Cherokee in this area. From Cherokee move on to Gatlinburg where you can enjoy the best of both worlds, access to Great Smoky Mountains National Park with all of its natural wonders combined with the modern conveniences, entertainment and accommodation of the gateway to the Smokies, Gatlinburg. The physical distance from one point to the next on this itinerary is not far, but the whole focus here is the natural beauty of the mountains and the Parkway. You want to build in plenty of time to stop whenever you see something you want to explore or enjoy. This is definitely NOT a Point A to Point B trip. In fact the word "meander" comes to mind.
Highlights of this Itinerary
Explore Asheville's Art District and the Biltmore Estate
Cherokee, NC with its cultural experiences like the dramatic performance "Unto these Hills", art galleries and museums is a must see on this itinerary
Highway 441 from Cherokee to Gatlinburg, through the park. Allow LOTS of time for pulling over and exploring Great Smoky National Park.
Luxury cabins in Gatlinburg. Who said that cabins had to be rustic? Some offer game rooms and hot tubs on your deck to enjoy the endless mountain views
Glamping. Yes, you can luxury tent camp in Great Smoky National Park, complete with decks and full bath. Who said you had to leave the USA for world class glamping?
Families (and fun loving adults) will want to take a quick trip up the road 15 minutes from Gatlinburg to Pigeon Forge, the entertainment capital of East Tennessee. Enjoy shows, dinner theaters and Dollywood!
No matter where you venture to, the biggest takeaway is to remember on a road trip the journey IS the destination. Take time and stop for something interesting. Go OFF itinerary every now and then. We hope you have a chance to enjoy exploring the USA this summer! If you do be sure to drop us a line to share some of your favorite road trip destinations and experiences with us. If you don't know where to begin planning your own road road trip, Southeast or beyond, contact us and we'll be happy to build a custom itinerary for you. Whatever you decide to do, don't forget to explore, experience and ENJOY!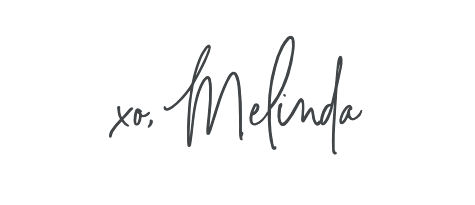 **Be sure to check COVID-19 impacts along your road trip routes, but the states listed above are either partially or fully open at this time**