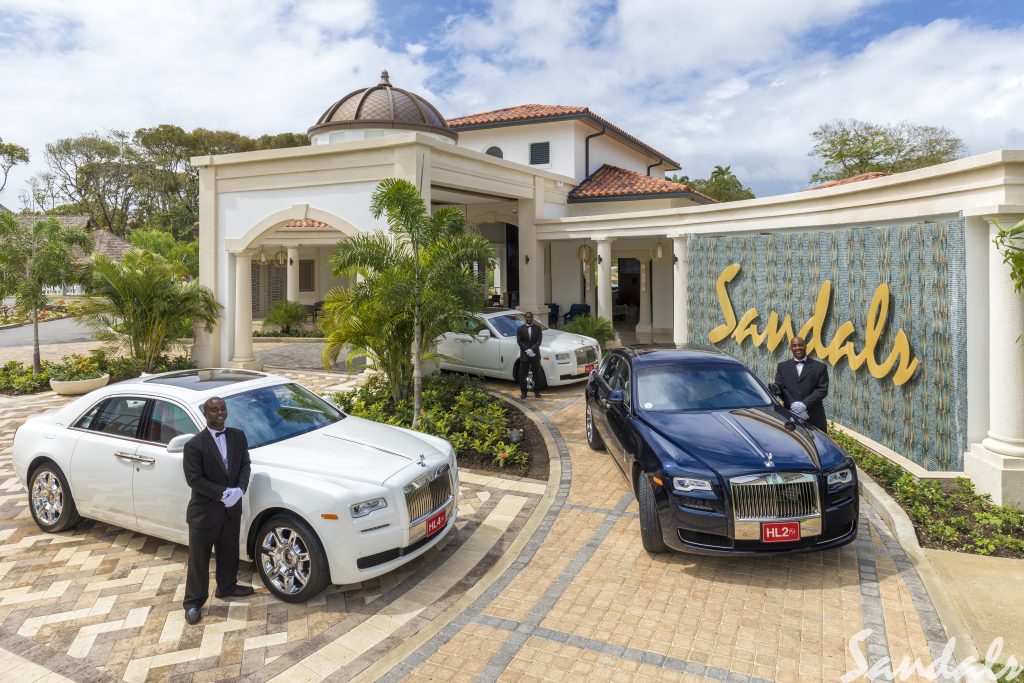 Barbados is an amazing island destination with so much to do on AND off the beach!    When we heard Sandals was heading to Barbados we were so excited and then before we knew it there were TWO Sandals resorts in Barbados.  So how do you decide which Sandals Resort in Barbados for your vacation?  Both resorts are fan favorites here at Dreams and Destinations and we'll help answer that for you. 
Sandals Barbados and Sandals Royal Barbados are located in the St. Lawrence Gap area of Barbados.  These resorts are a short 15 minute ride from the airport and sit side by side on a stunning stretch of beach.  We've listed some highlights of each of the Sandals in Barbados for you and we've also included links for video tours and additional information at the end of this post.
Sandals Barbados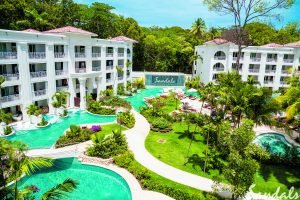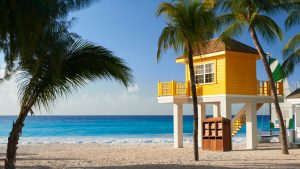 280 rooms in 3 villages, but with a compact resort footprint 

Beachfront Village offers fab beach and pool views. 

Great afternoon vibe at the main pool. 

European pool offers a quiet place to lounge 

Elegant meeting and banquet rooms perfect for small meetings or destination wedding receptions 

Beautiful garden location for weddings

11 dining options including Indian, Asian and even a hot dog stand!

Room service in Club and Butler rooms (24 hour in butler categories)
Sandals Royal Barbados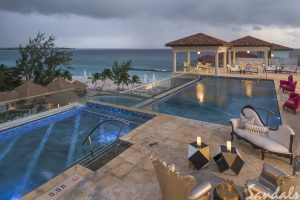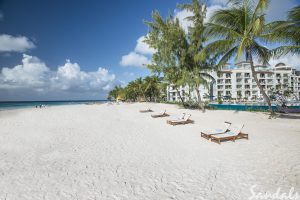 Newest Sandals resort offering luxury Caribbean contemporary accommodation 

All Club and Butler rooms  

Room service in all rooms  (24 hour in butler categories)

Some top butler suites offer private Rolls Royce transfers

Sandals first rooftop pool, bar and restaurant

Sandals first bowling alley 

Sandals first donut shop

Huge glass front infinity pool

272 rooms on 14 acre grounds 

Largest Red Lane spa (15,000 square feet)

6500 sq ft convention center 
Shared Amenities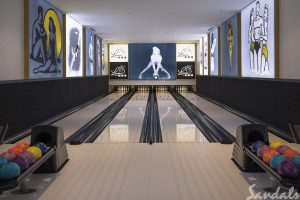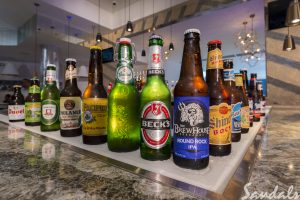 Sandals makes it so easy to stay at one property and play at the other!  Every time we've been to Sandals in Barbados we've stayed at Sandals Barbados, but have enjoyed spending time over at Sandals Royal Barbados.  Both resorts share dining options, offering 17 different selections to choose from.   Butch's Steak and Seafood was AMAZING and we definitely recommend making time to enjoy that restaurant.   
The Lover's Lane bowling alley is always a fun time and the bar there offers craft beers with a frost rail to keep beverages icy cold.  There are also electronic table games and just outside you can enjoy love seats with individual TVs to catch the latest game together.   
Don't forget to head up to the rooftop (saltwater) pool and bar where you can enjoy a smoked cocktail.  Evenings over at Sandals Barbados' piano bar are full of lively fun.  Night owls will also love that at these Sandals the Merry Monkey pub and Lover's Lane are open for late night fun up until 2am. 
Just how close are Sandals Barbados and Sandals Royal Barbados? 
So Which Sandals Resort In Barbados?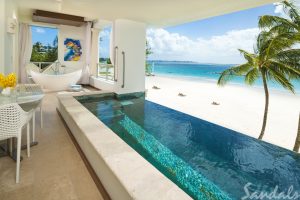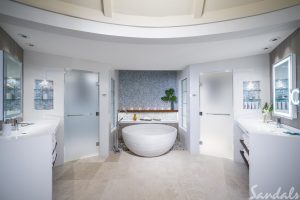 Since all of the amenities are shared between resorts and guests have full access to both of the Barbados properties the decision really comes down to the type of room, and room location, you prefer.   We've included a few considerations and suggestions for you below…
Mobility issues – You'll want to select Sandals Barbados due to its smaller size and easy access to everything or the Seaside Village at Sandals Royal Barbados where you are closer to the beach, pools, dining and activities.
Private Luxury – The rondovals in the South Seas Village are villa suites with their own enclosed courtyards and plunge pools right off your bedroom.
Budget – Sandals Barbados' luxury room categories are the most budget friendly of the 2 properties
Picture Perfect – For the most Instagrammable accommodation the Beachfront 1 Bedroom Skypool Butler suites are hard to beat!
Affordable Butler – Sandals Barbados has the most affordable butler rooms between the two resorts
We hope this helps you decide which Sandals Resort in Barbados is the best choice for you!   If you still have more questions we are available to take your call or email and answer them for you.
To contact our Certified Sandals Resort Specialists for additional questions click here
To hear more details on the Sandals Resorts in Barbados click our video link here
To view a quick resort tour click our video link here
To check pricing and availability directly on the Sandals website click here *
*Contains affiliate links.  We earn a commission, but you work directly with Sandals on your booking