Perfect Sandals Honeymoon Resort
One of the things we love about Sandals Resorts is that each Sandals Resort is unique.   This means, for those of us who love to visit Sandals Resorts over and over again, we can have a very different vacation experience with each resort.   If you are selecting the perfect Sandals Honeymoon Resort, however, it can seem a bit overwhelming.   We recommend working with a Certified Sandals Specialist (CSS), like the team at Dreams and Destinations Travel who have been to all of the resorts and can make recommendations based on their first hand knowledge of each resort.
Sandals Resorts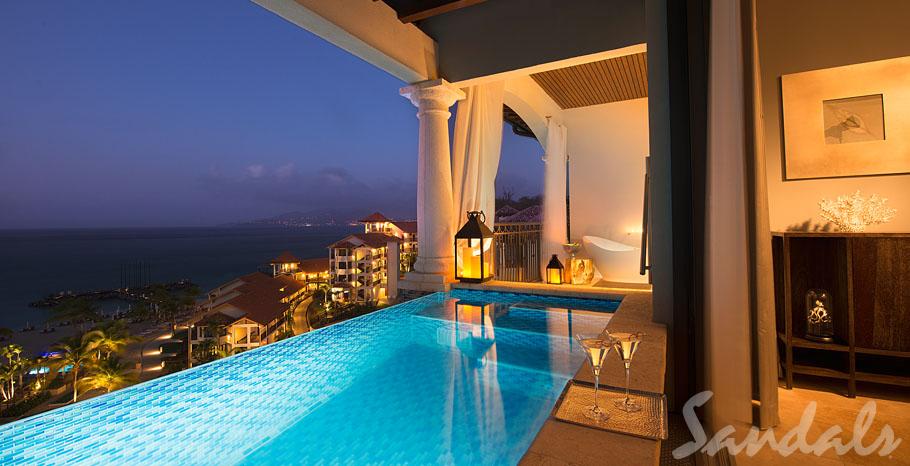 Sandals Resorts are inclusive resorts in the Caribbean created for couples in love.   There are seven Sandals Resorts in Jamaica, three Sandals Resorts in St. Lucia, two Sandals Resorts in the Bahamas and there are Sandals Resorts in Antigua, Grenada and Barbados as well.   Every Sandals Resort will include your round-trip ground transfers to the resort, your hotel accommodations, unlimited meals and snacks, unlimited alcoholic and non-alcoholic beverages, resort entertainment, wi-fi, motorized and non-motorized water sports, taxes and gratuities.  For certified divers your diving is included. The really the only things not included with a Sandals Resorts honeymoon is your spa treatments, tours, wine upgrades on the Chairman's and Manager's wine lists, private romantic dinners on the beach, professional photography and incidentals.
Since all Sandals Resorts offer the amenities that most couples desire for their honeymoon, then the challenge is finding the perfect Sandals honeymoon resort.  Some resorts are very luxurious, all butler suite accommodations with 5 diamond dining and tend to be intimate, elegant and quiet.  Some resorts are larger with a great balance of quiet, intimate spots and great beach parties into the early hours of the morning.   There are resorts that are secluded and romantic with all beachfront views from every room and some resorts located on islands a little off the beaten path that offer some of the most innovative suites,  it will be hard to leave the room.
Photo credit to Sandals Resorts and Dreams and Destinations Travel.  Some links contain affiliate information.