October 6, 2019
We are thankful for each of you being a part of our special day. It means so much to us that you are willing to travel so far to participate in this moment with us! We are very lucky to have such good friends and family. We can't wait for all the laughs, cries, drinks, food, and most importantly the fellowship and we look forward to more opportunities to celebrate our lives together in the future! See you in Mexico!
Love,
DeMarius and Jevelo
Azul Beach Riviera Cancun
Azul Beach Resort Riviera Cancun is a treat for the senses and the perfect backdrop for Jevelo and DeMarius' wedding. Located just a short 20 minute drive from Cancun International Airport, and only 35 minutes from vibrant Playa del Carmen, Azul Beach Riviera Cancun is a AAA 4 Diamond resort that will immerse your in world of fun and relaxation…with just the right amount of adventure. Pair this with Azul Beach Riviera Cancun's excellent cuisine, top shelf beverages and fantastic service + the wedding event of the year and you'll create amazing memories for a lifetime.
At Azul Beach Resort Riviera Cancun Jevelo and DeMarius' guests will enjoy a Gourmet Inclusive Experience. Cuisine at this resort begins with the freshest and finest ingredients and takes guests on a culinary journey that is the ultimate culmination of art and science. Every course at this resort is infused with creativity and accompanied by an extensive wine list to ensure that your selections beautifully complement culinary creations from our kitchens. Whether you enjoy ultra-contemporary cuisine, classical perfection, or the sense of home that comfort foods provide, the chefs at Azul Beach Riviera Cancun offer a dining experience that raise the bar, and creates a lasting impression.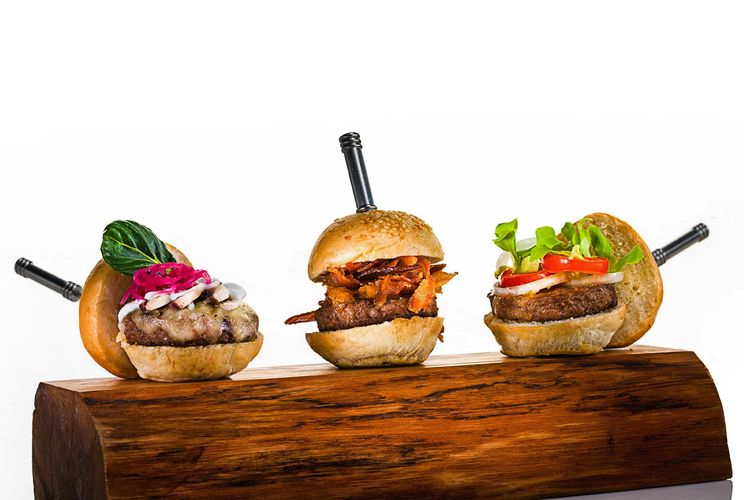 Don't forget to take advantage of all this amazing resort offers it's guests! Slip away to morning yoga on the beach or to the spa. Kids and teens will enjoy special areas and clubs exclusive to them. Enjoy non-motorized watersports or take an excursion off resort to explore all that the Riviera Maya has to offer, like mysterious and ancient Tulum or the excitement and adventure of Xcaret.* Then wrap up the day with nightly on-property entertainment, featuring live music, authentic Mexican performances, fire dances and more. These are the days and nights you'll never forget.
*Excursions are available at an additional cost
---
Room Accommodations
Azul Beach has 435 spacious and luxurious suites designed in contemporary Caribbean style. These suites are located in four story buildings with an elevator in each building. All accommodations are provided with air conditioning, 32¨ flat TV, DVD player, I-Pod docking station. Bedding consists of either a king size bed, two queen or one queen + sofa bed. Rooms have a relaxing hot tub, radio/alarm clock, safety deposit box, amenity kit, once daily stocked minibar, iron and ironing board, coffee maker, oversized balcony or terrace, direct dialing telephone, deluxe bathrobes, private marble bathrooms with rain forest shower-head, hairdryer, double sink and vanity mirror.
Jevelo and DeMarius have held two types of rooms at Azul Beach Resort Riviera Cancun to ensure that their guests were guaranteed room availability and pricing; and also make the selection process easier for each wedding guest. Guests can select from the affordable, family friendly, oversized Luxury Suite or the adults-only Swim-Out Junior Suite with direct pool access from your terrace. Please keep in mind that we can add any room that you would like at the resort, if it is available and if you do not see the room that you were hoping for. All guests must be booked through Jevelo and DeMarius' room block in order to be a part of the wedding group.
Luxury Suite
| | Single Adult | Double Adult in Room | Triple Adult in Room | Child age 0-2 | Child age 3-12 |
| --- | --- | --- | --- | --- | --- |
| 3 Nights | $736.67 | $502.14 per adult | $502.14 per adult | $30 per child | $177.86 per child |
| 4 Nights | $971.55 | $658.85 per adult | $658.85 per adult | $30 per child | $226.48 per child |
| 5 Nights | $1,206.44 | $815.57 per adult | $815.57 per adult | $30 per child | $275.10 per child |
Rates above are room total per person based on indicated number of nights and room occupancy. These oversized suites offer either one king size bed or two queen beds and have pool or garden view.
Located in Azul Section. Max Occupancy: 2 adults + 2 children or 3 adults + 1 child. Children 13 and older are priced as adults.
Swim-Up Jr Suite - Adults Only
| | Single Adult in Room | Double Adult in Room |
| --- | --- | --- |
| 3 Nights | $994.07 | $673.74 per adult |
| 4 Nights | $1,314.76 | $887.66 per adult |
| 5 Nights | $1,635.45 | $1,101.57 per adult |
Rates above are room total per person based on indicated number of nights and room occupancy. King size bed; guests can step right into the swim up pool. Underwater chaise lounge in the swim up pool just
a few steps off the terrace. Garden and pool view. Located in the adult section of the resort. Max Occupancy: 2 adults ages 18+
Inclusive Package
Pricing above is a per person total based on room occupancy and number of nights. Package includes the following: Room Accommodations, round-trip, NON-STOP, ground transportation to and from the airport, Gourmet Inclusive package (food, beverage, land and non-motorized watersports, kids programs, daily activities and nightly entertainment), taxes and gratuities.
3 Night Minimum. Only $100 per adult and $50 per child to hold your reservation!
DUE DATES
Initial Deposit of $100.00 per adult and $50 per child at booking
FINAL PAYMENT DUE by August 15, 2019
How To Book
Please reach out to Melinda with any questions, concerns or requests and she will assist you with everything needed to confirm your reservation. If you do not see a room category listed that you are interested in, and it is available, Melinda will be able to price alternate options for you upon request.
info@wheredreamslead.com
703-724-1243 –DC Metro
1-866-585-1631 –Toll Free
CLICK HERE to book your room and submit your $100.00 per adult / $50 per child room deposit. Please make sure that you include the following information when you submit your deposit.
Travel Dates

Names (exactly how they read on your passports)

Dates of Birth

Room Category (Please make sure to put this in the

comments

section of the payment form)

Select your travel consultants name in the drop down box (Melinda H.)

Select Accept or Decline the travel insurance (Payment for the travel insurance is due at the time of initial deposit. Price per person is indicated below. If you select "Yes" to the travel insurance it is due at the time of confirming your reservation. Please add insurance amount to your initial deposit amount.
FLIGHT INFORMATION
Flights are not included in the package cost above. Dreams and Destinations Travel will gladly assist you with your airfare to Cancun, Mexico if you prefer. If you choose to book your own airline tickets, please fly into Cancun (code CUN). Air can be added at anytime to your package. If you book your own flights please send a copy of your itinerary to Melinda to provide to the transfer company.
Travel Insurance
Travel insurance is not automatically included in your package. If you select "yes" for insurance please include the total cost of insurance being purchased for your room in your initial deposit. Cancel for any reason insurance must be purchased with deposit. If you do not include it in your deposit you won't be covered. Insurance is highly recommended as travel suppliers, airlines and resorts often charge fees for trip change/cancellation after payment has been made. Dreams and Destinations Travel Agency is not responsible for penalties or fees should you change or cancel your trip.
Travel insurance benefits are underwritten by Arch Insurance Company, with administrative offices in Jersey City, NJ, NAIC#11150 under Policy Form series LTP 2013 and applicable amendatory endorsements. Enrollment in the Plan is optional and once enrolled, the cost associated with the Plan will not be refunded.
Trip Interruption: Up to total trip cost: Reimburses the unused, non-refundable portion of your land/sea arrangement plus the cost of additional airfare or change fees to original airfare to return home or catch up to your trip should you need to interrupt your trip due to an illness, injury or death to yourself, a traveling companion or covered family member.

Medical Expenses: Up to $5,000: Reimburses you for doctor and hospital charges should you become ill or injured during your trip.

Baggage/Personal Effects: Up to $800: Reimburses you should your baggage or personal effects become lost, stolen or damaged while traveling.

Bag Delay: Up to $100: Reimburses you for the purchase of necessary personal items should your bags be delayed by the airline for more than 24 hours during your trip.
Cost per adult in room desiring insurance* = $99
Cost per child in room if parents purchase insurance = $50
Example Deposit w/Insurance: Package includes 2 adults and 2 children requesting insurance..total deposit is $598 ($100 x each adult room package deposit, $99 insurance x 2 adults and $50 per child for room deposit +$50 per child for insurance)
The cost of insurance is nonrefundable and insurance policies are non-transferable. In many cases the cost of insurance is less than the cost of penalties for cancellation.
*Insurance can be applied to only those who wish to purchase. For example if you have 2 roommates and one wants to purchase insurance and one does not we are able to accommodate this. Insurance is not mandatory for entire occupancy of room if one occupant wants to purchase.