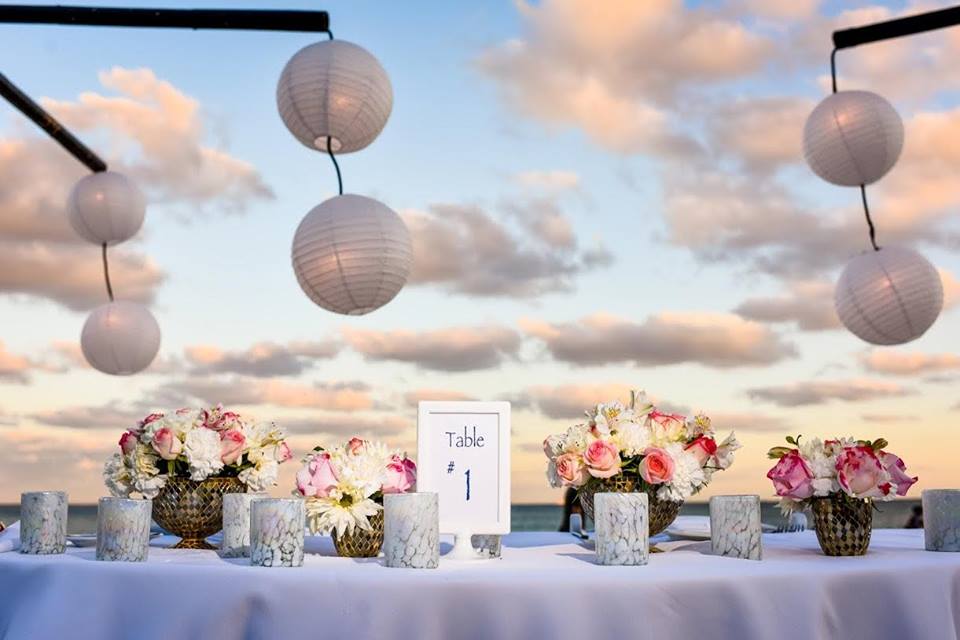 Knowing where to start on destination wedding planning can seem overwhelming.  A frequently asked question we often get when we start working with a couple is what they can expect with planning and a destination wedding checklist to use as a guideline for wedding prep.    We've compiled a helpful checklist below for couples to refer to for their destination wedding planning.   There may be some variations to the time line depending on selected resort (some resorts will start planning with you right away and others won't begin working on your wedding with you until 3 or 4 months prior to the wedding) and destination, but the timeline below is a good rule of thumb to get started with planning.
6-18 Months Before The Wedding
Contact Dreams and Destinations to discuss your preferred dates and resort/destination options.
Determine if you prefer a legal or symbolic ceremony.
Discuss your vision for your wedding, estimated number of guests, preferred wedding time of day, preferred locations for wedding and reception as well as any other private events.
Select your wedding package.  Begin discussing your wedding budget.
Place deposit on your preferred wedding package and room block/room reservation depending on the type of group contract (traditional or non-traditional) you prefer.  Your Dreams and Destinations destination wedding specialist will be able to explain this and discuss the pros and cons of each option.
Once deposits are received confirmations from your preferred resort and the weddings department will be returned.  This process can take from a couple days up to 2 weeks depending on the resort and coordinator.
Planning fun begins!  Enjoy browsing through catalogs of decor, photo ideas, menus and other options.
Send out your save the dates!
6-11 Months Before The Wedding
If you are using a photographer located in destination you will want to secure their services now.  Most resorts that we work with also offer contracted or onsite photographers you may work with if you prefer as well.
Secure DJ, band, entertainment, videographer.
Some resorts will have a list of preferred outside vendors that are allowed on resort, some resorts will charge a fee for outside vendors and some will not allow outside vendors at all.  You will want to be sure to ask your Dreams and Destinations destination wedding specialist what the policy is at your preferred resort.   Your Dreams and Destinations destination wedding specialist will assist you with updating the coordinator on any outside guests.
Begin narrowing down on selections for your wedding vision: theme, colors, ceremony and reception extras
During this time your Dreams and Destinations destination wedding specialist will be working directly with guests and guest reservations in your room block or under your group name.  Guests will need to make sure that their passports are up to date and will determine if any visas are required.
This is the time to double check that your passport and all documents are in order.  If you are planning a legal ceremony you will want to be sure you have and are complying with all legal forms and requirements.  Your wedding coordinator will walk you through this process.
4-6 Months Before The Wedding
During this time you will want to determine if you would want any additional wedding events (welcome cocktail, welcome dinner, rehearsal dinner, day-after brunch)
Begin planning with your Dreams and Destinations destination wedding specialist any outside resort activities for guests like golf, tours, shopping excursions or cultural events.  Your destination wedding specialist will be able to make recommendations upon request.
Order any special order welcome bag items you will be bringing with you.   Your Dreams and Destinations destination wedding specialist will be able to make recommendations for you as well.
2-3 Months Before The Wedding
Your Dreams and Destinations destination wedding specialist will begin the process of finalizing your guest room accommodations and completing your room block requirements depending on your contract with the resort.
Confirm any changes to or reconfirm ceremony and reception locations.
Finalize decor options, floral options and your wedding cake selection
Book your spa appointments for you, your attendants, mothers, groom and groomsmen.
Book the bridal suite in the spa for the day of treatments, hair and make-up if you plan on utilizing it.
Start working on menus for your private events
Confirm ceremony musicians (violinists, saxophonists, vocalist, etc…)
Provide any special readings or song requests to your resort coordinator
For most legal ceremonies all completed paperwork MUST be received no later than 2 months prior to arrival.  You will need to verify the exact requirements with your wedding coordinator
Finalize reception charts and seat cards.
Have programs, menus, place cards and all wedding and reception stationary printed (if not provided as part of your wedding package with the resort)
If you are sending traditional invitations you would send these out 3 months prior to your wedding date to allow time for guests to book into your room block at your contracted rates
1 Month Before The Wedding
Reconfirm all menus, decor, floral options and extras with the coordinator
Reconfirm all outside vendors and make sure the coordinator is aware
Reconfirm all spa appointments
Confirm timeline of events with coordinator, photographer (seated for meal, first dance, father daughter dance, cake cutting, etc…)
Compile your play-list and "do not play list" for your DJ.  Make sure they are aware of any special request songs as early as possible
Confirm that all special requests have been noted and planned for
3 Weeks Before The Wedding
Review your wedding contract.  All final changes are typically due by this time.  Last minute changes or cancellations may carry penalty
Provide guest list of guests staying off-site and requiring a guest pass to the wedding (this often involves an additional cost for many all-inclusive resorts) to your Dreams and Destinations destination wedding specialist and your wedding coordinator.
Your Dreams and Destinations destination wedding specialist will provide an updated travel schedule and final guest list to your wedding coordinator, reflecting any changes, during this time.
Make sure your coordinator has your final guest list, seating charts and events.
Up to 1 Week Before The Wedding
Based on the type of ceremony and residency requirements of your destination arrive between 3-7 days prior to the wedding
Meet with onsite coordinator and any off-site vendors to go over all details and make any last minute changes
Trial hair and make-up run through at the salon if scheduled
Arrange for welcome bag delivery, or welcome table, with your Dreams and Destinations destination wedding specialist
Leave both of your wedding attire with the on-site coordinator for steaming and pressing
1-2 Days Before The Wedding
Have your welcome cocktail party, rehearsal dinner, welcome dinner, welcome bon fire or other previously arranged pre-wedding events.
Any previously arranged special room drops for your guests, parents or wedding party will be delivered during this time (champagne, flowers, petit fours, etc…)
Night Before The Wedding
Don't stay up too late!  Tomorrow is the party and tonight you'll need your rest!
Wedding Day
Have a nice breakfast
Attend your scheduled spa/salon appointments.  Remember to bring any hair accessories, flowers, veils with you to your styling appointment
Today your coordinator will check-in with you throughout the day while they are overseeing details and keeping things organized with the team working to make your special day beautiful and what you envision.
Smile and savor every minute of this special day and the start of your new life together.   Today is the day to celebrate!
From the entire Dreams and Destinations destination wedding team CONGRATULATIONS!  We wish you a lifetime of love and happiness!