May 13, 2019
We are excited for you to celebrate our marriage with us in the Dominican Republic! The wedding party and guests will be staying at the Royalton Punta Cana in the DR.  This is an all-inclusive resort, which means that the room price also includes round trip non-stop shared airport transportation, unlimited food and alcohol!
The wedding will be on Monday, May 13, 2019 at 5 PM with a reception to follow. We will be traveling from Saturday, May 11, 2019 – Saturday, May 18, 2019.  We invite you all to come the full week.  However, we know that not all schedules will allow for this, so please come the dates that are convenient for you.
Your gift to us is coming to the beautiful DR to spend time and celebrate with us.  We know this is an added expense and we will be forever grateful for your attendance.   Please no additional gifts…seriously!
Royalton Punta Cana Resort and Casino
Alicia and Quinn have selected Royalton Punta Cana Resort and Casino on the beautiful island of the Dominican Republic for their destination wedding.  This is an amazing destination offering beautiful blue water with white sand beaches and a perfect backdrop for their wedding event.
Upon arriving at Royalton Punta Cana Resort and Casino will you will experience the charming culture of the Dominican along with exceptional service, modern facilities, and excellent cuisine. The resort offers guests a variety of pools to choose from. Whether you are in the mood for a tranquil poolside experience or a lively pool day with a lot of entertainment and activities, you will find everything in between and wedding guests will also enjoy access to the neighboring Memories Splash Waterpark.
Enjoy cuisines from around the world, along with local selections, in buffet-style or a la carte dining venues. Grab a signature cocktail, and mingle with other wedding ​guests at the many on site bars. Treat yourself to a mid-afternoon coffee or​ dessert at the cafe. Every room will have ​24-hour room service giving you the flexibility to have meals in the comfort of your own room or suite while you enjoy Punta Cana's beautiful sunsets.
Traveling as a family?  No problem!  Royalton has an abundance of activities for families.  Offering one of the largest waterparks in the Caribbean, to the Clubhouse Kids Club and a great selection of sports and recreation activities, your children will thank you for a trip of a lifetime.  Have your children interact with others their age in a variety of sports and activities, including beach volleyball, ping pong, cooking classes, dance classes, trivia games, aquatic Olympic competitions, aerobics classes, and weight-training with professional instruction, in addition to Hangout Teen Lounge's daily organized activities.  Your teens will have the freedom to enjoy many of our on-site amenities (included with stay) on their own time.  Ending the day, they will meet to watch live performances at the open-air theatre by night.
When you want to unwind after a long pool day with all of the wedding guests Royalton Punta Cana offers the full-service Royal Spa with it's wellness focus, hydrotherapy circuit and a full-range of massage, body and facial treatments featuring time honored healing practices. (Not included in the all-inclusive package) Experience complete relaxation, rejuvenation and restoration with packages focused on the whole body. The professional staff at Royal Spa are dedicated to helping you relax, while ensuring you're refreshed and ready to enjoy your tropical vacation.
Want to try your luck? ​The resort offers a casino designed to provide an exciting experience and makes for a night of fun gaming. The casino has a variety of slot machines and table games so, regardless of your level of interest or experience, there is something for every guest.  Stop by to try your luck!
Room Options at Royalton Punta Cana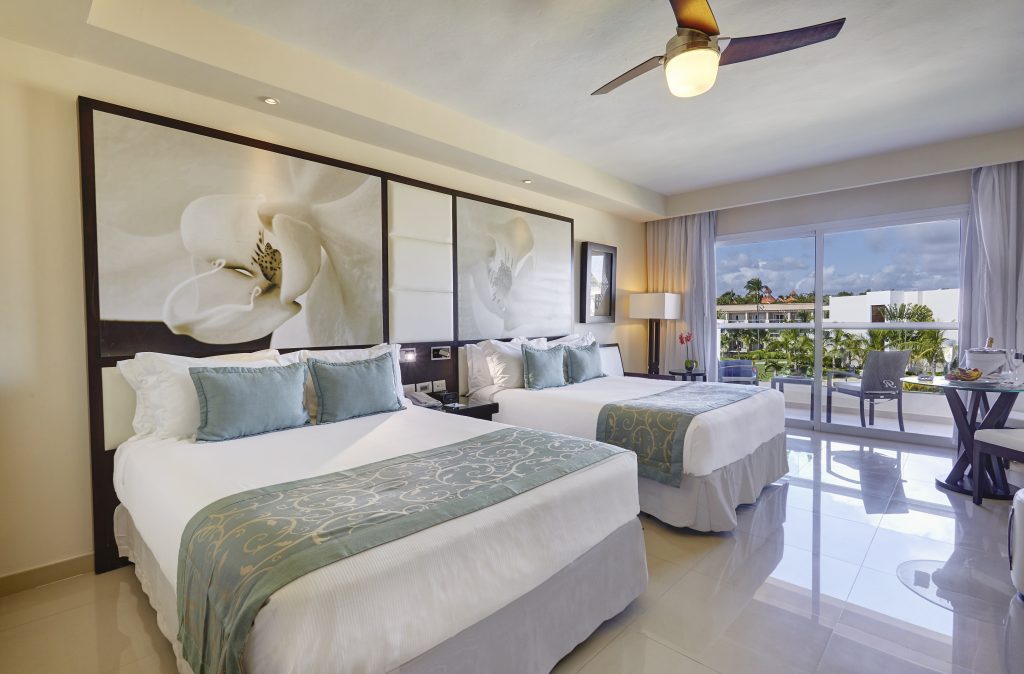 Royalton Punta Cana is comprised of 2 distinct sections that we are offering for the wedding group, unique to each traveler's vacation style.   The Luxury Accommodations and the Diamond Club Accommodations are the same it's the service level offered for each guest that differentiates the experience while on property.  The Diamond Club is a premium level of service that features the comfort of anticipatory service, exclusive à la carte restaurants and bar areas, as well as the shimmering pool and pristine beach areas for the sole use of Diamond Club™ guests. Highly trained butlers help fulfill your every request, including dinner reservations and the organizing of special occasions. We have included the amenities for each of level of accommodations for you pick which best suits your needs.
Luxury Accommodations
Royalton Signature DreamBed™
24 hour concierge service
Unlimited Free WiFI for all your devices
Rain showers
Stocked mini-bar
Balcony or terrace
In-suite Jacuzzi soaker tub
High thread count sheets
USB recharge and Bluetooth audio stations
In room safe
Satellite television
24 hour room service
Ironing board, coffee maker and hairdryer
Diamond Club Accommodations
 Preferred room locations

 Butler services

Preferential reservations in à la carte restaurants
Exclusive bar and beach area with waiter service

Distinctive wrist bracelet

Personalized check-in and check-out

Early check-in and late check-out (subject to availability)

Exclusive Diamond Club™ Lounge access

Selected premium drinks menu available in lounge

Daily continental breakfast service in lounge

Evening hors d'oeuvres and afternoon snacks including decadent desserts in lounge

Upgraded room service menu

Pillow menu

Luxury amenities in room

Mini-bar (re-stocked daily)

Robes and slippers in room

10% discount on spa treatments and hairdresser
Alicia and Quinn have held rooms at the Royalton to ensure that their guests were guaranteed room availability and pricing.  Please see the room options below. Royalton offers a wide range of accommodations, we can add any room that you would like at the resort.
Luxury Junior Suite (DBL)
Occupancy (Number of travelers in the room)
Single
Double (per adult)
Triple (per adult)
Quad (per adult)
Child Ages 2-12
(per child)
Child Ages 0-4
(per child)
3 Night Pricing
$944.00
$644.00
$593.00
$569.00
$304.00
$41.00
4 Night Pricing
$1,245.00
$845.00
$777.00
$745.00
$445.00
$41.00
5 Night Pricing
$1,546.00
$1,046.00
$976.00
$921.00
$546.00
$41.00
6 Night Pricing
$1,847.00
$1,247.00
$1,145.00
$1,097.00
$647.00
$41.00
Each Additional Night (after 6 nights)
$301.00
$201.00
$184.00
$176.00
$101.00
$41.00
Diamond Club Luxury Jr. Suite Ocean View
Occupancy (Number of travelers in the room)
Single
Double (per adult)
Triple (per adult)
Quad (per adult)
Child Ages 4-17
(per child)
Child Ages 0-3
(per child)
3 Night Pricing
$1,115.00
$758.00
$698.00
$668.00
$401.00
$41.00
4 Night Pricing
$1,473.00
$977.00
$917.00
$877.00
$521.00
$41.00
5 Night Pricing
$1,831.00
$1,236.00
$1,136.00
$1,086.00
$641.00
$41.00
6 Night Pricing
$2,189.00
$1,475.00
$1,355.00
$1,295.00
$761.00
$41.00
Additional night after 6 nights
$385.00
$239.00
$219.00
$209.00
$120.00
$41.00
Diamond Club Luxury Jr. Suite Swim Out (DBL)
Occupancy (Number of travelers in the room)
Single
Double (per adult)
Triple (per adult)
Quad (per adult)
Child Ages 4-17
(per child)
Child Ages 0-3
3 Night Pricing
$1,160.00
$788.00
$725.00
$695.00
$416.00
$41.00
4 Night Pricing
$1,533.00
$1,037.00
$953.00
$913.00
$541.00
$41.00
5 Night Pricing
$1,906.00
$1,286.00
$1,181.00
$1,131.00
$666.00
$41.00
6 Night Pricing
$2,279.00
$1,535.00
$1,409.00
$1,349.00
$791.00
$41.00
Additional night after 6 nights
$373.00
$249.00
$228.00
$218.00
$125.00
$41.00
ALL INCLUSIVE PACKAGE
Pricing above is per person and includes the following: Room Accommodations, Round trip transportation to and from the airport, all inclusive package, taxes and gratuities.
3 Night Minimum.  Only $100 per person to hold your reservation!
DUE DATES
Initial Deposit to be paid by July 1, 2018
50% of room revenue due by October 15, 2018
FINAL PAYMENT DUE by February 15, 2019
How to Confirm Your Reservation
We want to make the reservation process as easy as possible for all of the wedding guests.   All of the Barbour & Semling wedding guests have a dedicated Dreams and Destinations travel consultant based on the first letter of your last name. Please reach out to your travel consultant with any questions, concerns and they will assist you with everything needed to confirm your reservation.
Flights
Dreams and Destinations Travel will gladly assist you with your airfare to Punta Cana, Dominican Republic. If you choose to book your own tickets, please fly into Punta Cana International Airport (code PUJ).   Air can be added at anytime to your package once we are within 330 days of your date of return. If you do choose to book your flights on your own please remember to provide us a copy of your flight itinerary in order to arrange your ground transfer included in your package.
If your last name begins A-L you will be working with Anna
or
704-995-1582
If your last name begins M-Z you will be working with Mandy
or
704-560-9879
When confirming your reservation you will click on the ​BOOK NOW  button and submit the following details:
Travel Dates
Names (exactly how they read on your passports)
Dates of Birth
Room Category (Should be written in the comments section of the payment form)
Select your dedicated travel consultants name in the drop down box
Select or Decline the travel insurance (Payment for the travel insurance is due at the time of initial deposit.  Price per person is indicated below.  Please make sure you add this to your room reservation deposit when selecting "yes" to the insurance).
Cancel For Any Reason Insurance
Cancel for any reason travel insurance is optional and available for $119.00 per person.  Travel insurance is not automatically included in your package and payment in full is required when submitting your initial deposit.  The cost of the travel insurance is nonrefundable and nontransferable once purchased. Many resorts charge penalties after deposit is applied and often the cost of insurance is less than the cost of cancellation penalties.
Please do not hesitate to reach out to us with any questions.  That's what we're here for.  Thank you!  We look forward to working with each of you.