December 6, 2019 at 5:00pm
---
Thank you for being a part of our journey together, we look forward to celebrating our special day with you!
UNICO 20'87 Riviera Maya
Lauren and Vladimir have selected the adults only UNICO 20'87' Resort in beautiful Riviera Maya, Mexico for their upcoming destination wedding. UNICO, offering your-one-of-a-kind all-inclusive pass, is much more than an all-inclusive resort. The beautiful crystal blue waters, powder white sandy beaches and a breathtaking backdrop make it the perfect destination for a wedding celebration. This is just the beginning.
You will notice the UNICO difference when you are ordering your crafted cocktails and top shelf premium spirits at both of their lounges. Or maybe you want a variety of their juice collections from the cafe. The resorts 24 hour room service allows you to customize your meal on their UNICO 20'87' app.
Dining at the property is more of a sensory experience for all that step into one of the five dining options on property. You will find that all of the ingredients are locally sourced and offer a diverse mix of international flavors. Cuisines ranging from coastal Italian cuisine, Mayan-inspired Mexican cuisine, Japanese cuisine-teppanyaki to a classic grill and cafe. This resort will have something for everyone to try and we know you will be impressed. The best part is that it is ALL INCLUDED in your package price. You can feel free to leave your wallets in the safe and simply enjoy your vacation.
If you want to stay connected you will find complimentary Wi-Fi services and international calls to the US and Canada. If you want to disconnect and relax the resort offers beach and poolside service to all of their guests. If you are more of the adventurous type your land and water sports along with daily/nightly entertainment are included.
ALL INCLUSIVE PRICING FOR UNICO 20'87
The room accommodations at UNICO have also set itself apart in the industry. From the custom designed furniture, local art pieces to providing conveniently located charging stations in each and every room. Your "personal hosts", replacing the traditional butler service, for every room will leave you with a level of customer service that you can only dream of. Each room offers aromatherapy/pillow menus, 24 hour room service and a minibar stocked to your preference.
Lauren and Vladimir have reserved various room categories for their wedding guests. Please see room categories and descriptions to find the best suited for your travel. If you are interested in a room that is outside of our room block, please let your dedicated travel consultant know for a price quote. Please see the per person pricing below for UNICO 20'87'.
EARLY BOOKING INCENTIVE – PLEASE READ
***Reservations made by March 1, 2019 will be entitled to an upgrade to the next available room category up to Alcoba Ocean Front. After this period, no upgrades will be offered and reservations with upgrades are not allowed to change names***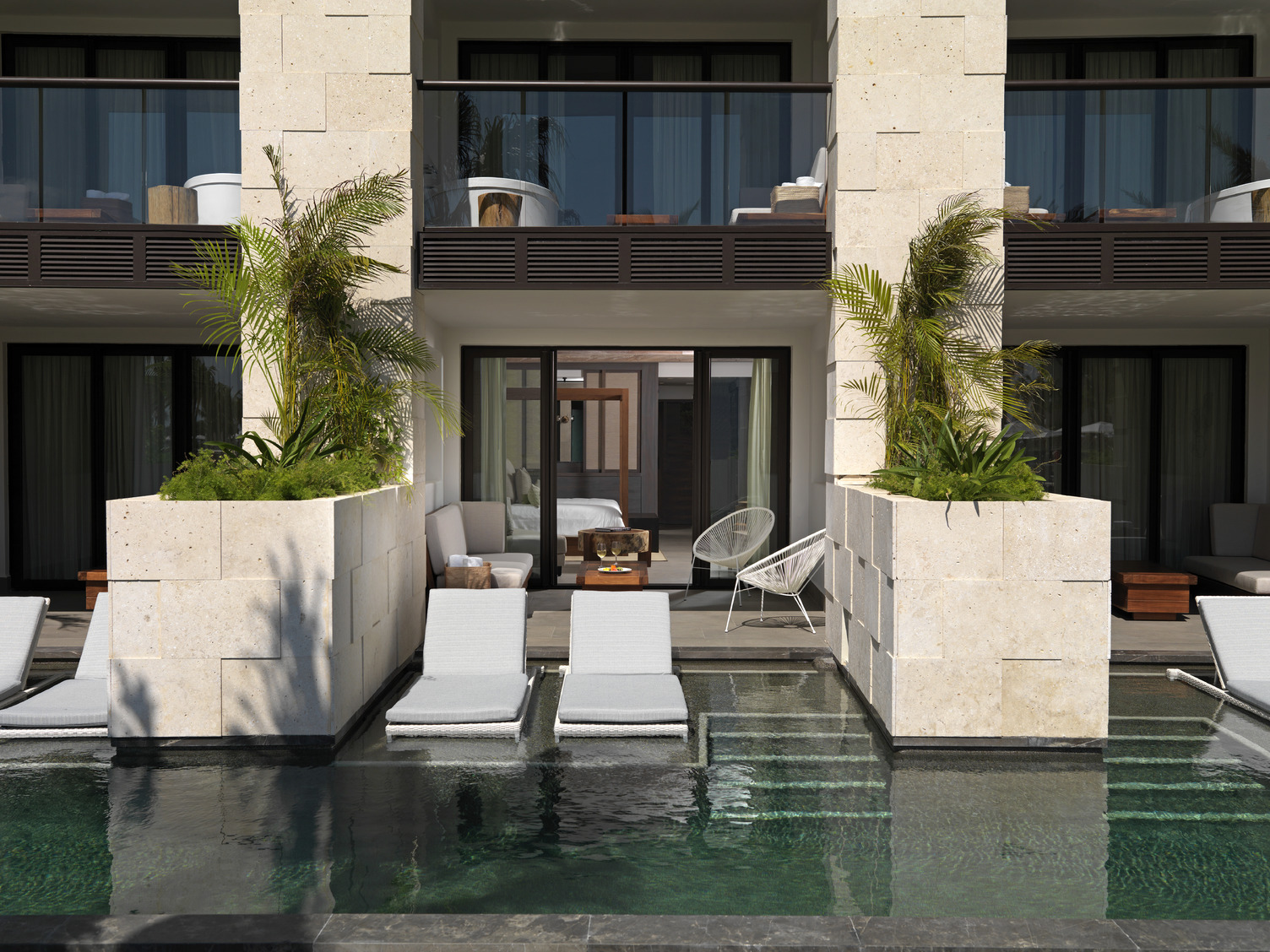 Alcoba Swim-Up Pool with King Bed
| Occupancy | Single | Double |
| --- | --- | --- |
| 3 Nights | $1341.00 per person | $832.50 per person |
| 4 Nights | $1776.00 per person | $1098.00 per person |
| 5 Nights | $2,211.00 per person | $1363.50 per person |
| 6 Nights | $2646.00 per person | $1629.00 per person |
| 7 Nights | $3081.00 per person | $1894.50 per person |
Warm and elegant, with handcrafted touches, the Alcoba Swim-Up Pool offers an ideal setting of relaxed luxury with an exterior swim-up pool and elevated lounge chairs. Art featured by local artists and accent piece fabricated from local materials help curate a contemporary impression of the region. Pool or tropical view. Maximum of 2 guests.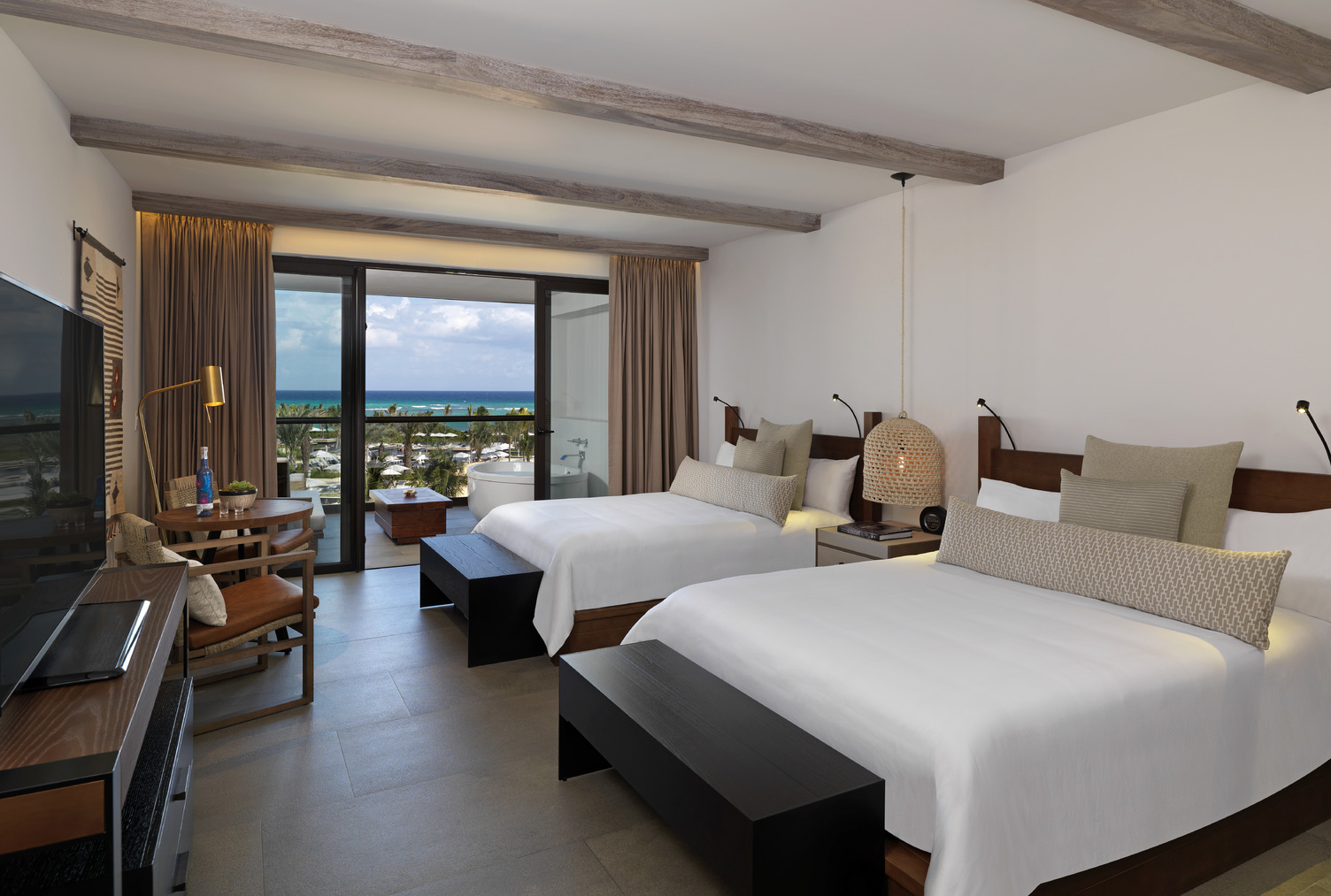 Alcoba Ocean View with King or 2 Queen Beds
| Occupancy | Single | Double | Triple | Quad |
| --- | --- | --- | --- | --- |
| 3 Nights | $1470.00 per person | $900.00 per person | $846.00 per person | $820.00 per person |
| 4 Nights | $1946.00 per person | $1186.00 per person | $1114.00 per person | $1079.00 per person |
| 5 Nights | $2422.00 per person | $1472.00 per person | $1382.00 per person | $1339.00 per person |
| 6 Nights | $2898.00 per person | $1758.00 per person | $1650.00 per person | $1598.00 per person |
| 7 Nights | $3045.00 per person | $2044.00 per person | $1918.00 per person | $1857.00 per person |
Incorporating clean lines and natural materials the Alcoba Ocean View offers unobstructed views of the ocean, an exterior double hydro spa tub, and exterior lounge area where you can relax and enjoy your design elements. Ocean View. Maximum of 4 guests with two queen beds.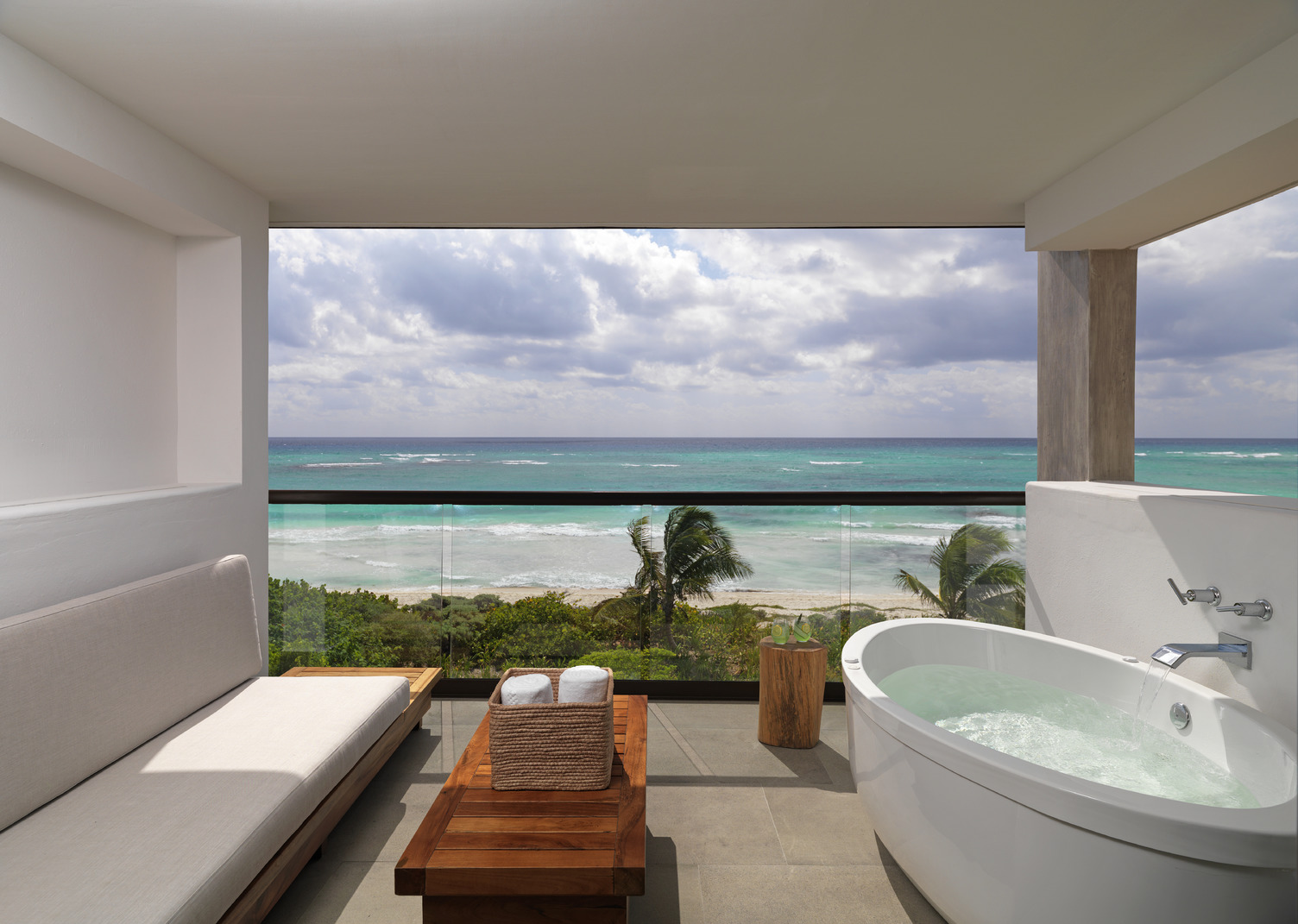 Alcoba Ocean Front with King or 2 Queen Beds
| Occupancy | Single | Double | Triple | Quad |
| --- | --- | --- | --- | --- |
| 3 Nights | $1593.00 per person | $960.00 per person | $936.00 per person | $924.00 per person |
| 4 Nights | $2110.00 per person | $1266.00 per person | $1234.00 per person | $1218.00 per person |
| 5 Nights | $2627.00 per person | $1572.00 per person | $1532.00 per person | $1512.00 per person |
| 6 Nights | $3144.00 per person | $1878.00 per person | $1830.00 per person | $1806.00 per person |
| 7 Nights | $3661.00 per person | $2184.00 per person | $2128.00 per person | $2100.00 per person |
Spacious and bright the Alcoba Ocean Front boasts an exterior double hydro spa tub and exterior lounging area where you can take in the landscape. The elegantly designed interiors incorporate warm woods and sisal rope for a clean, modern take on Mexican materiality. Ocean View. Maximum of 4 guests with two queen beds.
ALL INCLUSIVE REDEFINED
UNICO is changing the way of all inclusive accommodations in the Caribbean and we are excited to share with you that your trip to Mexico will truly be an all inclusive experience. Along with the typical all inclusive amenities you will also have access to unlimited inclusions of selected spa, beauty and adventure tours. More details on the All Inclusive Pass Details will be sent out to each of you by your dedicated travel consultants. Upon arrival at UNICO, your personal host will be available to help secure the reservations of your choice.
Swim with the dolphins

Guided Tour of Chichen Itza & Cenotes

Coba & Tulum

Sun Relief Wrap

Volcanic Stone Massage
*Select tours, spa and beauty salon treatments are available to all guests for only a 25% service fee.
Transfer Options
The round trip airport transportation included in your pricing grids above is round trip SHARED transportation. You have the option to upgrade your transfers to non-stop private.
Shared – included in pricing grid above. We will do our best to group together arrivals for non stop service. Depending on your flight arrival time, your transfer could have a few stops at other resorts to/from your airport transfer.
Private Non Stop – For $34 additional (per person) you can upgrade to private, non stop guaranteed transfers which will take you non stop directly to/from UNICO.
The transfer time is roughly 35 minutes, depending on traffic.
Please identify in the comment section of your payment form if you would like to upgrade to the Private Non-Stop Transfer option.
How To Book
DUE DATES
Initial Deposit of $200 per person to be paid by April 15, 2019
EARLY BOOKING INCENTIVE ENDS MARCH 1, 2019
50% of the room cost is due by June 1, 2019
FINAL PAYMENT DUE : August 15, 2019
Below you will find a 'BOOK NOW' button that will take you to our payment page.
We want to make the reservation process as easy as possible for all of the wedding guests. Each of you will have a dedicated contact to assist with your reservation process. Anna and Mandy will be your dedicated travel consultants with Dreams and Destinations Travel. All of the Cirillo and Males wedding guests have a dedicated travel consultant based on the first letter of your last name. Please reach out to your travel consultant with any questions, concerns and they will assist you with everything needed to confirm your reservation.
Names of all travelers (please include full legal names)

Dates of birth for all travelers

When selecting the wedding group, please put Cirillo and Males wedding

Make sure to select your travel consultant

If you select "Yes" to the travel insurance, please make sure you include the total cost with your initial deposit.

In the comments section please note the room category that you are reserving.
Please Note: Travel Insurance is nonrefundable
If your last name begins A-L you will be working with
Anna
or
If your last name begins M-Z you will be working with Mandy
or
Travel Insurance
Travel insurance is optional and available for $119.00 per person. Travel insurance is not automatically included in your package. The plan includes 100% cash reimbursement in the event of cancellation for covered reasons including the most common reason for cancellation – illness affecting the traveler, traveling companion or an immediate family member. It also includes reimbursement for cancellation due to ANY REASON up to 75% of the cancellation penalty amount as long as the plan is purchased with initial deposit and cancellation occurs more than 3 days prior to departure. Travel insurance does not cover change of occupancy in a group (for example decreasing from 2 adults to one adult in room).