December 16, 2017
It's finally here! The celebration we have ALL been waiting for!  Four years and the most amazing surprise we could have ever been blessed with have lead us to this next chapter of our lives!  We could not be more excited to tie the knot on the beautiful island of Providenciales in Turks and Caicos!  The final icing on our cake is having our closest friends and family here to help us celebrate so grab your passports, swimsuits, and party hats!  We are looking forward to seeing you all here to enjoy our wedding extravaganza!  
Beaches Turks and Caicos
on the beautiful island of Turks and Caicos as the perfect backdrop for their destination wedding.  This is an amazing destination with water so blue it makes the sky jealous and sand so soft you feel like you're walking on powder.  Turks and Caicos is a chain of 40 islands (only 8 are inhabited), with Providenciales being its tourist center and home to Grace Bay, which is considered to be one of the best beaches in the world.  Referred to as the last of the true exotics this island paradise was largely undiscovered for years and offers miles of sugar white beaches that gently kiss the clear blue sea.  Turks and Caicos is a Mecca for nature and water lovers and is considered by many to be the third best dive spot in the world.  Beaches Turks and Caicos has been voted the best all-inclusive resort for families and is the only true all-inclusive property in the destination.  The resort offers an amazing number of amenities for everyone attending the wedding.  Please feel free to bring the whole family and join Lauren and Adam in paradise.
Beaches Resort
Beaches Turks and Caicos is comprised of 4 villages.  The Caribbean Village is set in lush gardens with quaint Caribbean style low level buildings and villas.  The French Village offers a touch of Paris in the tropics with its architecture, bakeries and bistros that border a zero entry pool.  The Italian Village is the crown jewel of the resort offering Mediterranean style buildings bordering one of the largest pools in the Caribbean and only steps away from fantastic dining, shopping, entertainment.  Step out of the luxury of your room to your balcony and you'll enjoy some of the best views of the most gorgeous water you'll ever see.  The laid back elegance of the Key West Village is the most recent addition to this expansive resort and offers families suite style accommodations very close to the beach. One of the best features about Beaches Turks and Caicos, aside from it's stunning location, is just how much vacation a trip to this resort includes.  Water sports are included Beaches.  You can snorkel the reef from a dive boat daily and if you're a PADI certified diver even your diving is included!  You can also enjoy day and night tennis , land sports, and daily and nightly entertainment.   Children will love the Sesame Street in the Caribbean events and teens will love a chance to hang out with each other and enjoy the cutting edge technology they are used to at home.   The resort also offers the Pirates Island Waterpark with a wave simulator and water slides, DJ Scratch Academy, an XBox 360 Game Oasis ( it actually that serves as a testing center and has all the latest games)
The 19 restaurants here offer everything from Italian, to French, to Asian, to Tex Mex, to Mediterranean, to Caribbean.  There are 2 adults-only (16 and older) restaurants.  The house wines are Beringer, the liquor is top shelf and the desserts are decadent.  All elements work together to provide the ultimate in dining pleasure.    There is also a French Patisserie offering your choice of a number of coffee drinks (you won't miss Starbucks a bit!) and sweets ranging from crepes to macaroons.   In the afternoons or evening you can enjoy a British Pub for adults, and Club Liquid…teen friendly until 10:30 and then after that an adult hotspot with fantastic DJs mixing in sleek surroundings.
Special Resort Pricing for Lauren and Adam's Wedding
We've got a block of assorted luxury level rooms being held for our guests at a special group rate.  These rooms will be assigned at check-in and could be in any of the four villages.  The rates for the assorted luxury level rooms are below and are per room based on occupancy.  The resort is all-inclusive, so this rate includes all your food, beverages (including alcoholic beverages), daily resort activities, water sport desk activities, waterpark access, evening entertainment, gratuities, airport transfers and taxes.  Air is not included but can be added to your package by contacting our travel agent, Stacey.
Stacey can also assist you if you have a specific village you want to stay, assist you with upgrading to a concierge level or butler level room, or make suggestions if you want to explore your room accommodation options.  You can email Stacey at Stacey@wheredreamslead.com or give her a call at 304.449.4590  
Important Booking Information
FLIGHTS
Remember the rates above do not include flights. We are able to quote flights based on your preferred departure city. When we hold flights for guests, we are required to provide passport names and dates of birth at the time of booking. The airlines also require that we collect full payment for the flight within 24 hours of booking. Air may be added at any time, but we highly recommend booking early. 
IMPORTANT:  Passport books are required for all guests flying internationally.
IMPORTANT DUE DATES
Initial deposit ($200 pp) is due by – 2/1/17
2nd Deposit of $500 per person is due by – 4/1/17
3rd Deposit of $500 per person is due by – 6/1/17
Final Payment due by – 8/1/17
RESERVING YOUR ROOM
You can reserve your room today by placing a $200 per person deposit.  This deposit can be placed by clicking the "Wedding Guest Payments" button and completing and submitting the payment form.  You can use booking confirmation #112131700 and choose Stacey A. as your agent. Reservations can also be placed by calling or emailing Stacey directly as well.
Wedding Guest Payments
TRAVEL INSURANCE
Cancel for any reason travel insurance is available to each individual of the group for a low rate of $99 pp ($49 per child) and gives you the following coverage: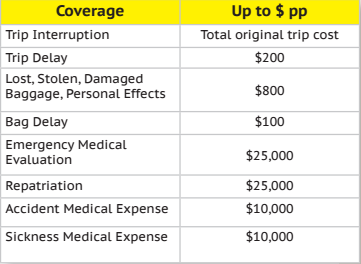 If you would like to purchase cancel for any reason travel insurance along with your package, please click yes when depositing and submit the total cost of the insurance along with your deposit. If you do not wish to purchase the insurance, simply click no when depositing and initial in the box.  
Most airlines and resorts will have penalties for cancellations made after payment is applied.  Often travel insurance is less than the penalties and offers peace of mind while you travel.