Friday, October 8, 2021 at 5pm
Our travel agent requested that we write an introduction for our website. As most of you know, Shelby is in hog heaven planning everything wedding related by herself. However, this intro is different… Shelby wanted nothing to do with writing it. For those of you who haven't quite figured it out yet- this is my (Jake) only wedding responsibility aside from showing up. No pressure.
Hey everybody! Shelby and I are doing the whole "you may kiss the bride" thing October 8th, 2021 in Montego Bay, Jamaica! If you're reading this, then you are invited to join us for the big day! However! If you have any intention of objecting during the ceremony, murdering one or both of us, or hate having a good time with a beautiful view, you are hereby uninvited. If you have read this far and are still invited – We cannot wait to have a blast with you in Jamaica! See you there!
(The future Mrs. Carstens approves this message. Mostly because this was Jake's 8th Draft and I didn't foresee it getting any better lol)
Stacey is our dedicated travel agent for our wedding group. If you have any questions, concerns or just want to hear more about the options available, please feel free to reach out to her directly. She will be the point of contact for booking your stay at Sandals Montego Bay and can also assist with your flights, transfers, add-on activities, travel insurance and more.
Sandals Montego Bay
Sandals Montego Bay is Sandals flagship resort and a true original. Spanning the best private, white-sand beach in Jamaica, this playful and romantic resort is where the world first fell in love with Sandals. The calm, reef-protected beach is perfect for every type of water sport and guests can indulge in unlimited dining at nine gourmet restaurants serving authentic regional cuisine.
Experience the casual island vibe from the comfort of your private seaside suite. Everything is just steps from water's edge and, best of all, it's all included!
ROOM ACCOMMODATIONS AT SANDALS MONTEGO BAY
Whether you are looking for simple room accommodations, or to splurge on a much needed vacation while you attend the beautiful wedding ceremony, Sandals offers accommodations for every type of traveler. Room categories are broken down into 3 levels with multiple options in each. Feel free to contact Stacey to discuss these options and find the perfect room category for your stay.
We've currently blocked off a couple luxury level and club level options for you to choose from, along with a butler level option, but Stacey would be more than happy to further assist you in deciding which room category fits your needs best.
The package rate listed below includes: unlimited meals, snacks and beverages (including alcoholic beverages), daily activities and watersports, nightly shows and entertainment, roundtrip airport transfers, taxes and gratuities for 2 adults.
Please note that all rooms have a king sized bed only.
Luxury Room Accommodations
Every room at Sandals offers a luxury experience from the tranquility sleep experience including: extra wide king mattresses, pillow menus, mini-bar stocked with wine, beer, juices and soda, and personalized attention from every staff member.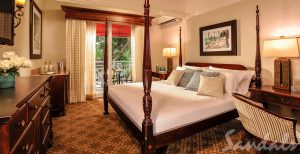 Caribbean Deluxe - DL
| Number of Nights | Total for 2 Adults |
| --- | --- |
| 3 nights | $1,620.12 |
| 4 nights | $2,155.56 |
| 5 nights | $2,672.60 |
| 6 nights | $3,189.64 |
| 7 nights | $3,706.68 |
Ground floor of cottage #8 or 2nd floor of the Oleander building. Entry level room category.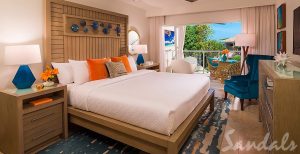 Crystal Lagoon Honeymoon Oceanview Luxury Room w/ Balcony Tranquility Soaking Tub - OLX
| Number of Nights | Total for 2 Adults |
| --- | --- |
| 3 nights | $1,868.52 |
| 4 nights | $2,486.76 |
| 5 nights | $3,086.80 |
| 6 nights | $3,686.44 |
| 7 nights | $4,286.28 |
Located in a prime location on the second and third floors of the Seagrapes building, these rooms are perched above the exclusive Crystal Lagoon Pool and feature a signature Tranquility Soaking Tub for two on a private balcony.
Club Sandals Experience Room Accommodations
Club Sandals offers a higher level of service to those guests who are looking to enhance their experience while on property. Each guest who books a Club level room category will have a dedicated concierge service while on property that includes, but is not limited to the following: VIP check-in at arrival, room service, an in room bar with an in-room liquor menu, unlimited wifi and access to the concierge lounge.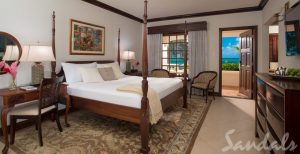 Beachfront Honeymoon Walk Out Club Level Junior Suite - WBH
| Number of Nights | Total for 2 Adults |
| --- | --- |
| 3 nights | $2,184.27 |
| 4 nights | $2,907.75 |
| 5 nights | $3,612.84 |
| 6 nights | $4,317.93 |
| 7 nights | $5,023.02 |
These Junior Suites are located on the ground of cottage 12 with a large patio, walking out to the beach and ocean and the concierge service.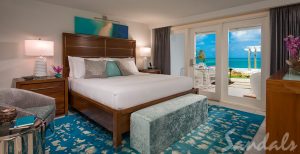 Ocean Front Honeymoon Walk Out Club Level Room w/ Patio Tranquility Soaking Tub - WOFT
| Number of Nights | Total for 2 Adults |
| --- | --- |
| 3 nights | $2,259.34 |
| 4 nights | $2,007.85 |
| 5 nights | $3,737.96 |
| 6 nights | $4,468.07 |
| 7 nights | $5,198.19 |
These newly renovated rooms are located on the ground floor of the Almonds building and feature stunning oceanfront views from a private patio equipped with a bistro set and Tranquility Soaking Tub for two. This room category is at the far side of the resort and a bit more private and quiet. As an exclusive Club Sandals room, a dedicated concierge is available to handle any special requests and reservations, such as spa appointments or dinner reservations.
Butler Room Accommodations
"When perfection itself simply isn't enough". Sandals offers an unprecedented resort Butler Service. When you book a butler level room at Sandals rest assured you will be provided with an unimaginably supreme standard of service and luxury. Your butler will greet you upon arrival at the resort and handle every and all of your requests from that moment forward. If you need your favorite lounge chair reserved for the day, a cooler full of your favorite beverage on the beach, or you want dinner reservations at one of the popular restaurants. No worries Mon'! Your butler will take care of everything.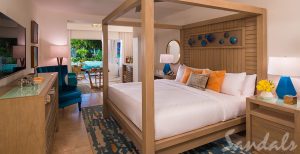 Crystal Lagoon Swim Up One Bedroom Butler Suite w/ Patio Tranquility Soaking Tub - S1B
| Number of Nights | Total for 2 Adults |
| --- | --- |
| 3 nights | $3,334.36 |
| 4 nights | $4,441.21 |
| 5 nights | $5,529.66 |
| 6 nights | $6,618.11 |
| 7 nights | $6,526.11 |
Indulge in the exclusivity of swim-up pool access or soak away your worries in our signature Tranquility Soaking Tub for two, just outside on your private patio. This romantic Butler Elite enclave also includes 24-hour room service and a personal butler to take care of your every wish.
HOW TO BOOK YOUR ROOM
You can reserve any of the room categories listed above by placing a $200 per person deposit. This deposit can be placed by clicking the "Wedding Guest Payments" button and submitting the payment form. Please use quote #110082100 and choose "Stacey A" as your agent. Please put the room category you are choosing in the comments box or you can simply make the reservation by calling or emailing Stacey directly.
IMPORTANT DUE DATES
Initial Deposit of $200 pp due by March 1, 2020
2nd deposit of at least $500 pp due by March 1, 2021
FINAL PAYMENT DUE by July 1, 2021
Flight Itineraries due by August 1, 2021
TRAVEL PROTECTION
Travel protection can be added to your package at the cost of the $114.00 per person. Insurance is highly recommended as travel suppliers, airlines and resorts often charge fees for trip change/cancellation after the deposit payment has been made. Dreams and Destinations Travel Agency is not responsible for penalties or fees should you change or cancel your trip and highly recommends purchasing the insurance. A pamphlet outlining the policy coverage can be provided. Please contact Stacey to request. The cost of insurance is nonrefundable and insurance policies are non-transferable. In many cases the cost of insurance is less than the cost of penalties for cancellation.
Please include the $114 per person cost of the travel insurance with the $200 per person deposit amount if you'd like to purchase the travel protection.