Monday, June 14th, 2021
Welcome to our wedding website! We are so excited to invite you on one of our next adventures to the beautiful St. Lucia. We can't wait to celebrate with all of you!
Let the countdown officially begin!
Stacey is our dedicated travel agent for our wedding group. If you have any questions, concerns or just want to hear more about the options available, please feel free to reach out to her directly. She will be the point of contact for booking your stay at Sandals Regency La Toc and can also assist with your flights, transfers, add-on activities, travel insurance and more.
Sandals Regency La Toc
Sandals Regency La Toc is a magnificent 220-acre estate set on a half-mile, crescent-shaped beach, cradling exotic coral bluffs, lush hillsides and rolling fairways. Featuring a challenging executive style golf course, stunning oceanfront suites and the private enclave of the Sunset Bluff Village, this resort is recognized as the most sparkling jewel in the islands.
With 9 unique restaurants showcasing the cuisines and ambiance of Italy, France, England, the Caribbean and the Far East, you'll find deciding on dinner your most difficult task of the day. Each restaurant has a team of dedicated international chefs whose attention to detail and service is what you'd come to expect in the most acclaimed restaurants across the globe. If you take advantage of the Stay at 1, Play at 3 exchange program – you'll have 18 more restaurant options to choose from!
With so many activities for you to partake in, it'll be a challenge to fit them all in. You can test your swing on the 9 hole executive course located on property, or get in a full 18 holes at the Sandals St. Lucia Golf & Country Club located at Cap Estate. Feel free to take in one of the many entertainment productions, such as the talented Reggae band or fascinating Fire Dancers. You can also jump into the action at the watersports desk and try one of their many water activities, including snorkeling and scuba diving. Or simply just relax and take in all the sights and sounds of paradise!
Room Accommodations at Sandals Regency La Toc
Whether you are looking for simple room accommodations, or to splurge on a much needed vacation while you attend their beautiful wedding, Sandals offers accommodations for every type of traveler. Room categories are broken down into 3 levels with multiple options in each. Feel free to contact Stacey to discuss these options and find the perfect room category for your stay. We've currently blocked off a few different room categories in each of the three levels to give you some options to choose from, but Stacey would be more than happy to further assist you in deciding which room category fits your needs best.

Luxury Room Category Accommodations – Every room at Sandals offers a luxury experience from the tranquility sleep experience including: extra wide king mattresses, personalized attention from every staff member and a mini-bar stocked with water, juices, sodas, beer and wine.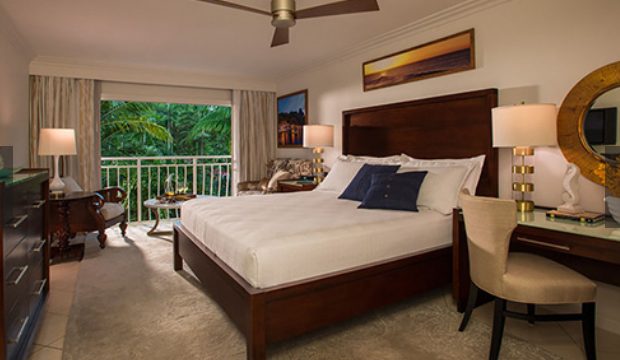 Honeymoon Luxury
| Number of Nights | Total for 2 Adults |
| --- | --- |
| 3 Nights | $1,818.59 |
| 4 Nights | $2,163.53 |
| 5 Nights | $2,646.23 |
| 6 Nights | $3,138.42 |
| 7 Nights | $3,640.12 |
Garden view room with a King bed. Close to main pool and beach.
Emerald Honeymoon Oceanview
| Number of Nights | Total for 2 Adults |
| --- | --- |
| 3 Nights | $1,995.00 |
| 4 Nights | $2,398.75 |
| 5 Nights | $2940.25 |
| 6 Nights | $3,491.25 |
| 7 Nights | $4,051.75 |
Oceanview room in the main section of the resort.
Club Sandals Room Accommodations (Highly Recommend!) – Club Sandals offers a higher level of service with rooms in preferred locations for guests who are looking to enhance their experience while on property. Each guest who books a Club level room category will have a dedicated concierge service while on property that includes, but is not limited to the following: VIP check-in at arrival, room service between the hours of 7am and 10pm, an in-room bar, unlimited wifi and access to the concierge lounge.
Sunset Bluff Oceanview Club Level
| Number of Nights | Total for 2 Adults |
| --- | --- |
| 3 Nights | $2,034.05 |
| 4 Nights | $2,450.81 |
| 5 Nights | $3,005.33 |
| 6 Nights | $3,569.34 |
| 7 Nights | $4,142.86 |
Hillside oceanview room with a King bed and Club amenities.
Honeymoon Luxury Oceanview Club Level
| Number of Nights | Total for 2 Adults |
| --- | --- |
| 3 Nights | $2,231.55 |
| 4 Nights | $2,714.15 |
| 5 Nights | $3,334.50 |
| 6 Nights | $3,964.35 |
| 7 Nights | $4,603.70 |
Oceanview room with a King bed and Club amenities.
Butler Experience Room Accommodations – "When perfection itself simply isn't enough". Sandals offers an unprecedented resort Butler Service. When you book a butler level room at Sandals rest assured you will be provided with an unimaginably supreme standard of service and luxury. Your butler will greet you upon arrival at the resort and handle every and all of your requests from that moment forward. If you need your favorite lounge chair reserved for the day, a cooler full of your favorite beverage on the beach, or you want dinner reservations at one of the popular restaurants. No worries – your butler will take care of everything. Butler category accommodations enjoy some of the best rooms and suites on resort and come with upgraded mini-bar options as well as 24 hour in-room dining.
Sunset Bluff Penthouse Oceanview 1 Bedroom Butler Suite with Balcony Tranquility Soaking Tub
| Number of Nights | Total for 2 Adults |
| --- | --- |
| 3 Nights | $3,520.32 |
| 4 Nights | $4,432.51 |
| 5 Nights | $5,482.45 |
| 6 Nights | $6,541.89 |
| 7 Nights | $6,437.39 |
Hillside oceanview room with a King bed and butler service.
*Includes 7th Night Free Promo
How to Book Your Room
You can reserve any of the room categories listed above by placing a $200 per person deposit. This deposit can be placed by clicking the "Book Your Room" button and submitting the payment form. Please use quote #106142100 and choose "Stacey A" as your agent. Please put the room category you are choosing in the comments box or you can simply make the reservation by calling or emailing Stacey directly.
Transfers
Included in the room rates above are complimentary roundtrip, shared transfers that will take you from Hewannora International Airport (UVF) to Sandals Regency La Toc on a 16-24 passenger shuttle. This ride is approx. 90 minutes. and you'll travel through the lush, beautiful countryside of St. Lucia. There will be lots of hills and tight turns, so if rides of this nature bother you, I'd highly recommend upgrading your transfer to one of the following options:
Private, Luxury Town Car – $70 pp each way
Helicopter Transfer – $235 pp each way
If you'd like to upgrade your transfer, please note it in the comment box when you place your room deposit. Transfer upgrades must be paid in full with the room deposit to be confirmed.
IMPORTANT DUE DATES
Initial Deposit of $200 pp due by November 1, 2019
2nd deposit of at least $500 pp due by November 1, 2020
FINAL PAYMENT DUE by March 1, 2021
Flight Itineraries due by April 1, 2021
Travel Insurance
Travel insurance can be added to your package at the cost of the $114.00 per person. Insurance is highly recommended as travel suppliers, airlines and resorts often charge fees for trip change/cancellation after the deposit payment has been made. Dreams and Destinations Travel Agency is not responsible for penalties or fees should you change or cancel your trip and highly recommends purchasing the insurance. A pamphlet outlining the policy coverage can be provided. Please contact Stacey if you would like to request a copy.
The cost of insurance is nonrefundable and insurance policies are non-transferable. In many cases the cost of insurance is less than the cost of penalties for cancellation.